Saturday, November 26, 2011
Friday, November 25, 2011
It's after Thanksgiving, which makes it safe to break out the holiday tunes without being overly annoying. These are the disks I keep spinning between Turkey Day and Dec. 25, followed by a few new for 2011 releases.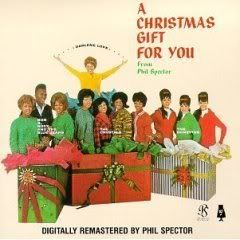 A Christmas Gift for You from Phil Spector
Nothing says "Christmas" more than an album produced by a megalomaniacal
convicted murderer with a Napoleon complex. But, seriously, this is a great, charming album with lots of upbeat, exuberant tracks from Darlene Love, the Ronettes, the Crystals and others--all backed by the fabulous Wall of Sound.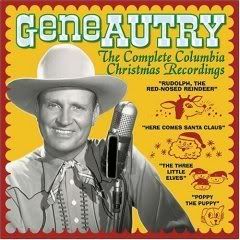 Complete Columbia Christmas Recordings by Gene Autry
I had Gene's original "Rudolph the Red-Nosed Reindeer" album as a kid and listening to it was an annual tradition. His take on these seasonal favorites is so gentle and warm, plus his great spoken introductions--he nails what the season is all about: Family and friends and kids having fun.
This remastered, expanded collection was created in conjunction with the Autry estate and includes his original "Rudolph" album along with other Christmas tunes, including a couple of duets recorded with Rosemary Clooney.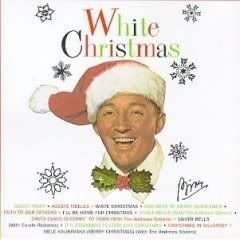 White Christmas by Bing Crosby
C'mon! Do I really need to explain why everyone needs this? The seminal version of "White Christmas," anyone? Plus, better yet, "Mele Kalikimaka"!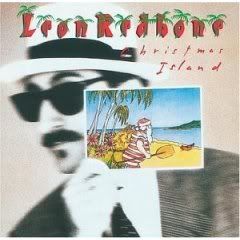 Christmas Island by Leon Redbone
I got this one five or six years ago and it's become probably my most-played Christmas album. It's joyful and warm, just like Autry's Christmas recordings. The old timey arrangements and Redbone's one-of-a-kind mumbly vocals evoke a time when the snow was deeper, the air was colder, the fire was warmer and Christmas day seemed to last forever.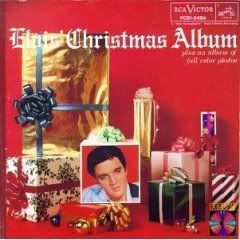 Elvis' Christmas Album
For crying out loud, read what I said about Bing Crosby's album up above! If you can hear music, you need this. It's nostalgic and campy but fun and beautiful to boot. Plus, it really shows the King's vocal range, from the the reverent gospel vocals of "Peace in the Valley," the blue crooning of "I'll Be Home for Christmas" to the rocking "Santa Bring My Baby (Back to Me)."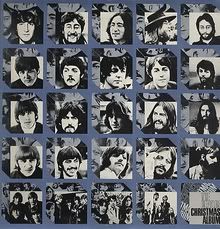 Beatles Fan Club Christmas Recordings 1963-70
Some day Apple will put this out as an official release and rest of the world (not just we Beatlemaniacs) will be able to experience the zany, funny Christmas recordings the Fabs' used to send out to their fan club members on flexi-disks each December.
If you haven't heard 'em, don't go in expecting a lot of Christmas carols and holiday standards. The "songs" that do appear--"Christmas Time is Here Again" and "This is to Wish You a Merry, Merry Christmas"--are dashed off and fragmentary. These releases are more about humor than music.
The records are full of "Goon Show"-style jokes and general goofing around. The group's exuberance and joyfulness come through loud and clear. You can hear how much they enjoyed being Beatles. Until they didn't. The 1968 and 1969 recordings, you can tell, were all recorded individually, apart from one another. But the Fabs still cared enough about their fans to make an effort.
Like I said, they haven't been officially released. But Google around a bit and you can find sound files for them. The pic above is the cover of the compilation LP of Christmas recordings the Beatles Fan Club sent out to fans in 1970, after the group had broken up.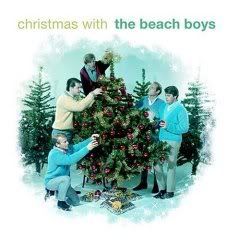 Christmas with the Beach Boys
The original 1964 Beach Boys Christmas LP featured lots of Four Freshman-style takes on holiday standards over big band and string arrangements along with a handful of excellent Brian Wilson-penned originals. The best-known of those, of course is "Little Saint Nick," but others, like "The Man With All the Toys," are great too.
This expanded version includes later, not as good, Christmas recordings by the band along with some outtakes -- but why not have the works?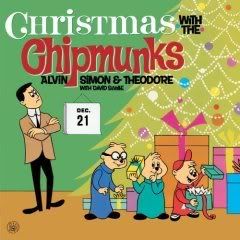 Christmas with the Chipmunks
As a toddler, I threw a copy of this LP across the room and smashed it to bits. I'm not sure if that was due to my age or whether I was annoyed by the Chipmunks' sped-up, screechy singing. Either way, destroying the record meant that I was missing out on a lot of goofy, nostalgic fun. I should buy the CD so my kids can annoy me with it.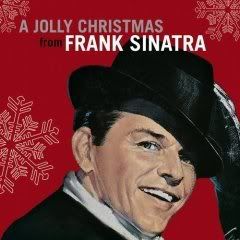 A Jolly Christmas from Frank Sinatra
Nothing says Christmas like an LP of songs sung by a short-fused, pugilistic egomaniac with possible mob ties. Really, though, Christmas songs are some of the best songs around, and Sinatra was one of the best singers. The combination is pretty much what you'd expect. Nice to have on while you sip a glass of eggnog or something stronger. Plus, you gotta dig Frank's hipster ad libs, ring-a-dings and singing-behind-the-beat brilliance.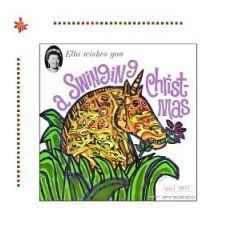 Ella Wishes You a Swinging Christmas by Ella Fitzgerald
See what I said with Sinatra re: matching great music with a great singer. This one's a beauty.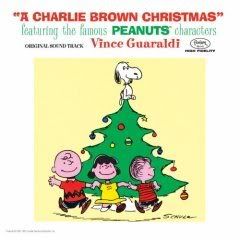 A Charlie Brown Christmas: The Original Sound Track Recording Of The CBS Television Special
It's Christmas, right? This one is a must if just for the melancholy "Christmas Time is Here." Plus you get the rollicking "Linus and Lucy."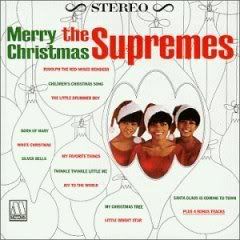 Merry Christmas by the Supremes
Don't they look cute in their Santa hats? They sound great, too, especially on the hip "Little Bright Star," which coulda shoulda been a Motown hit as great as any other.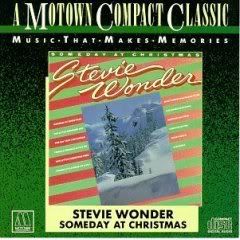 Someday at Christmas by Steve Wonder
Not content with standards, Stevie put a few originals on his Christmas LP, too, including the upbeat "What Christmas Means to Me."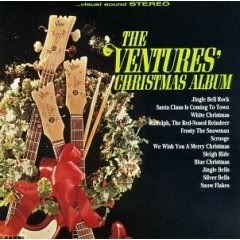 The Ventures' Christmas Album
I don't know if these surfers ever saw snow, but they twang'n'reverb a good carol. Part of the fun of this one is spotting the then-current pop tune the group quotes before launching into the Christmas song--like the Beatles' "I Feel Fine" that turns into "Rudolph the Red-Nosed Reindeer." What an insane, inspired idea.
New Christmas albums
A Very She & Him Christmas
The Classic Christmas Album
Tuesday, November 22, 2011
Highlights from Marvel's February new releases:
AVENGERS: KREE/SKRULL WAR HC
Written BY ROY THOMAS
PENCILED BY SAL BUSCEMA, NEAL ADAMS & JOHN BUSCEMA
COVER BY NEAL ADAMS
A conflict of star-spanning proportions - with Earth caught in the crossfire! For those eternal intergalactic enemies, the merciless Kree and the shape-changing Skrulls, have gone to war, and our planet is situated on the front lines! Can Earth's Mightiest Heroes, the Avengers, bring about an end to the fighting before humanity becomes a casualty of war? And what good are even a dozen super-powered champions against the vast military machines of two of the great empires of the cosmos? The key to victory lies with the expatriate Kree Captain Mar-Vell and his human host, honorary Avenger Rick Jones! Featuring the trend-setting artwork of Neal Adams, the Kree/Skrull War is universally acknowledged as one of the finest and most important sagas in the Marvel canon. Collecting AVENGERS (1963) #89-97.
MARVEL MASTERWORKS: THE AVENGERS VOL. 12 HC
Written BY STEVE ENGLEHART
PENCILED BY BOB BROWN & SAL BUSCEMA
WITH DON HECK
COVER BY JOHN ROMITA
Earth's Mightiest Heroes fight one of the greatest battles in super-hero history! It's hero against hero in the sensational summer hit of 1973: the "Avengers/Defenders War." Cap vs. Namor! Thor vs. Hulk! It's the original crossover clash, and there's never been another one like it. But first, there are even more trendsetting classics in store for you: Mantis makes her debut; the Lion God brings the Avengers to their knees; Vision and the Scarlet Witch's relationship blossoms, but not without the intolerant objections of others; and the Swordsman joins the ranks of the Avengers. And as an added bonus, we're including rare pinups, profiles and an interview with the Avengers' own Jarvis - all from the pages of the '70s fan-mag F.O.O.M.! Collecting AVENGERS (1963) #112-119, DEFENDERS (1972) #8-11 and material from FOOM #5-7.
MARVEL MASTERWORKS: ATLAS ERA JOURNEY INTO MYSTERY VOL. 4 HC
Written BY VARIOUS
PENCILED BY VARIOUS
COVER BY BILL EVERETT
The MARVEL MASTERWORKS once again go back to the days when horror ruled the racks. Yes, it's time to take a journey into mystery! And this volume offers a special treat: Steve Ditko's first story for Marvel. In 1956, at the beginning of his career, Ditko drew a handful of stories for Stan Lee - and you'll get not just one, but two of them here. Also providing heaping helpings of suspense, scares and twist endings are 1950s comics luminaries like Wally Wood, Al Wiliamson, Bernie Krigstein and Gene Colan. These rare stories are collected here for the first time and bring you one zombie-shuffling step closer to completing your JOURNEY INTO MYSTERY library! Reserve that copy today, True Believer! Collecting JOURNEY INTO MYSTERY (1952) #31-40.
AVENGERS: THE BIG THREE TPB
Written BY STEVE ENGLEHART, STAN LEE, GERRY CONWAY, JIM SHOOTER, ALAN ZELENETZ, MARK GRUENWALD, KURT BUSIEK, MICHAEL AVON OEMING & DANIEL BERMAN
PENCILED BY SAL BUSCEMA, GEORGE PEREZ, JACK KIRBY, ALAN WEISS, MARK BRIGHT, MIKE GUSTOVICH & ANDREA DIVITO
COVER BY JACK KIRBY
The Mighty Thor! Captain America! The Invincible Iron Man! Alone, each one of these champions is a legend throughout the Marvel Universe. But together, they make up the Avengers' big three! Witness how this triumphant trio justifies their status as the three greatest among Earth's Mightiest Heroes in adventures that span from
Avengers Mansion to Asgard, with the time-tossed tale the Terminatrix Objective thrown in for good measure! Collecting CAPTAIN AMERICA (1968) #176; AVENGERS (1963) #150-151, #215-216 and #224; AVENGERS: THE TERMINATRIX OBJECTIVE #1-4; AVENGERS (1998) #21; and THOR (1998) #81.
MARVEL MASTERWORKS: THE INCREDIBLE HULK VOL. 2 TPB
Written BY STAN LEE
PENCILED BY STEVE DITKO & JACK KIRBY WITH GIL KANE, JOHN ROMITA, BILL EVERETT, DICK AYERS, MIKE ESPOSITO & BOB POWELL
COVER BY JACK KIRBY & RICHARD ISANOVE
The time has come for Marvel's Green Goliath to grace his second MARVEL MASTERWORKS collection! Kicking off with a Hulk/Giant-Man throwdown and pulling no punches straight into a toe-to-toe with the mighty Hercules, Dr. Robert Bruce Banner's mean, green alter ego battles General Thunderbolt Ross, the Leader and his Humanoids, the Executioner, and more Communists than you can shake a tank at in this earth-shattering series of scintillating slobbernockers! With art by no less than Steve Ditko and Jack Kirby, and Gil Kane's first-ever Marvel tale - well, we needn't say more. Reserve your copy today, True Believer! Collecting TALES TO ASTONISH (1959) #59-79.
Click the links to order discounted items from Amazon.
Things I'll buy:
Flash #3
Fantastic Four #600
Mighty Thor #8
Walt Disney's Donald Duck: "Lost in the Andes" (The Complete Carl Barks Disney Library)
Showcase Presents Ghosts
Walt Disney Treasury: Donald Duck Volume 1
Other items of interest:
Brain Boy Archives (Dark Horse Archives)
Little Lulu Volume 29: The Cranky Giant and Other Stories
Batman: The Black Mirror (Batman (DC Comics Hardcover))
The Green Lantern Omnibus Vol. 2
Richard Stark's Parker: The Martini Edition
Rocketeer Adventures #1 Jetpack Comics Exclusive The Dave Stevens Tribute Issue (1)
Super Dinosaur Volume 1 TP
The Mighty Thor, Vol. 1
Marvel Masterworks: The Uncanny X-Men Volume 4
Thor: Heaven & Earth