British pop star Dave Dee has passed away the
Guardian
reports
. He was lead singer of Dave Dee, Dozy, Beaky, Mick and Tich, which scored eight UK Top 10 hits back in the 1960s.
Formed 1961 by Dee, a former Wiltshire policeman, between 1965 and 1969 the band spent more time in the UK charts than the Beatles.
Here they are in 1965 on British children's TV show "Blue Peter."
-----
Getting weirder all the time: Ringo Starr is reportedly
boycotting
his own Website.

The 68-year-old former Beatles star faced a public backlash after controversially announcing on his website he was stopping signing his name for fans last October.

Since the incident - which Ringo insists was misinterpreted - he has canceled his regular video messages and updates in an internet blackout.

A source close to the drummer said: "Ringo used to enjoy telling fans about his plans, but he was pretty shocked by the hostility he faced over the autograph thing."

"As a result he's reluctant to appear on the website again."
-----
Led Zeppelin is not reuniting with or without Robert Plant, evidently.
Peter Mensch (Jimmy Page's manager) has told MusicRadar.com that: "Led Zeppelin are over! If you didn't see them in 2007 [when they played a one-off reunion at London's O2 Arena], you missed them. It's done. I can't be any clearer than that."

He added: "They tried out a few singers, but no one worked out," said Mensch. "That was it. The whole thing is completely over now. There are absolutely no plans for them to continue. Zero. Frankly, I wish everybody would stop talking about it."
-----
Pappy
shares
a "Terry and the Pirates" give-away comic from 1947.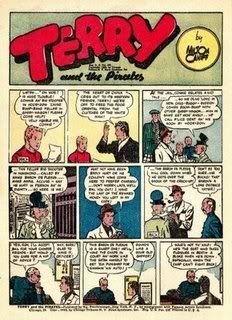 -----
Celebrating the label's 50th anniversary, the BBC
presents
the "A-Z of Motown."
-----
Golden Age Comic Book Stories
presents
the 1937 Walt Disney Annual from Whitman Books. Lovely art.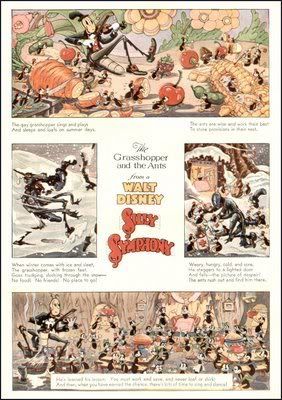 -----
On My Mind
presents
a Youtube-filled Elvis Presley birthday tribute.
-----
The Horrors of it All
shares
a nice Rudy Palais-illustrated tale: "Death Kiss"!