Golden Age Comic Book Stories
remembers
the great Jack Kamen with a selection of the artist's stories, splash pages and covers.
-----
NPR takes a
look
at Brazilian psychedelia.
-----
Newsarama Jeff Trexler
analyzes
some 1930s and 40s correspondence between Superman co-creator and DC Comics, back when Siegel was first starting to fight for his rights to the character. Weird stuff that manages to paint an even more unsympathetic portrait of the DC regime back then.

...there's a lot of amazing stuff here — the recurring savage criticism of Joe Shuster's art; an early critique of Wayne Boring as an artist unsuitable for Superman; the hiring of Winsor McCay, Jr., as Superman ghost-artist-in-training; the insinuation that Superman was not significantly more popular than Zatara, Pep Morgan and Tex Thomson; and the prohibition on depictions of a flying Clark Kent are just a few of the historical moments in the mix.

Yet it is the sex stuff that really stands out, providing a rare insiders' perspective on the comics writing culture of the past. One of the true highlights of the newly released correspondence is the black-and-white sketch of Lois Lane included in this post. The artist was Siegel's and Shuster's editor, Whitney Ellsworth, who was attempting to get the duo to make Lois Lane less curvaceous.


Shuster's Lois was so "unpleasantly sexy" that her pulchritude made her seem a bit too heavy–a problem for which Ellsworth and Murray Boltinoff had an easy solution:
[W]hy it is necessary to shade Lois' breasts and the underside of her tummy with vertical pen-lines we can't understand. She looks pregnant. Murray suggests that you arrange for her to have an abortion or the baby and get it over with so that her figure can return to something a little more like the tasty dish she is supposed to be.
...The criticism did not stop with Lois, however. Another alleged problem with Shuster's artwork is that it made Superman look gay — or in the period slang of Ellsworth's January 22, 1940, letter, "lah-de-dah" with a "nice fat bottom."
-----
Pappy
presents
one of Ogen Whitney's Herbie tales.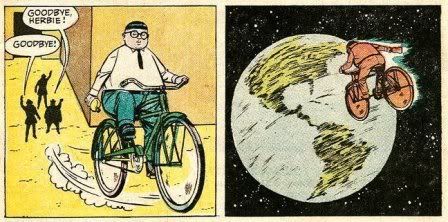 ------
Check out
a rare, 1969 radio broadcast by the Bonzo Dog Band.