Episode summary:
In flash forwards, we see how the Oceanic 6--Jack, Kate, Aaron, Sayid, Hurley and Sun were welcomed back into the outside world.
An elaborate back story has been concocted to explain their survival--and the absence of all others on the plane. Supposedly, the plane crashed in the ocean and these survivors ended up on an island and were eventually rescued.
We don't know who developed this story, but the Oceanic 6 are standing by it as the official account.
We see that Hurley continues to be haunted by the island and the mysterious numbers. Jack meets Claire's mother and learns the truth: He is Claire's half-brother. Sayid is reunited with Nadia. Kate poses as Aaron's real mother. And Sun, using the huge settlement all the survivors have received from the airline, buys a controlling share in her father's business, a fact that he's not happy about.
Back in island time, the mercenaries are back. They make their way to the Orchid station, where Ben, Locke and Hurley are headed to "move" the island. Ben gives himself up, but he has a plan to escape. Meanwhile, Locke sneaks into the station.
Using the locator device Frank dropped, Jack and Kate make their to the helicopter. On the way, they encounter Sawyer, Aaron and Miles. Sawyer explains that Claire has disappeared into the jungle. Kate takes Aaron back to the beach and Miles goes with her. Jack and Sawyer continue their search for the helicopter and encounter Frank, who has been handcuffed to a passenger seat of the vehicle. He tells them the mercenaries intend to kill everyone and take Ben.
Meanwhile, Sayid arrives back on the island in a raft. He and Kate rush off to follow Jack and Sawyer and Faraday starts shuttling people--six at a time--to the freighter.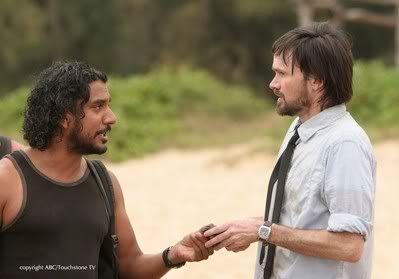 Jin, Sun and Aaron are on the first load and, once on board, reunite with Desmond and discover that Michael is back. They also learn that there's a huge supply of explosives triggered to destroy the ship.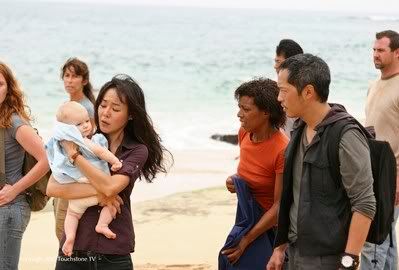 In the jungle, Sayid and Kate are captured by the Others before they can find Jack and Sawyer.
Questions/clues/observations
* Who rigged the explosives on the freighter? Widmore? The Others?
* How will Ben escape?
* How is it that the Oceanic 6 are rescued and nobody else? Who created the cover story?
* How exactly can/will Locke move the island? And how will this help anyone escape from the mercenaries?
* Is Paik Industries--Sun's father's business--involved somehow with Widmore? Does Sun realize this, and is this why she's become involved in it? Does she somehow hope to get to Widmore?
* Why can't/won't the Oceanic 6 reveal what's really happened? Would it endanger those who have been left behind? Do they fear that no one would believe them? (And why
would
anyone? It's the craziest-ass yarn ever).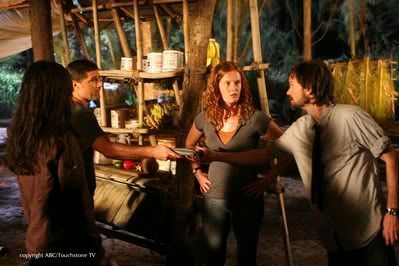 Also see:

Lost Season 4 Episode Guide
The Best Lost Sites on the Web
Lost: What we STILL don't know