Friday, July 13, 2007
Here's the
latest
on the UK's
Tintin
hubbub:
The adventures of Tintin in the Congo will be moved from the children's shelves in Borders bookstores across the country and placed in the adult graphic novels section after the book was criticised for having allegedly racist content.

The Commission for Racial Equality said yesterday it was unacceptable for any shop to stock or sell the 1930s cartoon adventure of the Belgian boy journalist because of its crude racial stereotypes.
--------------------
BBC Radio, which--before the books, TV show and movie--first introduced the world to "The Hitchhikers Guide to the Galaxy," is putting another
Douglas Adams
creation on the air.
Douglas Adams's much loved detective, the enigmatic Dirk Gently, will be make his UK broadcast debut on BBC Radio 4 this October.

Featuring a star-studded cast with Harry Enfield in the lead role, Dirk Gently's Holistic Detective Agency will be produced by the same award-winning team that made the conclusion to The Hitchhiker's Guide To The Galaxy.

Harry is joined by Lord of the Rings actor Billy Boyd, Fawlty Towers' Andrew Sachs, The Golden Compass' Jim Carter and Peepshow's Olivia Colman.

Dirk Gently has an unshakeable belief in the interconnectedness of all things but his Holistic Detective Agency's only success seems to be tracking down missing cats for old ladies. Then Dirk stumbles upon an old friend behaving bizarrely, and he is drawn into a 4 billion-year-old mystery that must be solved if the human race is to avoid immediate extinction.

This first series of six 30-minute episodes is adapted from the book of the same name and directed by Dirk Maggs, himself chosen by Douglas Adams to conclude the Hitchhikers saga. Considered by many Adams fans to be as funny as, if darker than, Hitchhikers, the Dirk Gently novels reflect Douglas's unique and funny take on matters as wide-ranging as consciousness, conservation, man's place in the cosmos and crime. The first series features everything from quantum physics to missing cats, via Coleridge, Bach and an Electric Monk.The series begins in October and will also have its own dedicated webpages on bbc.co.uk/radio4/dirkgently featuring trailers, photographs, production diaries, video and competitions. Programmes will also be available on Radio 4's listen again service.
Hopefully, the show will be available via the
Beeb's streaming radio site
.
Thursday, July 12, 2007
An official British watchdog agency is asking UK comics shops to
remove
a
Tintin
book from their shelves.
Britain's Commission for Racial Equality (CRE) recommended that "Tintin in the Congo" be removed from shelves after it received a complaint from a member of the public who had seen it in a branch of the Borders chain of book stores.

..."Tintin in the Congo" is the second in a series of 23 books which depict the intrepid travels of a fictional young journalist named Tintin and his dog Snowy. The character was conceived by Belgian George Remi. Remi signed his works Hergé, the French pronunciation of his initials in reverse.

Hergé, Tintin and most specifically "Tintin in the Congo" are no stranger to criticism. Critics have accused Tintin's creator of being a racist and have blasted the Congo adventure for its scenes of violence against animals.
As the report states, this is just the latest flare up of controvery over the book, which should be treated as an artifact of a less-enlightened time--not banned. Indeed, Hergé himself came to regret aspects of the book.
Consider this more even-handed critical appraisal from
tintinologist.org
:
Tintin au Congo should still be regarded as one of the more silly and youthful albums of Hergé. At the time he was much influenced by his employer, Wallez. Wallez had decided that the Belgian youth needed to know more about the values of Colonialism. Hergé was instructed to show Belgium how the Congolese natives were introduced to civilisation. Throughout the album we will witness further displays of such Colonialism. Tintin shows a condescending - even despising attitude towards the natives. In 1954, as Hergé re-edits the story this attitude would soften, but not disappear.

Tintin doesn't show much respect for the flora and fauna either; in an ultimate effort to put down a comic scene, Hergé lets him kill 13 antilopes. At an earlier point in the story Tintin even kills a rhinoceros with dynamite (after first drilling a hole in the beast's back, where he could place the explosives!). Later Hergé would very much regret these scenes, and he took a firm stand against hunting and poaching.
This just in:
A foundation which protects the rights of Tintin author Hergé leaped to his defence on Thursday after criticism from a British racism watchdog.

...The Hergé foundation said the 1931 "Tintin in the Congo" comic book...should be read in the context of the period when it was published.

...The Hergé foundation said the book is meant to be about fun and jokes and does not glorify the widely accepted notions about imperialism, race and ethnicity which were prevalent in Western society during the early 20th century when the book was written.
---------------------
Sean Penn and rocker Iggy Pop will
add their voices
to
"Persepolis,"
the upcoming animated feature based on Marjane Satrapi's graphic novel.
Penn will play Satrapi's long-suffering father while Pop will voice the role of the young girl's rebellious and politically active uncle.

Work on the English-version dub will begin this summer. Pic will be released Stateside in the fall and producers are trying to ready an English-language version in time for its preem at the Toronto Film Festival in September.
-----------------------
Actress Laura Vandervoort will
star
as the
Supergirl-ish character
on the "we're too embarassed to wear superhero costumes" superhero show Smallville.
Vandervoort begins filming next week and will be introduced to the public at Comic-Con International in San Diego.

Supergirl arrives in the Season 7 premiere. Her name is Kara and she is Clark's 19-year-old cousin. She was born on Krypton and is the daughter of Zor-El, Jor-El's brother. Kara possesses all of Clark's powers and one he doesn't yet have -- flying.

Kara also has a strong, rebellious streak that puts her at odds with Clark, and puts her onto Lex's radar. In addition, she takes a romantic interest in Jimmy Olsen.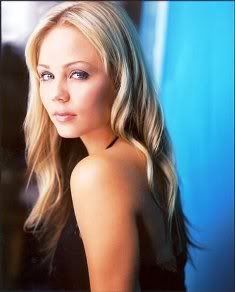 -------------------------
The official
Indiana Jones
site has posted a
video
of Harrison Ford once again donning his famed fedora.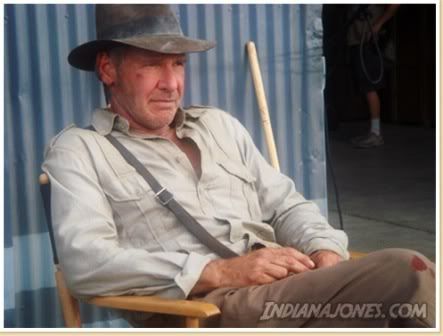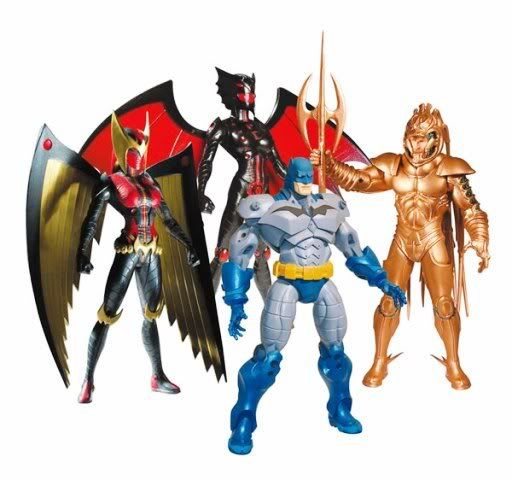 DC Armory action figures, see below
Complete List of Marvel Legends Action Figures
Complete List of DC Direct Action Figures
Here's a look at action figures available via your local comics shop or via the TIP!-supporting links below:
DC Direct Action Figures

DC Armory Action Figures
--
Aquaman
--
Batman
--
Flamebird
--
Nightwing
Superman Last Son Action Figures
--
Last Son Superman
--
Ursa
--
Bizarro
--
Zod
Shazam Action Figures
--
Dr. Sivana
--
Captain Marvel Jr
.
--
Mary Marvel
--
Billy Batson and Hoppy
--
Captain Marvel
Superman Vs. Doomsday
Doomsday
Lex Luthor and Robot
Solar Suit Superman
Superman
Batman and Son
Batman
Ninja Man-Bat
Robin and Daimin
The Joker
52 Weeks
Animal Man
Batwoman
Booster Gold
Supernova
DC Direct Reactivated Action Figures
--
Batman
--
Wonder Woman
--
Lobo
--
Superman
DC 13-inch Figures
Green Lantern
Lex Luthor
Martian Manhunter
Catwoman
Nightwing
Classic Batman
Batgirl gray costume
Batgirl black costume
Elseworlds Action Figures Series 2
--
Red Son Batman
--
Red Son President Superman
--
Kingdom Come Jade
--
Kingdom Come Spectre and Norman McKay
--
Gotham By Gaslight Batman
Elseworlds Action Figures Series 3
--
Supergirl
--
Batgirl
--
Nightstar
--
Kingdom Come Aquaman
--
Red Son Green Lantern
First Appearance Series 4
--
Blue Beetle translucent
--
Blue Beetle
--
Brave New World Atom
--
Warlord
--
Brave New World Martian Manhunter
--
Brave New World Aquaman
Infinite Crisis Action Figures Series 1
--
Powergirl
--
Omac
--
Mongul
--
Earth Prime Superboy
--
Alexander Luthor
JSA Action Figures
--
Mr. Terrific
--
Hawkgirl
--
Dr. Midnite
--
Hourman
--
Golden Age Atom 2-pack
DC Direct Wonder Woman Series 1 Action Figures
--
Wonder Woman
--
Agent Diana Prince
--
Circe
--
Donna Troy as Wonder Woman
DC Direct New Frontier Series 2 Action Figures
--
Batman
--
Dr. Fate
--
The Flash
--
Martian Manhunter
Fantastic Four Rise of the Silver Surfer action figures
Battle Stretch Mr. Fantastic
Fire Blast Human Torch
Raging Thing
Force Field Invisible Woman
Silver Surfer
Lightning Attack Dr. Doom
Blast-off Human Torch
Super Strength Thing
Hanna Barbera Series 3 Action Figures
--
Fred Flintstone Quittin' Time
--
Twinkle Toes Fred Flintstone
--
Great Grape Ape
--
Huckleberry Hound
--
The Jetsons
--
Secret Squirrel
--
Snagglepuss
McFarlane Lost series 2 action figures
--
Crash site box set
--
Sawyer
--
Jin
--
Sayid
--
Desmond
--
Sun
--
Mr. Eko
McFarlane Lost series 3 action figures
--
Sayid
--
Desmond
--
Claire
--
Ben/Henry
Marvel Figure Factory Sets
--
Angel
--
Beast
--
Black Costume Spider-Man
--
Deadpool
--
Invisible Woman
--
Silver Surfer
Marvel Legends Action Figures

Hasbro Marvel Legends Action Figures Series 2
--
Wolverine
--
She-Hulk
--
Yellow Jacket
--
Quick Silver
--
Lord Asgard Thor
--
Magneto Xorn
--
X3 Jean Grey
--
First Appearance Storm
Hasbro Marvel Legends Figures Series 3
--
Bucky Barnes
--
First appearance Captain America
--
Marvel Girl Rachel Grey
--
Heroes for Hire Black Knight
--
Hydra Soldier
--
X-3 Colossus
--
Astonishing X-Men Cyclops
--
Danger
Hasbro Marvel Legends Icons 12-inch Action Figures
--
The Punisher
--
Doctor Doom
--
The Human Torch
--
The Silver Surfer
Marvel Legends Masterworks Sets
--
Spider-Man Vs. Green Goblin
--
Fantastic Four Vs. Mole Man
--
Hulk Vs. The Thing
--
Galactus Vs. Everybody
Marvel Select Figures

Best of Marvel Select Figures
--
Grey Hulk
--
Thanos
--
Ultimate Spider-Man
--
Green Goblin
--
Mephisto
Marvel Sideshow Toys Figures
--
Venom
--
Black costume Spider-Man
--
Spider-Man
--
White Queen
--
White Queen Exclusive
Wednesday, July 11, 2007
Today, DC Comics releases
Showcase Presents Batgirl
--a 500-page collection of vintage Batgirl backup stories from
Detective Comics
and elsewhere.
So, what better time to highlight that character and celebrate her exploits in popular culture? I know I'm not the only comics fan excited to see these adventures back in print.

The Batgirl featured in the Showcase volume--and highlighted here--is the Barbara Gordon incarnation that debuted in 1967, not the earlier Betty Kane Bat-Girl of the early 1960s. And also not Cassandra Cain, the hideously costumed current Batgirl.

To me, Barbara Gordon is the only Batgirl that matters. So, it's a pity she's essentially been written out being.
Comics writer Alan Moore, in the one-shot (in more ways than one) Batman story "Killing Joke" put an end to Barbara's costumed exploits by having the Joker shoot her in the spine, paralyzing her. Regrettably, DC elected to keep Barbara disabled, reinventing her as the character Oracle in the Birds of Prey series.

While it's refreshing to see a disabled heroine in comics, I'm sorry that it meant phasing out a character many fans loved and enjoyed. Plus, Barbara's fate was too dark, too grim, considering the spirit of the character and the original age of her fanbase. It's another case of comics scripters and editors messing with existing characters when they ought to just create new ones.*

Barbara Gordon as Oracle just ain't the same as Barbara Gordon as Batgirl. And neither is Cassandra Cain as Batgirl.

The real Batgirl had so much going for her: She was Commissioner Gordon's daughter--a great setup for all sorts plots. She was a librarian. She had red hair. She had a motorcycle. She was fun. She was tough and independent (for her day). And she looked great in that costume.

Sigh...like I said, it's a pity she's gone. But at the same time, it'll be wonderful having a big batch of her adventures available in one big book with scripts by the great John Broome and fantastic art by the likes of Gil Kane and Carmine Infantino.
But before you head out to the comics shop, or click that Amazon link up above, take a moment to enjoy some of the other Batgirl-related posts here today.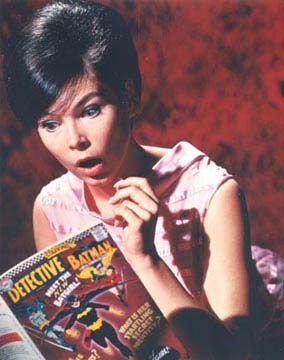 * Word is there will be an
All-Star Batgirl
coming out from DC at some point, featuring Barbara behind the mask. However, fans of the original version will need to wait and see if it's an agreeable approach. Also, the Barbara Batgirl has been featured in DC's various "animated"-style comics spun off of the recent Batman cartoon series. So maybe she's not as gone as she seems.
1966 Batman
A celebration of the 1960s Batman TV series, featuring Batgirl info and pics.
Batgirl at Wikipedia
The entry charts the history of
all
the Batgirls.
Yvonne Craig
Official site for the actress who played Batgirl on TV back in the 1960s.
The Batgirl Archives
A fan site dedicated to the various incarnations of Batgirl.
Yvonne Craig debuted as the TV Batgirl in 1967, the same year the Barbara Gordon Batgirl first appeared in
Detective comics
.