Friday, April 20, 2007
Dial B for Burbank
looks at
DC Comics' take on The Shadow
.
-------------------
Nominees for the
2007 Eisner comics awards
have been
listed
.
-------------------
Download
a full
"Doctor Who" shooting script
.
Thursday, April 19, 2007
Via
BoingBoing
: The engine pulling the
Disneyland railroad
is now burning biodiesel.
For Disneyland, the switch to biodiesel saves as much as 150,000 gallons of diesel fuel each year, while potentially reducing carbon dioxide emissions by up to 80 percent, Disneyland Resort spokesman Bob Tucker said Monday.
Good on them. It's a small, global warming-threatened world, after all.
--------------------------
U2's Bono and the Edge have
signed on
to write a
"Spider-Man" musical
. I doubt it could be
this good
.
The musicians will be working with the show's producers to create a soundtrack for the webbed crusader's Broadway debut, with rehearsals to begin later this summer.

Julie Taynor will be directing the show and previously adapted the Lion King for the stage with impressive results.
----------------------------
The third season of
"Doctor Who"
is doing
splendidly
on British TV.
The current Doctor Who series is the third most popular TV show in Britain with an audience share of 40%, representing more than 8 million viewers.
----------------------------
Countering
reports
that he'll be the voice of Galactus in the
upcoming "Fantastic Four" film
, Laurence Fishburne actually will be the voice of the Silver Surfer.
-----------------------------
How could you not look at the
Greatest Aquaman Collection in the World?
Synopsis:
Desmond has future visions again. This time he sees someone coming to the island to rescue him. He believes it's his girlfriend Penny, seen at the end of last season having successfully located the island.
In the vision, Desmond is with Jin, Charlie and Hurley, traveling through the jungle to reach a parachutist. Along the way, Charlie is killed by a booby trap.
Desmond doesn't want Charlie to die, but feels he must get the the other three to come along with him to make his vision of rescue come true. Hurley, who realizes Desmond has had another vision, invites Charlie and Jin along on a "camping trip."
After a long hike on the beach, Desmond and the rest make a campfire. Suddenly they hear a helicopter approaching but it crashes in the ocean. Then they see a flashing light--attached to a parachutist--land in the jungle.
In the morning, they hike into the jungle--just like in Desmond's vision--to reach the parachutist. But just as the booby trap is set to strike, Desmond can't help but change things. He rescues Charlie.
Soon after, the four reach a female parachutist--apparently dead--hanging in a tree. Desmond cuts her loose, certain it's Penny and that she's perished. On the ground, though, the parachutist's helmet is removed and it's not Penny, but a stranger. She says Desmond's name and then passes out or dies--we don't know yet.
In flashbacks, we see that Desmond tried to become a monk before meeting Penny, but didn't he evidently didn't have the right stuff. The head monk tells Desmond his destiny lies elsewhere.
Clues, observations, speculation:
* The head monk has a
picture on his desk of himself and the lady from the clock shop
Desmond met in
episode 3.8: "Flashes Before Your Eyes."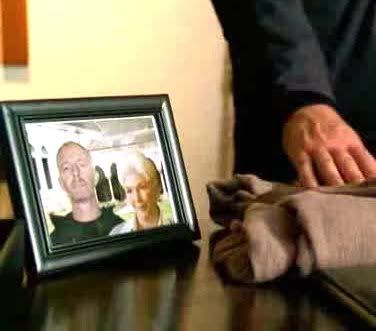 * The head monk and Desmond discuss the Biblical story of
Abraham and Isaac
in relation and the notion of sacrifice. The "Catch 22" in the episode's title and Desmond's wrestling with the morality of saving Charlie and potentially jeopardizing rescue ties into that too.
* The wine made at the monastery is labeled
Moriah
. This is the location of Temple Mount in Jerusalem, where Abraham is told by God to sacrifice his son Isaac as a test of faith.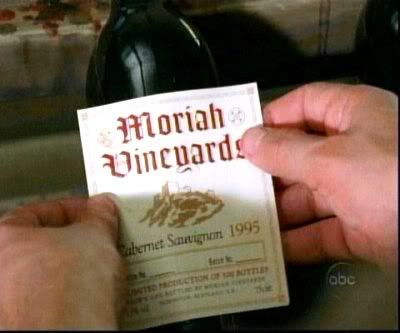 * In the Bible,
Isaac is the father of Jacob
. On "Lost," of course, the Others keep making references to Jacob, who seems to be their leader.
*
Why did the rescue chopper crash?
* And, since helicopters can't travel super far on their own,
where did the chopper take off from?
Land nearby? A ship? Presumably the pilot was in communication with others back home. Do they know what happened, that the helicopter was within sight of the island?
* Any chance the survivors can juice up the parachutist's
satellite phone
?
* The parachutist's copy of Joseph Heller's "Catch-22" was a
Portuguese
edition.
At the end of last season
the people who note the electromagnetic disturbance from the island and tell Penny they've located Desmond are speaking Portuguese. Who are these folks?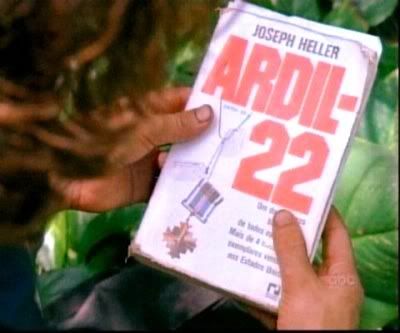 * What's up with the
hula doll
found among the parachutist's stuff?
* In Desmond's vision it's important that Hurley discover
the wire that leads out of the sea, across the beach and into the jungle
. Last time Hurley followed this wire he ended up finding Rousseau. What's up with this wire? Is it a method for somehow locating the island?
*
Was the parachutist alone on the helicopter?
If there were others on board, are they alive?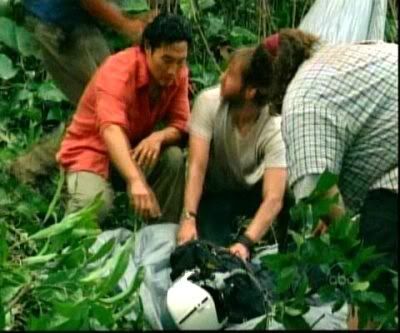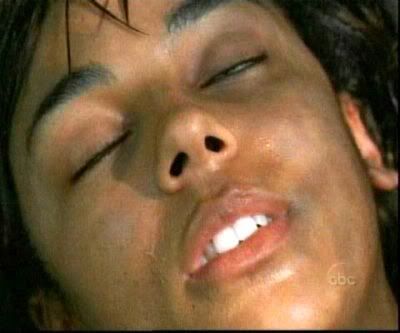 *
How could she have parachuted from the chopper?
Is this possible? Or did she come from someplace else at essentially the same time as the chopper crash?
Wednesday, April 18, 2007
From
55 Bells
: A full-length
"Rocky Jones: Space Ranger"
film--"Crash of Moons."
--------------------
NPR has a
report
on jazz musician
Ornette Coleman
, who's earned a much-deserved Pulitzer Prize.
Whether he's writing symphonic works, chamber music, or playing alto saxophone, trumpet or violin, Coleman continues to surprise audiences.
See complete lists:
DC Archives
DC Showcase
DC Trade Paperbacks
Marvel Masterworks
Marvel Essentials
Marvel Trade Paperbacks
Upcoming Trade Paperbacks - Graphic NovelsComics shipping April 18, 2007
DARK HORSE COMICS
FEB070075 CONAN #39 (MR) $2.99
DEC030060 HELLSING VOL 2 TP $13.95
MAR040059 HELLSING VOL 3 TP (MR) $13.95
JUN050043 HELLSING VOL 7 TP $13.95
DEC060064 OH MY GODDESS VOL 26 TP $10.95
FEB070073 REX MUNDI DH ED #5 $2.99
DEC060034 SAMURAI HEAVEN & EARTH VOL 2 #4 (OF 5) $2.99
DC COMICS
FEB070242 52 WEEK #50 $2.50
FEB070265 AQUAMAN SWORD OF ATLANTIS #51 $2.99
FEB070345 ARMY @ LOVE #2 (MR) $2.99
JAN070265
BATMAN AND THE MAD MONK
TP $14.99
$10.19 at Amazon
.
NOV050241
BATMAN HUSH RETURNS
TP $12.99
$11.04 at Amazon
.
FEB070267 BIRDS OF PREY #105 $2.99
JAN070333 CANON VOL 1 $9.99
FEB050272
DC THE NEW FRONTIER VOL 2
TP $19.99
$13.59 at Amazon
.
FEB078187 DEATH AT DEATHS DOOR SC (MR) $9.99
FEB070349 DMZ #18 (MR) $2.99
FEB070339 EX MACHINA #27 (MR) $2.99
FEB070274 FLASH THE FASTEST MAN ALIVE #11 $2.99
DEC060289 GOD SAVE THE QUEEN HC (MR) $19.99
FEB070353 HELLBLAZER #231 (MR) $2.99
JAN070374
HELLBLAZER REASONS TO BE CHEERFUL
TP (MR) $14.99
$10.19 at Amazon
.
FEB070281 JUSTICE LEAGUE OF AMERICA #8 $2.99
FEB070282 JUSTICE LEAGUE OF AMERICA VAR ED #8 $2.99
FEB070306 LEGION OF SUPER HEROES IN THE 31ST CENTURY #1 $2.25
FEB070290 MANHUNTER #30 $2.99
FEB070252 NIGHTWING ANNUAL #2 $3.99
MAY050300
PREACHER VOL 7 SALVATION
TP NEW EDITION (MR) $17.99
$12.23 at Amazon
.
JAN070339 RECIPE FOR GERTRUDE VOL 4 $9.99
FEB070250 ROBIN #161 $2.99
FEB070311 SCOOBY DOO #119 $2.25
FEB070291 SHADOWPACT #12 $2.99
JAN070318
SHOWCASE PRESENTS SUPERMAN VOL 3
TP $16.99
$11.55 at Amazon
.
FEB070296 SPIRIT #5 $2.99
JAN070273 SUPERMAN BATMAN #34 $2.99
FEB070357 TESTAMENT #17 (MR) $2.99
FEB070342 TEXAS CHAINSAW MASSACRE #6 (MR) $2.99
STAR11553
TRANSMETROPOLITAN VOL 4 THE NEW SCUM
TP $12.95
$10.36 at Amazon
.
JAN070323
WONDER WOMAN THE GREATEST STORIES EVER TOLD
TP $19.99
$13.59 from Amazon
.
FEB070239 WORLD WAR III PART FOUR UNITED WE STAND $2.50
FEB070236 WORLD WAR III PART ONE A CALL TO ARMS $2.50
FEB070238 WORLD WAR III PART THREE HELL IS FOR HEROES $2.50
FEB070237 WORLD WAR III PART TWO THE VALIANT $2.50
IMAGE COMICS
FEB071879 ALIEN PIG FARM #1 (OF 4) (MR) $2.99
FEB071938 BLOOD NATION #3 (OF 4) $2.99
NOV061867 DRAIN #3 (MR) $2.99
FEB071937 HERO BY NIGHT #2 (OF 4) $2.99
DEC061885 NEGATIVE BURN #10 (MR) $5.99
FEB071896
ROCKETO VOL 2 TP JOURNEY TO THE HIDDEN SEA
$19.99
$13.59 at Amazon
.
DEC061891 STRANGE GIRL #16 $3.50
DEC061892 TRUE STORY SWEAR TO GOD IMAGE ED #5 $2.99
FEB078167 WALKING DEAD VOL 3 SAFETY BEHIND BARS TP NEW PTG $12.99
SEP051681 WALKING DEAD VOL 4 HEARTS DESIRE TP (MR) $12.99
MARVEL COMICS
JAN072416 ANITA BLAKE VH GUILTY PLEASURES #6 (OF 12) $2.99
JAN072362 AVENGERS EARTHS MIGHTIEST HEROES II #8 (OF 8) $3.99
FEB072156 CABLE DEADPOOL #39 $2.99
JAN072438
CIVIL WAR AMAZING SPIDER-MAN
TP $17.99
FEB072200
CIVIL WAR FRONT LINE BOOK 1
TP $14.99
$10.19 at Amazon
.
FEB078126 CIVIL WAR THE CONFESSION 2ND PTG MALEEV VAR $2.99
JAN072439 CIVIL WAR THUNDERBOLTS TP $13.99
FEB072206
DAREDEVIL DEVIL INSIDE & OUT VOL 2
TP $14.99
$10.19 at Amazon
.
NOV041845
ESSENTIAL PETER PARKER SPECTACULAR SPIDER-MAN VOL 1
TP $16.99
$13.25 at Amazon
.
FEB072136 MARVEL ADVENTURES AVENGERS #12 $2.99
FEB072213 MARVEL ADVENTURES FLIP MAGAZINE #24 $4.99
FEB072214 MARVEL HEROES FLIP MAGAZINE #24 $4.99
JAN072357 MARVEL SPOTLIGHT SPIDER-MAN $2.99
FEB072138 MIGHTY AVENGERS #2 CWI $2.99
FEB078041 MIGHTY AVENGERS 2ND PTG CHO VAR #1 (PP #759) $3.99
NOV062306 MOON KNIGHT #9 CW $2.99
FEB072181 ORSON SCOTT CARDS WYRMS #3 (OF 6) $2.99
SEP041810
PUNISHER MAX VOL 2 KITCHEN IRISH
TP $14.99
$10.17 at Amazon
.
FEB072209 PUNISHER MAX VOL 7 MAN OF STONE TP (MR) $15.99
FEB072109 SENSATIONAL SPIDER-MAN #37 $2.99
FEB072150 SQUADRON SUPREME HYPERION VS NIGHTHAWK #4 (OF 4) $2.99
FEB072105 ULTIMATE SPIDER-MAN #108 $2.99
FEB072107 ULTIMATE X-MEN #81 $2.99
STAR16479 ULTIMATES VOL 1 TP $12.99
FEB072164 X-23 TARGET X #5 OF(6) $2.99
FEB072165 X-FACTOR #18 $2.99
FEB072167 X-MEN #198 $2.99
WIZARD ENTERTAINMENT
FEB073051 WIZARD ANIME INSIDER EXC ANNOUNCEMENT CVR #44 (NOTE PRICE) ( $4.99
COMICS
AUG052970 ANGEL DIARY VOL 1 GN $10.95
FEB070023 ARCANA STUDIO PRESENTS 2007 FCBD ED #4 PI
DEC063480 BATTLESTAR GALACTICA #8 $2.99
DEC063483 BATTLESTAR GALACTICA CYLON SILVER FOIL CVR #8 PI
FEB073165 BETTY #164 $2.25
MAR073315 CASINO LILY GN (A) $15.99
JAN073564 DEMONWARS THE DEMON AWAKENS SEELEY CVR A #2 (OF 3) (NOTE PRI $5.50
JAN073565 DEMONWARS THE DEMON AWAKENS WALPOLE CVR B #2 (OF 3) (NOTE PR $9.50
STAR19147 EXCEL SAGA VOL 1 TP $9.95
FEB073377 FORGOTTEN REALMS STREAMS SILVER CVR A #2 $5.50
FEB073378 FORGOTTEN REALMS STREAMS SILVER WALPOLE CVR B #2 $9.50
JAN073362 GOLD DIGGER THRONE OF SHADOWS PKT MANGA VOL 1 $14.95
MAR073826 GOLGO 13 VOL 9 GN (MR) $9.99
STAR18928 INU YASHA VOL 3 2ND ED TP $8.95
FEB073169 JUGHEAD AND FRIENDS DIGEST #19 $2.49
AUG063149 KAMUI GN #5 $9.99
FEB073096 LAST SANE COWBOY & OTHER STORIES GN (MR) $12.95
FEB073462 LOVE & ROCKETS VOL 2 #19 (MR) $4.50
FEB053152 MAR VOL 1 GN $7.99
MAR073734 MICROGRAPHICA GN (MR) $10.00
MAY052446 NIGHTMARES & FAIRY TALES VOL 2 BEAUTIFUL BEASTS TP $14.95
OCT053028 ONE THOUSAND AND ONE NIGHTS VOL 1 GN $10.95
FEB073345 PAINKILLER JANE VOL 1 PX CVR TP $9.99
FEB073344 PAINKILLER JANE VOL 1 REG CVR TP $9.99
FEB073171 PALS N GALS DOUBLE DIGEST #111 $3.69
FEB073836 RAMAYAN 3392 AD #8 $2.99
JAN073506 RED SONJA #21 $2.99
JAN073512 RED SONJA FIERY RED FOIL #21 PI
JAN073788 ROADKILL ZOO #3 (OF 6) (MR) $2.50
FEB073464 RUNAWAY COMICS #3 (MR) $3.50
FEB073260 SIMPSONS COMICS #129 $2.99
FEB073173 SONIC THE HEDGEHOG #174 $2.25
FEB073132 VAMPIRELLA QUARTERLY SPR 07 SEGOVIA B&W CVR #1 $19.95
FEB073130 VAMPIRELLA QUARTERLY SPR 07 SEGOVIA REG #1 $4.95
FEB073133 VAMPIRELLA QUARTERLY SPR 07 VIRGIN JUSKO CVR #1 $19.95
MAGAZINES
FEB073911 ROUGH STUFF #4 $6.95
Comics shipping next week
Previous Marvel Comics Solicitations:
April 2007
May 2007
June 2007
Highlights:
MARVEL MASTERWORKS: THE MIGHTY THOR VOL. 6 HC
Written by STAN LEE
Penciled by JACK KIRBY
Cover by JACK KIRBY
Long live Asgard, True Believers! What better way to herald the return of the God of Thunder, than to usher in another Mighty Thor Masterworks!
After years of honing the tragedy and intrigue of the Son of Odin, Stan and Jack hit a stride that would produce the most mythic tales in all of Marveldom. Beginning with a pair of irredeemable uglies, Replicus and the Super-Skrull, the adventure then takes itself up a Norse notch when the evil Loki conspires to have Thor stripped of his power and vanquished to Earth! Stranded there, he must struggle to survive the machinations of his scheming half-brother, while attemping to regain the graces of All-Father Odin.
Last, but not least: Enter one of the most beloved baddies in all of the Asgardian entourage—The Wrecker! The decidedly mortal Thor must battle to his very last breath against this crowbar-wielding wingnut, who himself is powered with Asgardian might! And we'll warn you now, the last note is a tragic one as Thor faces his ladylove, Sif—in the body of the undefeatable Destroyer!
It's drama as only the Masters of the Marvel Age can make it! Collecting THOR (Vol. 1) #141-151.
256 PGS./Rated A …$54.99
ISBN: 0-7851-2690-2
MARVEL MASTERWORKS:
THE MIGHTY THOR VOL. 6 HC – VARIANT VOL. 80
256 PGS./Rated A …$54.99
ISBN: 0-7851-2691-0
DEVIL DINOSAUR BY JACK KIRBY OMNIBUS HC
Written by JACK KIRBY
Penciled by JACK KIRBY
Cover by JACK KIRBY
No gods from outer space could beat THIS Devil! Jack Kirby crossed into a new cosmos with this crimson carnivore and his faithful sidekick Moonboy! Now, for the first time, Marvel collects the King's saga of Devil Dinosaur in his prehistoric prime! Collecting DEVIL DINOSAUR #1-9.
176 PGS./All Ages …$29.99
$16.49 at Amazon
.
ISBN: 0-7851-2694-5
Trim size: oversized
MARVEL ILLUSTRATED: THE MAN IN THE IRON MASK #1 (of 6)
Written by ROY THOMAS (BASED ON THE NOVEL BY ALEXANDER DUMAS)
Penciled by HUGO PETRUS
Cover by MARKO DJURDJEVIC
Alexander Dumas' brilliant follow-up to The Three Musketeers, brought to vivid life as only Roy Thomas and Hugo Petrus can! Deep inside the French prison known as the Bastille resides prisoner number 12, Philippe…who is none other than the twin brother of King Louis XIV. He was incarcerated to prevent him from setting off a civil war in his quest for the kingship itself. But there are forces who will work tirelessly to free this man in the iron mask—and put Philippe on the throne! It's the start of an adaptation that will draw you in with political intrigue so timely it will shock you.
32 PGS./Rated T+…$2.99
INVADERS CLASSIC VOL. 1 TPB
Written by ROY THOMAS
Penciled by FRANK ROBBINS, RICH BUCKLER, DICK AYERS & DON HECK
Cover by FRANK ROBBINS
The Big Three of Marvel's Golden Age -- Captain America, the Human Torch and the Sub-Mariner -- entered their first alliance when the U.S. entered World War II! But the Axis had more than bombs to throw at them, as they soon learned in a battle with the Star-Gods! The Red Skull wants the Invaders themselves as Hitler's top hitmen, and only a second gathering of Golden Age greats can stop him! Featuring the first appearances of Spitfire, Union Jack and more! COLLECTING INVADERS #1-9, GIANT-SIZE INVADERS #1 and MARVEL PREMIERE #29-30.
240 PGS./Rated A …$24.99
ISBN: 0-7851-2706-2
ESSENTIAL DEFENDERS VOL. 3 TPB
Written by LEN WEIN, CHRIS CLAREMONT, STEVE GERBER, BILL MANTLO, MARY SKRENES, TONY ISABELLA, JIM STARLIN, DON MCGREGOR, ROGER SLIFER, GERRY CONWAY & SCOTT EDELMAN
Penciled by SAL BUSCEMA, KLAUS JANSON, VINCE COLLETTA,MIKE ESPOSITO, FRANK GIACOIA, JOHN TARTAGLIONE, SAM GRAINGER, JIM MOONEY, GIL KANE, JIM STARLIN, DAN ADKINS, DON NEWTON & DON HECK
Cover by ED HANNIGAN
There's nothing the non-team can't handle when mutants, gods, demons and miscreants of the 1950s all get their crack at the sensational super heroes of the seventies! With Luke Cage! The Guardians of the Galaxy! The Son of Satan vs. the Sons of the Serpent! Brain transplants, foreign intrigue and the tumultuous terror of Tapping Tommy! Daredevil, Yellowjacket, Bambi! And introducing...an Elf!? Featuring the first appearance of the ever-reliable Wrecking Crew! Collecting31-60, and Annual 1
592 PGS./Rated A …$16.99
$11.55 from Amazon
.
ISBN: 0-7851-2696-1
ESSENTIAL SPIDER-WOMAN VOL. 2 TPB
Written by MICHAEL FLEISHER, J.M. DEMATTEIS, CHRIS CLAREMONT, STEVE LEIALOHA, ANN NOCENTI &STEVEN GRANT
Penciled by STEVE LEIALOHA, JERRY BINGHAM, MIKE ESPOSITO, ERNIE CHAN, FRANK SPRINGER, JIM MOONEY, BRUCE PATTERSON, AL GORDON, TERRY AUSTIN, BOB WIACEK, BRIAN POSTMAN, CARMINE INFANTINO, DAVE COCKRUM & JOE RUBINSTEIN
Cover by STEVE LEIALOHA
The first part of Spider-Woman's career concludes as her collection of challenges and crises is completed! Some of Marvel's most stupendous scribes set the heroine against Morgan le Fay, the Viper, Gypsy Moth and other fearsome foes, forgotten or otherwise! Plus: the first appearances of X-Factor's Siryn and X-Force's Caliban! But after tearing through a gauntlet of magicians, mad scientists, murder and mystery, what final fate awaits the webbed wonder? Guest-starring Spider-Man, the Hulk, the X-Men and the Werewolf! Collecting SPIDER-WOMAN #26-50, MARVEL TEAM-UP #97 and UNCANNY X-MEN #148.
608 PGS./Rated A …$16.99
$11.55 at Amazon
.
ISBN: 0-7851-2701-1
And the rest:CAPTAIN AMERICA #25 - DIRECTOR'S CUT
Written by ED BRUBAKER
Pencils and Cover by STEVE EPTING
Go behind the scenes on one of the most important issues in Marvel history!
The events in CAPTAIN AMERICA #25 have been covered in news outlets nationwide, and this bonus edition brings you closer to the tragedy than ever before. Reprints CAPTAIN AMERICA #25 in its entirety and featuring Ed Brubaker's complete script and other extras.
64 PGS./Rated T+…$4.99
CIVIL WAR CHRONICLES
Written by MARK MILLAR & PAUL JENKINS
Penciled by STEVE MCNIVEN, RAMON BACKS & STEVE LEIBER
Cover by MICHAEL TURNER
Experience CIVIL WAR and it's major tie-ins from AMAZING SPIDER-MAN, FANTASTIC FOUR, FRON LINE and more in chronological order! The landscape of the Marvel Universe is changing, and it's time to choose: Whose side are you on? A conflict has been brewing, threatening to pit friend against friend, brother against brother – and all it will take is a single misstep to cost thousands their lives and ignite the fuse! As the war claims its first victims, no one is safe as teams, friendships and families begin to fall apart. The crossover that rewrites the rules, CIVIL WAR stars Spider-Man, the New Avengers, the Fantastic Four, the X-Men and the entirety of the Marvel pantheon! This issue reprints CIVIL WAR #1, and the "Embedded" and "Accused" stories from CIVIL WAR: FRONT LINE #1.
72 PGS./RATED T+…$4.99
HALO: UPRISING #1 (of 4)
Written by BRIAN MICHAEL BENDIS
Pencils and Cover by ALEX MALEEV
The Eisner Award-winning team of superscribe Brian Michael Bendis and artist extraordinaire Alex Maleev unleash an epic story of mankind's struggle against the alien threat of the Covenant. Picking up from the conclusion of blockbuster video game Halo 2, the must-read issue reveals how the Master Chief, while onboard a hostile ship headed towards Earth, is battling against Covenant forces! Intertwined with Master Chief's interstellar one-man-war is the saga of a great American city's rebellion and downfall, two disparate lives' collision and shared fate, and the Convenant's hunt for an ancient relic of untold power and value. With hope dwindling and the fate of humanity hanging by a thread, is there any chance for a future? Read this debut issue to start the journey into the Halo universe!
40 PGS./17 and Up ...$3.99
This comic book is based on a Mature-rated video game.
Microsoft, Bungie, the Bungie logo, Halo, the Halo logos, the Microsoft Game Studios logo, Xbox 360, the Xbox logos are either registered trademarks or trademarks of
Microsoft Corporation in the United States and/or other countries and are used under license from owner. © 2007 Microsoft Corporation. All rights reserved.
DARK TOWER: THE GUNSLINGER BORN #6 (of 7)
Written by PETER DAVID & ROBIN FURTH
Art and Cover by JAE LEE & RICHARD ISANOVE
Variant Cover by GREG LAND
Sketch Variant by JAE LEE
The Affiliation, the group comprised of Roland's father and his forces, are being lured into a fatal trap in the Shaved Mountains. With the Old Ones' weapons fired up by Hambry's oil, the Affiliation will be wiped out—unless Roland Deschain—the Gunslinger—can intercede in time! It's a story of love and betrayal from the heart of Mid-World, in this, the penultimate chapter in the first act of Roland's tale. Plus—all the extras Dark Tower fans have come to expect!
48 PGS./Cardstock Cover/Parental Advisory…$3.99
©2007 Stephen King. All rights reserved
MARVEL ILLUSTRATED: TREASURE ISLAND #2 (of 6)
Written by ROY THOMAS (BASED ON THE NOVEL BY ROBERT LOUIS STEVENSON)
Penciled by MARIO GULLY
Cover by GREG HILDEBRANDT
With a treasure map in hand, young Jim Hawkins sets out to find buried treasure—as a cabin boy! But en route, Jim learns—to his horror—that the crew of the ship is comprised of former allies of Flint…the very man whose treasure they seek! And these brigands are planning to take the treasure—and murder anyone who gets in their way.
32 PGS./Rated T+ …$2.99
MARVEL ILLUSTRATED: THE LAST OF THE MOHICANS #3 (of 6)
Written by Roy Thomas (BASED ON THE NOVEL BY JAMES FENIMORE COOPER)
Penciled by Steve Kurth & Denis Medri
Cover by JELENA KEVIC DJURDJEVIC
The English are slaughtered at Fort William Henry and Alice is kidnapped by the Indian, Magua. Hawkeye and the Mohicans reach the ruined fort too late, and as they set out in pursuit of Alice, their canoes are tailed…by those of the ruthless Hurons! Plus, learn more of Hawkeye's past in "Deerslayer!"
32 PGS./Parental Advisory …$2.99
ULTIMATE FANTASTIC FOUR #44
Written by MIKE CAREY
Pencils and Cover by PASQUAL FERRY
"SILVER SURFER"
The Silver Surfer has arrived on Earth and no force can defeat him. But he is merely the herald of one whose power defies description—one to whom universes are mere stepping stones...Psycho Man! Part 3 (of 5)
32 PGS./Rated A …$2.99
ULTIMATE SPIDER-MAN #111
Written by BRIAN MICHAEL BENDIS
Penciled by MARK BAGLEY & STUART IMMONEN
Cover by MARK BAGLEY & RICHARD ISANOVE
50/50 Variant Cover by STUART IMMONEN & RICHARD ISANOVE
The artistic baton is passed from longtime penciler Mark Bagley to stunning new ongoing artist Stuart Immonen, of Ultimate X-Men and Ultimate Fantastic Four fame! Peter and his Aunt May have perhaps the most important conversation of Peter's life. It's a gut-wrenching, emotional roller coaster you'll never forget. And on the lighter side, we introduce the latest addition to the Spidey villains gallery—say hello to Ultimate Spot! We kid thee not.
32 PGS./Rated A …$2.99
ULTIMATE X-MEN #84
Written by ROBERT KIRKMAN
Pencils and Cover by YANICK PAQUETTE
The X-Men are no more. Long live the X-Men! The man from the future, Bishop, completes his own team of mutants, ready to carry on the legacy of Charles Xavier. And their first task is to stop the attacks of the deadly Sentinels against their kind. And you'll never guess who's behind the attacks… or who the new
Ultimate X-Men are!
32 PGS./Rated T+ …$2.99
AMAZING SPIDER-MAN #543
Written by J. MICHAEL STRACZYNSKI
Pencils and Cover by RON GARNEY
"Back in Black," Part 5
Conclusion!
One bullet changed everything for Peter Parker. The black-clad Spider-Man has battered his way to the man who gave the kill order -- Wilson Fisk, a.k.a. the Kingpin. At his darkest hour, will Peter cross the line he swore he'd never cross? You won't believe your eyes, True Believer.
32 PGS./Rated A …$2.99
FRIENDLY NEIGHBORHOOD SPIDER-MAN #22
Written by PETER DAVID
Penciled by TODD NAUCK
Cover by TODD NAUCK
A BACK IN BLACK extravaganza!! The deadly plans of Miss Arrow stand revealed and the friends of Peter Parker may not live to see another day.
32 PGS./Rated A …$2.99
SENSATIONAL SPIDER-MAN #39
Written by ROBERTO AGUIRRE-SACASA
Penciled by LEE WEEKS
Cover by CLAYTON CRAIN
Eddie Brock is a man consumed. By his cancer, by demons real and imagined, by his past as the deadly villain Venom. While his arch-foe Peter Parker and a group of his family and friends hold a séance conducted by Madame Web to try and reach the comatose May, Brock will set in motion a plan that will either redeem all his past wrongs or damn him to everlasting
suffering…Which will he choose?
32 PGS./Rated A …$2.99
SPIDER-MAN AND THE FANTASTIC FOUR #4 (of 4)
Written by JEFF PARKER
Pencils and Cover by MIKE WIERINGO
Reed Richards is back, and so is someone else. And that someone is MAD. And not as charming as he was when we saw him last. Spider-Man and the Fantastic Four have figured out how to save the human race, but now they have to save the alien invaders as well!
32 PGS./Rated A …$2.99
SPIDER-MAN FAIRY TALES #3 (of 4)
Written by C.B.CEBULSKI
Art and Cover by KEI KOBAYASHI
Spider-Man Fairy Tales continues with a retelling of Spider-Man's origin, fusing one of Marvel's most classic stories with a number of popular Japanese ghost stories and legends! After the death of his parents, a young Buddhist monk is taken in by his elderly aunt and uncle and has since enjoyed a peaceful life away from further pain and suffering in a secluded temple. But when an evil "tsuchigumo," or spider spirit, attacks and bites the young boy, he finds he's gained tremendous abilities which he must now use to save his temple from six sinister ghostly invaders who have come for his blood!
32 PGS./Rated A …$2.99
AMAZING SPIDER-GIRL #10
Written by TOM DEFALCO
Pencils and Cover by RON FRENZ
"CARNAGE!" Part 2 of 4
Caught in a war between Maria Hill and the Contessa Valentina Allegro De Fountaine, Spider-Girl must also battle the reborn Carnage who is targeting the students and facility of Midtown High as well as the Parker family! Guest-starring: Kaine and Darkdevil!
32 PGS./Rated A …$2.99
SPIDER-MAN LOVES MARY JANE #20
Written by SEAN MCKEEVER
Penciled by DAVID HAHN
Cover by TAKESHI MIYAZAWA
Three little words set Mary Jane's world ablaze...and by page 22, Nothing Will Ever Be The Same Again...again. And This Time, It's Personal.
32 PGS./All Ages …$2.99
ANNIHILATION: CONQUEST – STAR-LORD #1 (of 4)
Written by KEITH GIFFEN
Penciled by TIMOTHY GREEN
Cover by NIC KLEIN
Annihilation: Conquest continues here - - with the war book that brings back cosmic cult faves from throughout the decades! Peter Quill is once again Star-Lord - - but what could possibly make him take on his former identity? And what brings together the motley crew that includes Bug, Captain Universe, Deathcry, Mantis, Groot and Rocket Raccoon? Grab your blaster and say your prayers as Keith Giffen (ANNIHILATION) and soon-to-be star Timothy Green (Rush City) deliver a sci-fi twist on Sgt. Fury and his Howling Commandos!
32 PGS./Rated T+ …$2.99
ANNIHILATION: CONQUEST-- – WRAITH #1 (of 4)
Written by JAVIER GRILLO-MARXUACH
Art by KYLE HOTZ
Cover by CLINT LANGLEY
Annihilation: Conquest continues here -- with the introduction of a dark addition to Marvel's galaxy of sci-fi stars! Who is the haunted loner known as Wraith? What are his chilling powers, how did he get them, and what is the tragic quest that drives him? Javier Grillo-Marxuach (TV's Lost and Medium) and Kyle Hotz (ZOMBIE) dare you to ride with Marvel's new gothic gunslinger!
32 PGS./Rated T+ …$2.99
ANNIHILATION: CONQUEST – QUASAR #1 (of 4)
Written by CHRISTOS GAGE
Penciled by MIKE LILLY
Cover by MATT WILSON
Annihilation: Conquest continues here - - with a fantasy quest for the key to the entire event! The new Quasar - - a.k.a. Phyla-Vell, daughter of Captain Marvel - - embarks on an epic journey that could bring an end to Conquest. What has happened to her home world? What classic foe of the Avengers is now hunting her? What is troubling her lover, Moondragon? Join the action as Wizard's "2007 Writer to Watch" Christos Gage (UNION JACK) and Mike Lilly (Vampirella) introduce you to a sci-fi Joan of Arc determined to earn her legacy and save a galaxy!
32 PGS./Rated T+ …$2.99
NOVA #4
Written by DAN ABNETT & ANDY LANNING
Penciled by SEAN CHEN
Cover by ADI GRANOV
Annihilation: Conquest continues here -- as the Human Rocket zooms into the next sci-fi saga! Rich Rider stood toe to toe with Annihilus, but can the last remaining Nova Corps centurion face a foe that has an entire galaxy on lockdown? And what will happen when a man used to flying anywhere finds himself trapped with nowhere to run? Hang on tight as Dan Abnett & Andy Lanning (ANNIHILATION: NOVA) and Sean Chen (IRON MAN) take you inside the next cosmic war!
32 PGS./Rated T+ …$2.99
BLADE #11
Written by MARC GUGGENHEIM
Penciled by HOWARD CHAYKIN
Cover by MARKO DJURDJEVIC
It's the build-up to the climactic end of Blade's first year! And to celebrate, Marc Guggenheim and Howard Chakykin are unloading the series' first two-part story! What story could be so big it needed two issues to tell? Only the climactic encounter between Blade and his newly-discovered father! What is Blade's connection to an ancient vampire prophecy and how will it affect him forever? The answers begin here, true believer!
32 PGS./Rated T+ …$2.99
ALL-NEW OFFICIAL HANDBOOK OF THE MARVEL UNIVERSE A TO Z: UPDATE #3
Written by JEFF CHRISTIANSEN, STUART VANDAL, SEAN MCQUAID, MICHAEL HOSKIN, ERIC J. MOREELS, AL SJOERDSMA, CHAD ANDERSON, RONALD BYRD, ANTHONY FLAMINI, STEVEN FAULKNER, MADISON CARTER, CHRIS BIGGS, DAVID WILTFONG
Cover by AARON LOPRESTI
Do you think Death Metal is just a kind of music? Do you think the Zodiac Key belongs in your car's ignition? Did someone tell you that the Acts of Vengeance was a book in the Bible? Clear up your misconceptions with the latest OFFICIAL HANDBOOK! Featuring new characters who have never been covered before (Cobra, Crusader, Sabreclaw of MC2), characters from past editions receiving their first 21st-century entries (Batroc, Deathbird, Kid Colt, Klaw) and older characters who have never been covered at all ranging from the overlooked (Chrome of the New Universe, Gods of Mesopotamia, Masked Marauder) to the completely obscure (Geometer, Huntsman)! Plus, a major 5-page spotlight on the avenging son himself, Namor the Sub-Mariner! And don't forget Juggernaut, Shaman, And much, much more!
64 PGS./Rated T+ …$3.99
AVENGERS CLASSIC #2
Written by DWAYNE MCDUFFIE
Penciled by MICHAEL OEMING
Cover by ART ADAMS
Stan and Jack bring you AVENGERS #2 in all its Hulk-out glory! Plus a bonus back-up story by Dwayne McDuffie and Mike Oeming featuring the INCREDIBLE HULK in a story of misunderstanding and mayhem! Don't miss out, it's only 3 bucks!
And check out that far-out Art Adams cover! It's a gas!
32 PGS./Rated A …$2.99
CAPTAIN AMERICA #28
Written by ED BRUBAKER
Pencils by STEVE EPTING & MIKE PERKINS
Cover by STEVE EPTING
Meet the New Serpent Squad, their leader -- Sin, the daughter of the Red Skull! And now as the world still reels from the tragic assassination of Captain America, the Skull and his minions begin to put their plans into motion, to deadly effect! And as the Falcon and Nick Fury hunt for the Winter Soldier, new director of S.H.I.E.L.D., Tony Stark, gets a message from beyond the grave...
32 PGS./Rated T+ …$2.99
THE CHAMPIONS #1
Written by MATT FRACTION
Pencils and Cover by BARRY KITSON
Variant Cover by STEVE MCNIVEN
THE CHAMPIONS introduces the all-new and Los Angeles-based crown jewel in Tony Stark's FIFTY-STATE INITIATIVE. A team of Stark-branded and created super heroes, these young actors, athletes and models are infused with tremendous powers and even more tremendous fame, reborn as the First Super Hero Team of Tomorrow™ -- THE CHAMPIONS. Here the same ol'-same ol' means hooking up at the Standard, drinks at SkyBar and a death-duel on Sunset Blvd. against some villain too stupid to realize that, in Hollywood, the good guys always win. The catch: you can be fired at any point along the way. And every inch of your life will be subjected to intense public scrutiny. And if you survive all that for a whole year, you'll face mandatory retirement. And there's no guarantee you'll live to see that retirement. If you had one year to save the world, what would you do?
32 PGS./Rated T+ …$2.99
DAREDEVIL #99
Written by ED BRUBAKER
Penciled by MICHAEL LARK
Cover by MARKO DJURDJEVIC
It's the shocking conclusion of "TO THE DEVIL, HIS DUE" as the knife twists in Matt Murdock's back, and his life leaps off the rails once again. The villain who's been ripping Hell's Kitchen apart is revealed, as DD leaps into the fight of his life!
32 PGS./Rated T+ …$2.99
DAREDEVIL: BATTLIN' JACK MURDOCK #2 (of 4)
Story by CARMINE DI GIANDOMENICO & ZEB WELLS
Script by ZEB WELLS
Art and Cover by CARMINE DI GIANDOMENICO
"The latest offering from the Marvel Knights line"
A failed boxer turned mob enforcer, Battlin' Jack Murdock is living in an alcohol-soaked world where his fists are his only currency and his day job is filled with violence -- until the birth of his son Matt leads him on a path to redemption, that is. But when Jack finds out that integrity has a price – one that he just might not be able to pay -- can he stay away from the bottle? Or will a young Matt Murdock discover why they called his father Battlin' Jack?!
32 PGS./Cardstock Cover Parental Advisory …$3.99
GHOST RIDER: TRAIL OF TEARS #6 (of 6)
Written by GARTH ENNIS
Pencils and Cover by CLAYTON CRAIN
It's High noon Hell! Five inhuman riders rode out of the red fog and unleashed hell on the little town and its people -- five riders who came from the bowels of hell with blood in their eyes and their sights trained on the Spirit of Vengeance itself.
32 PGS./Parental Advisory …$2.99
FANTASTIC FOUR AND POWER PACK #1 (of 4)
Written by FRED VAN LENTE
Pencils and Cover by GURIHIRU
Jack Power has competition for B.M.O.C. of N.Y.C.'s P.S. 616 ... the new kid in school, FRANKLIN RICHARDS, Son of a Genius! But when two older kids swipe the gear of WIZARD and the TRAPSTER and target both Frank and Jack, the FF and Power Pack have to team up to stop the "Attack of the Super-Bullies!"
32 PGS./All Ages …$2.99
FANTASTIC FIVE #1 & 2 (of 5)
Written by TOM DEFALCO
Penciled by RON LIM
Covers by CLAYTON HENRY
"The Final DOOM!" Parts 1 & 2 of 5
As the Human Torch and Lyja discuss the merits of leaving the F5 to form their own team and Sharon Ventura returns to confront her ex-husband the Thing, the real Doctor Doom returns with cosmic-like power and a thirst for revenge on Reed Richards and the Sub-Mariner! Also starring the Invisible Woman, Psi-Lord and Kristoff--and cameos galore!
32 PGS. (each)/Rated A …$2.99 (each)
FANTASTIC FOUR #548
Written by DWAYNE MCDUFFIE
Penciled by PAUL PELLETIER
Cover by MICHAEL TURNER
Fantastic Four vs. Frightful Four—'Nuff Said!
32 PGS./Rated A …$2.99
IMMORTAL IRON FIST #8
Written by ED BRUBAKER & MATT FRACTION
Pencils & Cover by DAVID AJA
Once a generation, the Seven Capital Cities of Heaven align on a plane far beyond the ken of mortal men. It is here that these cities send their Immortal Warriors to compete against one another in a combat tournament to end all tournaments…and it is here that Daniel Rand was spirited to in his darkest hour. Generations of mystical war traditions await their chance to prove they have the greatest kung fu…to THE IMMORTAL IRON FIST!
32 PGS./Rated T+ …$2.99
WORLD WAR HULK #2 (of 5)
Written by GREG PAK
Penciled by JOHN ROMITA JR.
Cover by DAVID FINCH
Variant Cover by JOHN ROMITA JR.
The puny human "heroes" of Earth, including Reed Richards, Iron Man, Dr. Strange and Black Bolt, called the Hulk a monster and shot him into space. Now the Hulk has returned with a rage that knows no bounds—and he has a posse! Can the mightiest powerhouses of the Avengers stop the Hulk and his cadre of super-powered Warbound gladiators as they carve their path of mayhem through the concrete canyons of Manhattan? Can battling Ben Grimm and the rest of the Fantastic Four save Reed Richards from the Hulk's wrath? And what hope can She-Hulk have of calming her great green cousin's terrible rage?
40 PGS./Rated T+ …$3.99
WORLD WAR HULK: FRONT LINE #2 (of 6)
Written by PAUL JENKINS
Art by RAMON BACHS, SHAWN MARTINBROUGH & CHRIS MORENO
Cover by JOHN WATSON
Your man-on-the-street view of WORLD WAR HULK continues here - - with three separate features all written by Paul Jenkins! First, Ben Urich and Sally Floyd, now running their own newspaper, attempt to single-handedly cover a story that even the big boys can't -- featuring art by Ramon Bachs (CIVIL WAR: FRONT LINE)! Then, costume division detective Danny Granville and the alien known as Korg race to figure out who killed one of Hulk's allies - - with art by Shawn Martinbrough (JSA Classified)! Finally, Chris Moreno (Sidekick) proves that the Hulk's invasion of Manhattan is actually something to laugh at!
32 PGS./Rated T+ …$2.99
INCREDIBLE HULK #108
Written by GREG PAK
Penciled by CARLO PAGULAYAN
Cover by GARY FRANK
By hook and by crook, teen genius Amadeus Cho has done the impossible -- assembling a team of heroes crazy enough to side with the Hulk upon his return to Earth. But what happens when these Renegades finally come face-to-face with the Hulk's alien Warbound allies -- while civilians struggle to survive in the shattered streets of Manhattan? Amadeus Cho may just learn the difference between playing a hero -- and being one. Featuring the return of "Planet Hulk" artist extraordinaire Carlo Pagulayan with his first pencils on Planet Earth in over a year!
32 PGS./Rated A …$2.99
WORLD WAR HULK: GAMMA CORPS #1 & 2 (of 4)
Written by FRANK TIERI
Penciled by CARLOS FERREIRA
Cover by STEPHANE ROUX
The Hulk. The Abomination. The Leader. The Harpy. Doc Samson. Born of gamma radiation, they represented a new chapter of humanity. Now, spawned through their respective DNA has come the next generation... the Gamma Corps. Recruited and trained by the enigmatic General Ryker, their mission is a simple one-- to kill the Incredible Hulk. And considering he's facing 5-1 odds, is that a mission even this new and improved version of the Green Goliath can prevent?
32 PGS. Each/Rated A …$2.99 Each
WORLD WAR HULK: X-MEN #2 (of 3)
Written by CHRISTOS GAGE
Penciled by ANDREA DI VITO
Cover by ED MCGUINNESS
It's an all-out action issue as the Astonishing X-Men battle the Hulk in defense of Professor Xavier's dream! You've never seen a Hulk/Wolverine matchup this savage! Plus, what other members of the extended X-Men family will respond to the distress call...and will there be anything left when they do? Featuring Juggernaut!
32 PGS./Rated A …$2.99
AVENGERS: THE INITIATIVE #4
Written by DAN SLOTT
Penciled by STEFANO CASELLI
Cover by JIM CHEUNG
WORLD WAR HULK CROSSOVER!
"GREEN ZONE" Part 1 of 2
When the Hulk and his Warbound invade America, the Superhuman Armed Forces answer the call! Our young recruits have seen plenty of action, but will it prepare them for ALL-OUT WAR?! In this time of crisis, will SHE-HULK be able to take IRON MAN'S orders? And what is HARDBALL hiding from everyone? Believe it or not, it's a secret that could turn the tide of the entire WAR!
32 PGS./Rated T+ …$2.99
GHOST RIDER #13
Written by DANIEL WAY
Penciled by JAVIER SALTARES
Cover by GABRIELLE DELL'OTTO
"Apocalypse Soon," Part 2 (of 2)
A WORLD WAR HULK TIE-IN! Well, Johnny got what he wanted. Temporarily setting aside his quest for the remaining avatars of Lucifer, he has forced the Ghost Rider into a confrontation with The Hulk in hopes of saving the innocent. But who's going to save Ghost Rider? The straight-up beat-down of the decade rumbles to its shocking conclusion!
32 PGS./Rated T+ …$2.99
IRON MAN #20
Written by CHRISTOS GAGE
Penciled by BUTCH GUICE
Cover by GERALD PAREL
A WORLD WAR HULK TIE-IN! With Iron Man missing after his battle with the Hulk, S.H.I.E.L.D. is thrown into chaos! Acting Director "Dum Dum" Dugan has to decide whether to try to find Tony Stark, the man who's pushed S.H.I.E.L.D. in a direction he disagrees with...or whether to seize control and run things his way. Also, discover the fate of Iron Man after facing the Hulk's wrath!
32 PGS./Rated A …$2.99
IRREDEEMABLE ANT-MAN #10
Written by ROBERT KIRKMAN
Pencils and Cover by PHIL HESTER
WORLD WAR HULK tie-in!
Ant-Man is still on the run, hiding from S.H.I.E.L.D. But now things have changed--the Hulk has come to town. Will Ant-Man finally be the hero he was born to become and defend New York City from the Green Goliath? Or will he use this opportunity to loot and pillage a devastated New York? This book ain't called Irredeemable for nothing!
32 PGS./Rated T+ …$2.99
HEROES FOR HIRE #12
Written by ZEB WELLS & FRED VAN LENTE
Penciled by CLAY MANN
Cover by TAKESHI MIYAZAWA
When Humbug discovers that insect members of Hulk's Warbound have plans of their own for Earth, the Heroes for Hire infiltrate their great stone starship. But can Humbug be trusted, or is he being seduced by visions of a bug-friendly future? Go behind the battle lines of WORLD WAR HULK in the second part of this exciting crossover! Plus: a special backup tale featuring a top-secret S.H.I.E.L.D. plan to assassinate
the HULK!
32 PGS./Rated T+ …$2.99
MARVEL SPOTLIGHT: WORLD WAR HULK
Written by JOHN RHETT THOMAS
In June, WORLD WAR HULK explodes onto the Marvel scene and SPOTLIGHT is going to be there to cover it - once we make sure our reporters have their life insurance policies updated! The Green-skinned Goliath has returned from Planet Hulk and he wants to pay back the do-gooders who ponied up for that supposedly one-way ticket into outer space! And if there's any collateral damage? Well...it wouldn't be a good issue of MARVEL SPOTLIGHT without that! We'll be talking to HULK creators past and present, pulling back the curtain on the big event of 2007, as well as taking a look back at the classic HULK stories of the past! Armed and ready to deliver the biggest, broadest Hulk coverage out there, we'll be bringing beans, puppies, buckets of industrial strength Gamma-Ray-B-Gone - anything we can think of to protect us against the rampaging man-beast that is the Incredible Hulk! Be there or be scared!
40 PGS./Rated T+ …$2.99
MARVE
L ADVENTURES HULK #1
Written by PAUL BENJAMIN
Penciled by DAVID NAKAYAMA
Cover by CARLO PAGULAYAN
The debut of the newest member of the critically-acclaimed MARVEL ADVENTURES line! Caught in a blast of gamma radiation, brilliant scientist Bruce Banner now finds himself in times of stress turning into the living engine of destruction know as THE INCREDIBLE HULK!
32 PGS./All Ages …$2.99
GIANT-SIZE MARVEL ADVENTURES THE AVENGERS #1
Written by Jeff Parker
Pencils and Cover by Leonard Kirk
Remember your history–The Avengers didn't thaw out Captain America, and Kang the Conqueror became Master of the World throughout all time. To make a brighter future, our heroes have to go to the 1950's and enlist the help of The Agents of ATLAS! Plus extras!
48 PGS./All Ages …$3.99
MARVEL ADVENTURES IRON MAN #3
Written by FRED VAN LENTE
Penciled by JAMES CORDEIRO
Cover by MICHAEL GOLDEN
It's covered your car, it's smothered your house ... and now it's crawling through the door after you! It's THE CREEPING DOOM, and the PLANTMAN is using it to end the domination of animals over the Earth, and only Iron Man can stop him in time! It's the ultimate Nature vs. Technology grudge match, folks -- place your bets!
32 PGS./All Ages …$2.99
MARVEL ADVENTURES SPIDER-MAN #29
Written by PETER DAVID
Penciled by POP MAHN
Cover by PATRICK SCHERBERGER
Y'know, some people just don't like museums. They're cold, boring, super-villains are always stealing stuff—wait, what? Yo! GREY GARGOYLE! Stop stealing stuff! All right, fine…but you're gonna have to deal with SPIDEY!
32 PGS./All Ages …$2.99
MARVEL ADVENTURES FANTASTIC FOUR #26
Written by FRED VAN LENTE
Penciled by CORY HAMSCHER
Cover by PAUL SMITH
A massive alien refugee fleet streams through our solar system, bearing the warning: "Galactus is coming! Galactus is coming!" And right behind them is the World-Devourer's herald, the SILVER SURFER -- headed straight for Earth! Reed Richards has only a few days to evacuate the planet before it's destroyed ... or, failing that, figure out a way to somehow stop the unstoppable!
32 PGS./All Ages …$2.99
MARVEL ADVENTURES TWO-IN-ONE
MARVEL ADVENTURES FANTASTIC FOUR #23
MARVEL ADVENTURES SPIDER-MAN #27
64 PGS./ALL AGES…$4.99
MARVEL TWO-IN-ONE
MARVEL ADVENTURES THE AVENGERS #1
X-MEN: FIRST CLASS #1
64 PGS./ALL AGES…$4.99
MARVEL ZOMBIES/ARMY OF DARKNESS #5 (of 5)
Written by JOHN LAYMAN
Penciled by FABIANO SILVA NEVES with FERNANDO BLANCO & SEAN PHILIPS
Cover by ARTHUR SUYDAM
Ash is the last man standing, with super-powered zombies around every corner. It may be the end of the road for the intrepid adventurer, unless he dares to awake—the Army of Darkness! It's the final chapter in this best-selling limited series bringing together two of horror's top franchises! Don't miss the excitement!
32 PGS./Parental Advisory …$2.99
ARMY OF DARKNESS TM & © 1993-2006 Orion Pictures Corporation.
DYNAMITE ENTERTAINMENT TM & © 2006 DFI.
www.dynamiteentertainment.com
MS. MARVEL #17
Written by BRIAN REED
Penciled by AARON LOPRESTI
Cover by GREG HORN
M.O.D.O.K., Wonder Man and Ms. Marvel collide in the conclusion to "READY, A.I.M., FIRE!" M.O.D.O.K.'s big ol' head is about to explode in the middle of Times Square! A traitor in Carol's crew is revealed! Two characters will die - - and a new super-villain will be born! Brian Reed (NEW AVENGERS: ILLUMINATI) and Aaron Lopresti (INCREDIBLE HULK) continue their whirlwind run and bring you more madness for the leader of the Mighty Avengers.
32 PGS./Rated A …$2.99
MYSTIC ARCANA: BLACK KNIGHT
Written by ROY THOMAS AND DAVID SEXTON
Penciled by TOM GRUMMETT AND ERIC NGUYEN
Cover by MARKO DJURJEVIC
Part two of a MAGIC EVENT defining the mystic arts of the Marvel Universe. The fall of Camelot is near and the Old Magics are in danger of fading from existence. Merlin's only hope lies with Sir Percy of Scandia, the Black Knight! But will the cost be too great as Sir Percy duels with Mordred the Evil in the last, great battle of the era? Roy Thomas and Tom Grummett bring you this sword-and-senses shattering tale!
Plus, Ian McNee's dangerous quest for the four magical objects continues as he faces off with the treacherous and beautiful Morgan Le Fey in a special 10-page story by David Sexton and Eric (Sandman Mystery Theatre) Nguyen.
40 PGS./Rated T+ …$2.99
OFFICIAL TAROT OF MARVEL UNIVERSE
Written by DAVID SEXTON & JEFF CHRISTIANSEN
Cover by MARKO DJURDJEVIC
Theories on the Marvels of Myth and Magic from the Files of Ian McNee!
Sorcerer and outsider Ian McNee has been plagued by disturbing dreams and unsettling omens. Something is not right with the world and he needs to know what it is. To gain insights into his growing unease he turns to his most prized mystical possession, The First Tarot! Created in the distant past, The First Tarot is mystically attuned to reflect and track the archetypes of the Marvel Universe. Can this "Tarot of Marvels" show Ian what is wrong? Or is something wrong with it as well? Peek inside the fascinating and disorganized files of a Magician on a Mission as he examines the current concepts behind Marvel's Myth and Magic and adds a few of his own. How do the Elder Gods connect to the Four Elements? Who are The Get of Set? And a Who's Who of Marvel characters presented in the context of the Tarot's Major Arcana. Is Dr. Doom THE EMPEROR? Is Daimon Hellstorm THE DEVIL? All will be revealed ...in the cards!
48 PGS./Rated A...$3.99
MIGHTY AVENGERS #5
Written by BRIAN MICHAEL BENDIS
Pencils and Cover by FRANK CHO
Iron Man has been destroyed, the Sentry's wife is murdered, nuclear missiles are being launched around the world and the one man with the plan to stop the new and improved Ultron...is a God of War who's been an Avenger a total of five minutes.
32 PGS./Rated A …$2.99
NEW AVENGERS #32
Written by BRIAN MICHAEL BENDIS
Pencils and Cover by LEINIL FRANCIS YU
The New Avengers have found a huge clue to the threat that has faced them since the day they banded together. And now just the knowledge of that threat is tearing them apart. What secret could be so damning that it could do to the New Avengers what the Civil War could not??
32 PGS./Rated A …$2.99
NEW AVENGERS: ILLUMINATI #4 (of 5)
Written by BRIAN MICHAEL BENDIS & BRIAN REED
Pencils and Cover by JIM CHEUNG
They have faced the Skrull empire, the Hulk, the Sentry, the Infinity Gems and the Beyonder... but now the secret society of Marvel is faced with the one thing too much for even them... and the cover to this issue says it all. Oh, and there's this guy named Marvel Boy who declared war on the Earth.
32 PGS./Rated T+ …$2.99
NEW AVENGERS/TRANSFORMERS #1 (of 4)
Written by STUART MOORE
Penciled by TYLER KIRKHAM
Cover by JIM CHEUNG
It's time to Assemble–and Roll Out! What in the world could unite Earth's Mightiest Heroes and the Autobots? Maybe the Decepticons and Dr. Doom know! War is about to break out on the border between Latveria and Symkaria -- unless two unique teams of heroes can unravel a dark mystery… that is, if they don't destroy each other first! Stuart Moore (WOLVERINE, PUNISHER X-MAS SPECIAL) and Tyler Kirkham (X-MEN: PHOENIX WARSONG) bring together fan-faves like Wolverine, Megatron, Spider-Man and Optimus Prime in this all-new, four-issue, widescreen adventure!
32 PGS./Rated T+ …$2.99
NEW WARRIORS #2
Written by KEVIN GREVIOUX
Penciled by PACO MEDINA
Cover by NIC KLEIN
Someone is gift-wrapping super-villains for the police, defacing Superhuman Registration posters, and raising eyebrows from City Hall to Tony Stark's war chamber. And the only clue to their identity? Two spray-painted letters: N.W. Are the New Warriors really back? As the NYPD Costumed Division inches closer and closer to the truth and Stark unveils his master plan for dealing with these juvenile upstarts, the ex-mutant formerly known as Wind Dancer actually makes contact. Up from the grave: Night Thrasher!
32 PGS/Rated T+ ...$2.99
PUNISHER WAR JOURNAL #9
Written by MATT FRACTION
Pencils and Cover by ARIEL OLIVETTI
It's part 4 of "Blood and Sand," with the heart of the American dream at stake. G.W. Bridge is on the hunt. Clarke is on the run. Tati's in hell. And THE PUNISHER discovers the horrible secret of Hate Monger's empire buried beneath the desert floor. Which means this is the issue where the bodies start dropping and hope comes in short supply. Frank's insane crusade against the Hate Monger's diabolical murder sprees south of the border finds its bloody tipping point, and it's only going to get worse from here. Can one man stand against an army fueled by pure hate?
32 PGS./Rated T+ …$2.99
SHE-HULK #21
Written by DAN SLOTT
Penciled by RICK BURCHETT
Cover by GREG HORN
THE MOST IMPORTANT MARVEL COMIC YOU WILL READ ALL YEAR!
"ANOTHER ME, ANOTHER U"
Ever notice how in some Marvel comics, characters who are SUPPOSED to be dead show up with NO explanation whatsoever? Or in the wrong costume? Or acting in a way they NEVER have before? Well guess what, True Believer, there was a reason. And that reason is going to have She-Hulk and her friends working on some of their STRANGEST cases yet! Don't miss it-- 'cause this is the issue that fixes 90% of Marvel's continuity problems-- from NOW ON!
32 PGS./Rated T+ …$2.99
THE LONERS #4 (OF 6)
Written by C. B. CEBULSKI
Penciled & Inked by KARL MOLINE
Cover by JASON PEARSON
Can Marvel's former teen heroes stay out of the spandex life? Once she fought aliens and super–villains as the brainy member of Power Pack; now she's trying to become a star in Hollywood - - which is the tougher challenge for Lightspeed? Plus, why has the former Generation X mutant now known as Hollow reached out to the guy who used to be a Green Goblin? C.B. Cebulski (X-MEN FAIRY TALES) and Karl Moline (Route 666) keep you guessing in the latest installment of this RUNAWAYS spin-off!
32 PGS./Rated T+ …$2.99
SILVER SURFER: REQUIEM #3 (of 4)
Written by J. MICHAEL STRACZYNSKI
Art and Cover by ESAD RIBIC
REQUIEM, PART THREE
"SANCTUS"
Another offering from Marvel Knights. Guest-starring Dr. Strange!!
His time is short and getting shorter. Like a fish swimming upstream, the Silver Surfer is drawn to the familiar waters that birthed him. But the path to Zenn-La is neither clean nor straight. To reach his destination, the Surfer must travel through a battlefield of unimaginable scale, and cut to the heart of a Sacred War that has raged for untold eons. Is there time for one last stab at redemption?
32 PGS./CARDSTOCK COVER/Rated T+ …$3.99
SUB-MARINER #2 (of 6)
Written by MATT CHERNISS & PETER JOHNSON
Penciled by PHIL BRIONES
Cover by GABRIELE DELL'OTTO
Atlantis has attacked America – but on whose orders? Now, as the leaders of men prepare to launch a war against the undersea kingdom, and Iron Man, Director of S.H.I.E.L.D., struggles to delay the inevitable, Namor wants answers! Will the Sub-Mariner have to take S.H.I.E.L.D. head-on? And will treacherous Atlanteans stab him in the back…? Peter Johnson & Matt Cherniss (POWERLESS) and international sensation Phil Briones (WHITE TIGER) bring you a bold new look at the mutant monarch of the ocean!
32 PGS./Rated T+ …$2.99
OMEGA FLIGHT #4 (of 5)
Written by MICHAEL AVON OEMING
Penciles & Cover by SCOTT KOLINS
OMEGA FLIGHT VS. THE WRECKING CREW! Plus: the TRUE VILLAINS ARE REVEALED!
32 PGS./Rated T+ …$2.99
SUPER-VILLAIN TEAM-UP/M.O.D.O.K.'S 11 #1 (OF 5)
Written by FRED VAN LENTE
Penciled by FRANCIS PORTELA
Cover by ERIC POWELL
While the heroes are away fighting World War Hulk, the villains can play...M.O.D.O.K., sick of being hunted and hounded by A.I.M., gathers together an eclectic team of Marvel's Most Wanted to pull off one last, big score. But news travels fast along the grapevine of villainy -- and pretty soon every bad guy in the Marvel Universe is gunning for the Big-Headed One's unspeakably powerful prize. Executing their heist may be the easy part, because getting away with their loot alive is going to be the real challenge for M.O.D.O.K.'s 11!
32 PGS./Rated A …$2.99
THUNDERBOLTS: DESPERATE MEASURES
Written by PAUL JENKINS
Penciled by STEVE LIEBER
Cover by MARKO DJURDJEVIC
Norman Osborn has his own agenda when it comes to directing the Thunderbolts. But will he go too far when he sends Penance on what could be a suicide mission against the brutal, rogue law-enforcer, Americop? It's Thunderbolt against Thunderbolt in a battle of fists and wills in this special issue by the masterminds behind CIVIL WAR: FRONT LINE.
32 PGS./Rated A …$2.99
THOR #1
Written by J. MICHAEL STRACZYNSKI
Pencils and Cover by OLIVIER COIPEL
Variant Cover by TBA
Not a clone! Not a robot! Not an imaginary story! The God of Thunder is officially BACK! You've waited for it, you've demanded it…and we say thee YEA! The Odinson comes roaring to life in this highly anticipated ongoing series by red-hot superstars J. Michael Straczynski (AMAZING SPIDER-MAN) and Olivier Coipel (HOUSE OF M)! But how does a god return from Ragnarok? And what place will he find in a world torn by CIVIL WAR?
32 PGS./Rated T+ …$2.99
UNCANNY X-MEN #488
Written by ED BRUBAKER
Pencils and Cover by SALVADOR LARROCA
"The Extremists"
The X-Men (re-united with Storm) take to the tunnels to discover why the Morlocks have been erupting with violence. It ain't going to be pretty. Also, Professor X goes off in search of a VERY IMPORTANT character from X-History. Do not miss this tale brought to you by the white-hot team of ED BRUBAKER (CAPTAIN AMERICA, DAREDEVIL) and SALVADOR LARROCCA (NEWUNIVERSAL, X-MEN). Part 2 (of 6)
32 PGS./Rated T+ …$2.99
X-FACTOR #21
Written by PETER DAVID
Pencils and Cover by PABLO RAIMONDI
In a castle of ice in a far off land, a fearsome being called the Isolationist sits and waits and plans...except he need wait no longer. He is coming to Mutant Town, and is seeking out Jamie Madrox. But whether he and X-Factor will be enemies or allies pales in comparison to the shocking developments involving Guido's new job offer, Rictor's unexpected call to action, Siryn and Monet's new case, and--most stunning of all--Layla's disturbing discovery of something even she didn't know.
32 PGS./Rated T+ …$2.99
NEW X-MEN #40
Written by CHRISTOPHER YOST & CRAIG KYLE
Pencils and Cover by SKOTTIE YOUNG
"QUEST FOR MAGIK" Part 3 of 4
Things aren't going well for the New X-Men in Limbo. Most are captives of the devil-ish Belasco who will kill them to get what he wants. But who is this girl who bears a striking resemblance to a certain Russian mutant who died years ago? And does she mean help or harm to the New X-Men? Either way, one has lost his heart. Another will lose her soul.
32 PGS./Rated T+ …$2.99
X-MEN #201
Written by MIKE CAREY
Pencils & Cover by HUMBERTO RAMOS
The Marauders' trap closes on the X-Men - from within and from without! But devastating though it is, this attack is only a move in a larger game - and the survivors of Rogue's team have to figure out what the objective is before they can have a prayer of fighting back...
32 PGS./Rated T+ …$2.99
ASTONISHING X-MEN #22
Written by JOSS WHEDON
Pencils and 50/50 Covers by JOHN CASSADAY
The X-Men are on the run on Breakworld. Can they keep the warlords of Breakworld from killing Colossus? If his life means the destruction of an entire planet, should they save him? Part 4 (of 6)
32 PGS./Rated T+ …$2.99
DEADPOOL/GLI - SUMMER FUN SPECTACULAR
Written by DAN SLOTT
Penciled by FABIAN NICEZA & VARIOUS MAGNIFICENT ARTISTS
Cover by PAUL PELLETIER
Wisconsin's only greatest heroes team-up with the world's most annoying deadliest merc in this slightly larger than average super sized special! Marvel as DEADPOOL and the newly--crowned GREAT LAKES INITIATIVE face off against hitmen, ninjas, and the POWER OF THE GODS! Swoon as the scintillating SQUIRREL GIRL is reunited with her first love, ROBBIE BALDWIN! And prepare yourself as DEADPOOL trains a GLI'er in one of the deadliest killing arts of all time!!! Ye gods, man! What are you waiting for? This thing's got time travel, strange bodily functions, and NINJAS? Did we mention the ninjas? Sick of ninjas yet? We thought so. That's so 80's, right? Forget about the ninjas. (They are there, though.)
48 PGS./Rated T+ …$3.99
CABLE & DEADPOOL #43
Written by FABIAN NICIEZA
Penciled by REILLY BROWN
Cover by SKOTTIE YOUNG
"Deadpool & Wolverine" Part 1 of 2
One Merc With a Mouth, plus one Canucklehead, equals TWO MUCH FUN! With a long memory and a nasty mad-on, WOLVERINE is looking to stop mounting terrorist acts by HYDRA when he encounters a new mastermind behind their latest operations! But who is this new nefarious villain... and why is DEADPOOL protecting him?!!
32 PGS./Rated T+ …$2.99
EXILES #96
Written by CHRIS CLAREMONT
Penciled by CLAYTON HENRY
Cover by TOMM COKER
The team may have finally found the perfect world: An Earth with no crime, hate or fear—ruled by one the most diabolical villains of the Marvel universe: Victor Von Doom! Is this some twisted façade or have the Exiles finally stumbled on to utopia? Find out in "The Dream of Two Good Men."
32 PGS./Rated A …$2.99
WOLVERINE #55
Written by JEPH LOEB
Pencils and Cover by SIMONE BIANCHI
It's time for the final round in Wolverine's decades-long grudge match with Sabretooth, courtesy of superstars Jeph Loeb (Batman: Hush) and Young Guns reloaded artist Simone Bianchi -- and this time only one of them is walking away. Get ready for one of the most eye-popping endings in recent Marvel history, True Believer!
32 PGS./Parental Advisory …$2.99
WOLVERINE #55 (BLACK AND WHITE VARIANT)
24 PGS./Parental Advisory …$2.99
WOLVERINE: ORIGINS ANNUAL #1
Written by DANIEL WAY
Pencils and Cover by KAARE ANDREWS
"Return To Madripoor"
Double-sized issue!
Madripoor. A dirty town custom-made for dirty work. A long time ago, one man ruled this place with an iron fist, a wicked grin…and a patch over one eye. That man is back, and he's looking for answers. Problem is, the answers are dying faster than he can ask the questions. Is there a new player in town…or is it the same old game? Don't miss Logan's long-awaited return to Madripoor, a twisted tour leading from the blood-streaked gutters of Lowtown to the glittering, razor-sharp spires of Hightown and back again.
48 PGS./Parental Advisory …$3.99
X-MEN: FIRST CLASS #2
Written by JEFF PARKER
Penciled by ROGER CRUZ
Cover by ERIC NGUYEN
"Okay, so the Professor has a long distance mission for us for extra credit, so we need to do a good job with this one! Xavier says he's not coming with us and won't be in mental contact... for some reason. And we have to go to some really treacherous part of the Pacific Ocean... whew. Oh, here's the name of the place - "Monster Island." Um, we don't need this to graduate, right...?"
32 PGS./Rated A …$2.99
PUNISHER #49
Written by GARTH ENNIS
Penciled by LAN MEDINA
Cover by TIM BRADSTREET
SWF seeks SWM to assist in massive bloodletting and carnage. Must be handy w/ guns & munitions. Bottomless reservoir of pain a plus.
32 PGS./Explicit Content …$2.99
CRIMINAL #8
Written by Ed Brubaker
Art and Wraparound cover by Sean Phillips
TRACY LAWLESS life is getting stranger and stranger as his quest for the truth about his brother's death gets closer to the truth. Operating with a fake name, and now having joined the former crew his brother Rick worked with as their new getaway driver, Tracy is getting deeper into the world of crime he once gave up everything to escape. And now, on top of his own twisted motives, a team of mob hitmen are gunning for him, and seem to know who he really is. From the acclaimed and award-winning team of Ed Brubaker and Sean Phillips.
And remember, every issue of Criminal is packed from cover to cover with content, from back-up stories to noir articles by Brubaker and many other big-name writers.
32PGS/Mature Content/No Ads... $2.99
JACK KIRBY'S GALACTIC BOUNTY HUNTERS #6
Written by LISA KIRBY
Penciled by MIKE THIBODEAUX
Cover by JACK KIRBY
Special extra-sized finale! Mainframe's quest to recover his son leads to a blow-out battle in Dangerland!
56 PGS./Rated T+ …$3.99
POWERS ENCYCLOPEDIA VOL. 1
Written by TIM DANIEL and BRIAN MICHAEL BENDIS
Penciled by MICHAEL AVON OEMING
Cover by MICHAEL AVON OEMING
THIS IS IT: THE DEFINITIVE POWERS HANDBOOK! The most requested Powers item has finally arrived!!
Heroes glide through the sky on lightning bolts and fire. Flamboyant villains attempt daring daylight robberies. God-like alien creatures clash in epic battle over the nighttime sky. And on the dirty city streets below, homicide detectives Christian Walker and Deena Pilgrim do their jobs. Now, an in-depth look at the Eisner Award-winning series in this all-new volume! Featuring bios on Christian Walker, Deena Pilgrim, Retro Girl, Captain Cross, Queen Noir, Millenium Guard and many more! Plus: all-new character artwork and cover by Powers co-creator Michael Avon Oeming! The legacy of Powers is laid out before you like never before. Including entries for characters who have yet to make their debut in the series itself.
64 PGS./Explicit Content/$4.99
LAURELL K. HAMILTON'S ANITA BLAKE - VAMPIRE HUNTER: THE FIRST DEATH #1 (of 2)
Written by LAURELL K. HAMILTON & JONATHON GREEN
Penciled by Wellinton Alves
Cover by BRETT BOOTH
Her fans have been asking for it and now Laurell K. Hamilton is going to deliver. Laurell K. Hamilton, Dabel Brothers Productions, and Marvel are coming together to give readers a look into Anita Blake's past. Written by Laurell K. Hamilton herself, along with Jonathon Green, this July will see the release of part one of a two issue limited series that takes place almost a year before the events currently being chronicled in Guilty Pleasures. You will get to see the first time Anita and Jean-Claude meet, Anita's first time inside Guilty Pleasures, her first serial killer case, and a very early encounter with Edward. Prepare to be thrilled by this original story produced especially for comics.
40 PGS./Parental Advisory …$3.99
HEDGE KNIGHT II: SWORN SWORD #2 (of 6)
Written by GEORGE R.R. MARTIN
Adapted by BEN AVERY
Pencils and Cover by MIKE S. MILLER
The sequel to the critically acclaimed George R.R. Martin's The Hedge Knight continues as Dunk and Egg serve their new lord, Ser Eustace, in the face of an inevitable war. When the Red Widow steals Eustace's water, Dunk's comrade-in-arms Ser Bennis draws blood from one of her peasants. Now it falls to Dunk, Egg, and Bennis to raise an army from Eustace's villages in preparation for her retaliation. But will a rag tag group of peasants be able to stand against her knights and archers? And if they can't, what will the price be?
32 PGS./Rated T+ …$2.99
MONTE COOK'S PTOLUS: CITY BY THE SPIRE TPB
Written by MONTE COOK
Penciled by CANAAN WHITE & LUIS LIRA
Cover by CANAAN WHITE
From the mind of Monte Cook comes an exhilarating adventure set in his groundbreaking world of Ptolus, the City by the Spire.Sheva Callister thought she was retired after a tough "treasure hunting" expedition went sour and claimed the life of her partner, Parnell. But when a high-ranking noble from the city of Ptolus calls on her to retrieve a special brooch, she's willing to venture out on one last expedition… for the right price. Ptolus is anything but a straightforward city, though, and as Sheva works her way towards her goal, she finds herself caught in a web of deception and intrigue. And as she travels from the tombs of the Lich King Narros to the towers overlooking the City by the Spire, Sheva quickly realizes she must find the source of this misery if she hopes to complete her quest… or else the powers-that-be in Ptolus may put a stop to her adventuring forever. Written by Monte Cook, co-designer of the d20 gaming system and creator of the HeroClix battle system, Ptolus: City by the Spire is a wonderful introduction to the realm of "the world's most deluxe campaign set," with an amazing tale of swords and sorcery that's sure to delight any fan of fantasy, thievery, or high-spirited adventure!
144 PGS./Rated T+ …$14.99
MAGICIAN APPRENTICE #9 (of 12)
Written by RAYMOND E. FEIST
Adapted by BRYAN J.L. GLASS
Penciled by RYAN STEGMAN
Cover by IG BARROS
As Tomas fights for his life alone in the ancient Dwarven mines, the magician's apprentice, Pug, finds himself and Duke Boric's traveling party shipwrecked upon the shore of the mysterious Sorcerer's Isle. Which just so happens to be the legendary island home to the fearsome sorcerer Macros the Black. What impact will the strange messages of the Traveler have upon Pug and the fate of all Midkemia?
32 PGS./Rated T+ …$2.99
RED PROPHET: THE TALES OF ALVIN MAKER #9 (of 12)
Written by ORSON SCOTT CARD
Adapted by ROLAND BERNARD BROWN
Penciled by RODNEY BUCHEMI
Cover by CHRISTOPHE SWAL
After leaving Detroit, Alvin Junior and Ta-Kumsaw journey to the Land of the Flints where young Alvin is reunited with Taleswapper. But this reunion is far more bitter than sweet. Taleswapper not only informs Alvin of his brother Measure's capture, torture and probable execution, he also reveals to Ta-Kumsaw that the white men of Vigor Church, now allied with Governor Harrison's armed soldiers, are planning to attack the peaceful Indian citizens of Prophetstown … and that no matter how fast he might travel to aid them, he'll be too late to prevent the slaughter!
32 PGS./Rated T+ …$2.99
WYRMS #6 (of 6)
Written by ORSON SCOTT CARD
Adapted by JAKE BLACK
Penciled by VITOR ISHIMURA
Cover by ADRIANO BATISTA
Patience's journey has reached its astounding climax in Cranning! It is the final endgame as she not only confronts the mysterious Unwyrm, but also her destiny. Patience will discover the fate of her entire race and her role in it!
32 PGS./Parental Advisory …$2.99
IMMORTAL IRON FIST VOL. 1:
THE LAST IRON FIST STORY PREMIERE HC
Written by ED BRUBAKER & MATT FRACTION
Penciled by DAVID AJA & TRAVEL FOREMAN
Cover by DAVID AJA
Many years ago, in the mystical city of Kun' Lun, young Danny Rand stared at a suit behind glass -- the garb of the "Immortal Iron Fist" -- and knew that he was destined to wear it. But where did this costume come from? Why did it wait for Danny all those years like a shadow of his future? The answer to those questions will stun both him and his readers, as Danny Rand leaps from the pages of his breakout appearance in DAREDEVIL to his own history-spanning kung-fu epic that will shatter every perception of what it means to be the Immortal Iron Fist! Brought to you by top-ten writer Ed Brubaker and breakout talent Matt Fraction (PUNISHER WAR JOURNAL), with action-packed art by David Aja (DAREDEVIL, GIANT-SIZE WOLVERINE). Collecting IMMORTAL IRON FIST #1-6 and the Iron Fist story from CIVIL WAR: CHOOSING SIDES.
152 PGS./Rated T+ …$19.99
ISBN: 0-7851-2854-9
NEXTWAVE: AGENTS OF H.A.T.E. VOL. 2 - I KICK YOUR FACE PREMIERE HC
Written by WARREN ELLIS
Penciled by STUART IMMONEN
Cover by STUART IMMONEN
What? You haven't been reading NEXTWAVE: AGENTS OF H.A.T.E.? HAVE YOU LOST YOUR MIND? Here's a quick rundown of what you missed: SuperheroesfightingexplosionsexAvengersF inFangFoomgiantflyingsubmarinemonstrosit iesformerX-ForcebabeexplosionskickingMachineManpunc hinggiantevilcoprobotshotEnglishchicksec retterroristorganizationsEXPLOSIONS! Whew! And that's only the beginning! But don't worry! It's never too late to join the party! First up, the Nextwave Squad faces an army of Mindless Ones!!! Yes, insanely powerful stone men without faces! You cannot miss it! Collecting NEXTWAVE: AGENTS OF H.A.T.E. #7-12.
144 PGS./Parental Advisory …$19.99
ISBN: 0-7851-2855-7
THE HOOD PREMIERE HC
Written by BRIAN K. VAUGHN
Penciled by KYLE HOTZ
Cover by KYLE HOTZ
With great power ...comes great opportunity.
Nineteen-year-old Parker Robbins couldn't afford college, but he was able to buy a ski mask and a Lorcin .380 handgun. After dropping out of high school, he hoped to follow in the footsteps of his late father, a soldier in the Kingpin's vast criminal empire — but life in the mob isn't always as glamorous as the movies make it seem. With a pregnant girlfriend, a demanding mistress and an institutionalized mother to care for, Parker can barely make ends meet. So when the small-time crook finds mystical apparel that grants him strange powers, he elects to forgo organized crime ... for the more prestigious and financially rewarding world of costumed villainy. Collecting THE HOOD #1-6.
144 PGS./Explicit Content …$19.99
ISBN: 0-7851-2818-2
Trim size: standard
X-MEN: PHOENIX - WARSONG PREMIERE HC
Written by GREG PAK
Penciled by TYLER KIRKHAM
Cover by MARC SILVESTRI
The Phoenix is back! But where has it been reborn? Fire and pain await the X-Men. Can they handle what's to come?! Collecting X-MEN: PHOENIX - WARSONG #1-5.
128 PGS./Rated T+ …$19.99
$13.59 from Amazon
.
ISBN: 0-7851-1930-2
Trim size: standard
ULTIMATE X-MEN VOL. 7 HC
Written by ROBERT KIRKMAN
Penciled by TOM RANEY, BEN OLIVER & SALVADOR LARROCA
Cover by TOM RANEY
This deluxe hardcover collects ULTIMATE X-MEN VOL. 14: PHOENIX and ULTIMATE X-MEN VOL. 15: MAGICAL, plus extras. In "Phoenix?" our heroes kick back for a night on the town with their significant others after the events of Magnetic North and their recent encounter with the master of magnetism. Meanwhile, Wolverine must face a dreaded foe from the past who comes back to haunt him with unbearable secrets that have been buried for years. Plus: Is Jean Grey really the cosmic entity called Phoenix? And if so, what can be done about it? And in Magical, meet the mysterious mutant called the Magician. He's a media darling, a vital part of the X-Men dynamic and the newest member of the team. Watch him live up to his name in ways you could never conceive. There is more -- much, much more about this new mutant than any suspect. Meanwhile, a tormented Jean Grey is having great difficulty dealing with the results of the Shi'ar testing. Elsewhere...Dazzler stirs. Collecting ULTIMATE X-MEN #66-74 and ANNUAL #2.
256 PGS./Rated T+ …$29.99
$19.79 from Amazon
.
ISBN: 0-7851-2605-8
Trim size: oversized
UNCANNY X-MEN: RISE & FALL OF THE SHI'AR EMPIRE HC
Written by ED BRUBAKER
Penciled by BILLY TAN & CLAYTON HENRY
Cover by BILLY TAN
A brand-new era for UNCANNY X-MEN begins here! Fresh off X-MEN: DEADLY GENESIS, Ed Brubaker takes the helm of Marvel's mighty mutants. Young Guns Reloaded artist Billy Tan and Clayton Henry join Ed for a story that won't just affect Earth, but will rock the foundations of the entire galaxy! Vulcan is out for revenge and has his sights set on the Shi'ar Empire! Get ready for the ride of your life! A perfect starting point for any new reader! Collecting UNCANNY X-MEN #475-486.
272 PGS./Rated T+ …$34.99
$23.09 from Amazon
.
ISBN: 0-7851-2515-9
Trim size: oversized
SQUADRON SUPREME: HYPERION VS. NIGHTHAWK TPB
Written by MARC GUGGENHEIM
Penciled by PAUL GULACY
Cover by PAUL GULACY
It had to happen: The ultimate throw-down between the two stars of the smash hits SUPREME POWER and SQUADRON SUPREME: Hyperion and Nighthawk. But what could draw these two heroes into the biggest of all smackdowns? Nothing less than genocide. In this ripped-from-the-headlines story, Marc Guggenheim (WOLVERINE, BLADE) and comic-book legend Paul Gulacy (MASTER OF KUNG FU) explore the real-world tragedy going on right now in Darfur, Africa. The most thought-provoking and action-packed book you'll read all year! Collecting SQUADRON SUPREME: HYPERION VS. NIGHTHAWK #1-4.
96 PGS./Parental Advisory …$10.99
$8.79 from Amazon
.
ISBN: 0-7851-2434-9
EXILES VOL. 15 ENEMY OF THE STARS TPB
Written by CHRIS CLAREMONT
Penciled by PAUL PELLETIER
Cover by PAUL PELLETIER
A new era for Exiles begins here! Legend Chris Claremont (UNCANNY X-MEN) starts a run that will have Exiles fans talking for years to come. And he's not the only one joining up, as X-Woman Psylocke joins the team, as well. What is she doing there? How will the team deal with her arrival? And what new villains plan on destroying every world in existence?! Collecting EXILES #90-94.
120 PGS./Rated A …$13.99
$11.19 from Amazon
.
ISBN: 0-7851-2390-3
WONDER MAN: MY FAIR SUPER HERO TPB
Written by PETER DAVID
Penciled by ANDREW CURRIE
Cover by ANDREW CURRIE
Meet Lady Killer -- the dangerous assassin who comes head-to-head with the Avenger called Wonder Man! But Wonder Man doesn't want to just stop her -- he's made a bet with a movie producer to rehabilitate her into a hero! Is this too much for even the mighty Simon Williams? Fortunately, he's got Ms. Marvel and X-Men's Beast in his corner. Collecting WONDER MAN: MY FAIR SUPER HERO #1-5.
120 PGS./Rated T+ …$13.99
ISBN: 0-7851-1995-7
X-FACTOR VOL. 2: LIFE AND DEATH MATTERS TPB
Written by PETER DAVID
Penciled by ARIEL OLIVETTI, DENNIS CALERO & ROY ALLAN MARTINEZ
Cover by RYAN SOOK
Jamie Madrox comes face-to-face with the thing that terrifies him the most: having to make a decision. The divisiveness of Civil War has spread to his own team: Half of them want to cooperate with the government; the other half wants to take a stand against it. It's Jamie's choice that may well decide whether X-Factor stays together or cracks apart. And matters aren't being helped by Quicksilver, who offers Rictor the opportunity to get his powers back -- but at what price? Plus: They've been a thorn in X-Factor's side since the beginning, and now things are coming to a head. X-Factor's newest assignment causes them to again cross paths with their arch rivals, Singularity Investigations. The result is revelations that strike to the very core of who and what Jamie Madrox is. Collecting X-FACTOR #7-12.
136 PGS./Rated T+ …$14.99
$10.19 from Amazon
.
ISBN: 0-7851-2146-3
MOON KNIGHT VOL. 1: THE BOTTOM TPB
Written by CHARLIE HUSTON
Penciled by DAVID FINCH
Cover by DAVID FINCH
The Fist of Khonshu is back and badder than ever, courtesy of acclaimed novelist Charlie Huston (CAUGHT STEALING, SIX BAD THINGS) and red-hot, fan-favorite artist David Finch (AVENGERS). Collecting MOON KNIGHT #1-6.
152 PGS./Parental Advisory …$14.99
ISBN:
UNION JACK: LONDON FALLING TPB
Written by CHRISTOS GAGE
Penciled by MIKE PERKINS
Cover by MIKE PERKINS
Spinning out of CAPTAIN AMERICA, Britain's premier super hero has mere hours to prevent multiple terrorist attacks on London by an army of super-villains! Union Jack leads Sabra and the new Arabian Knight into battle! But when his boss at MI5 risks innocent lives to bring down the enemy, Union Jack faces a tough choice -- and the fate of London itself rests on his decision. Don't miss the book that redefines Union Jack for the 21st century, with stunning pencils by fan-favorite Captain America artist Mike Perkins! Guest-starring Sabra, Arabian Knight, Batroc the Leaper, Machette, Zaran, Boomerang, Crossfire, Jack O'Lantern, Shockwave and more! Collecting UNION JACK #1-4.
96 PGS./Rated T+ …$10.99
$8.79 from Amazon
.
ISBN: 0-7851-2181-1
HULK VISIONARIES: PETER DAVID VOL. 4 TPB
Written by PETER DAVID &BOB HARRAS
Penciled by JEFF PURVES & DAN REED
Cover by JOHN BYRNE
The golden god-man Glorian wants to give the gray Hulk an emotional makeover, but the mysterious Mister Cloot thinks they'd both look better in demon red! Peter David's remarkable run continues as the Hulk goes after gangsters, ghouls and the Grey Gargoyle! Plus: wrestlers, killer whales and more! Guest-starring Iron Man and Werewolf by Night! Collecting INCREDIBLE HULK #355-363, and MARVEL COMICS PRESENTS #26 AND #45.
232 PGS./Rated A …$19.99
$13.59 from Amazon
.
ISBN: 0-7851-2096-3
CAPTAIN AMERICA: WAR & REMEMBRANCE TPB (NEW PRINTING)
Written by ROGER STERN, JOHN BYRNE, DON PERLIN & ROGER MCKENZIE
Penciled by JOHN BYRNE & JOE RUBINSTEIN
Cover by JOHN BYRNE
Captain America's endless war on crime and tyranny sets him against new enemies and old, from an army of robot replicas to the black deeds of Baron Blood! Plus: Cap for president? Guest-starring the Avengers; S.H.I.E.L.D.; and the late, great Union Jack! Featuring Cobra, Mister Hyde and Batroc the Leaper! The complete Stern/Byrne run, culminating with the standard-setting version of Cap's awe-inspiring origin! Collecting CAPTAIN AMERICA #247-255.
192 PGS./Rated A …$24.99
$16.49 at Amazon
.
ISBN: 0-7851-2693-7