Synopsis:
Having spotted Jack in the Others' settlement, Kate, Sayid and Locke decide to make contact with him.
However, Kate and Sayid are soon captured. Locke, meanwhile, is on his own mission--to confront Ben.
We learn that Locke doesn't want to contact the outside world. The island, which somehow enabled him to walk again, is a special place that should be protected. To ensure that, he wants to use the explosives he took from the Flame station to blow up the Others' submarine.
Meanwhile, Jack tells Kate about his deal with Ben--that he's heading back to the outside world in morning. He promises to return to rescue Kate and the other crash survivors. We also learn that Juliet is going with Jack--on the submarine Locke is about to blow up.
While captive, Sayid reveals to Alex that he knows her mother. She believes her mother is dead, but Sayid has planted doubts.
In flashback, we see how Locke lost the use of his legs. His father, the con man Anthony Cooper, pushed him through a high-rise window during an angry confrontation.
In the present, Ben reveals he knows all this about Locke and understands his anger. Ben, who Locke is holding at gunpoint, tries to dissuade Locke from blowing up the sub. Ben recognizes that Locke has some sort of special attachment to the island and hints that he can tell Locke more about the island's mysteries. He makes reference to a box on the island that can provide his fondest wishes.
But ultimately Ben can't stop Locke.
As the Others bring Juliet and Jack to the dock, Locke is captured. But it's too late. He's already planted the explosives and the sub blows up before anyone reaches it.
Later, Ben visits Locke--now a captive of the Others. He says Locke's destruction of the sub was a good thing. In enables him to keep Jack on the island without having broken any promises and without looking weak to his people, the rest of the Others.
Then he tells Locke he wants to show him something. It's a wish, but not in the magic box. Going down a hallway, he tells Locke to open a door. When Locke does so, he sees his father inside held captive, gagged and bound in a chair.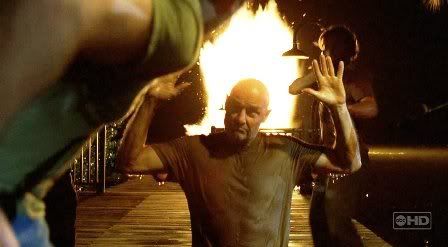 Clues, observations, speculation:
*
Is there really a magic box
, or was Ben just hinting he had access to what Locke most wanted: Locke's father?
*
How did Anthony Cooper end up on the island?
He's obviously the "man from Tallahassee" Ben asks Richard (the same man who recruited Juliet to come to the island) to retrieve. It's logical to believe the Others' already had Cooper for some time and planned to use him to manipulate Locke at some point. With Locke holding him captive, Ben figured this was the time.
* Ben, in a wheelchair after his spinal surgery, also wants to see if there's some way the
island can restore his ability to walk
as it did for Locke.
* Since there's a good chance (the way
this
show works) that
Cooper is also the con man who destroyed Sawyer's family
, he could be used to manipulate Sawyer too.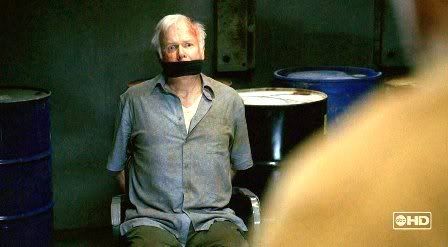 * Sawyer pulled cons in
Florida
and was jailed in Tallahassee. Kate lived in Florida for a time and Juliet lived in Miami.
* Any chance
Cooper isn't really a captive
, but is part of a larger con in cahoots with the Others?
* Have the Others captured
other people from the crash surivors' lives
?
* Again, how do the Others know so much about the crash survivors? Detective work in the outside world? Psychic powers? The smoke monster?
What is their purpose in keeping the survivors in the dark and on the island
when they had the ability to bring them home or at least contact help?
* Locke sees the island as a paradise that shouldn't be tampered with--
an Eden or utopia
. We get the sense that maybe the Others see it that way, too, with their focus on "good" people and keeping their society separate from the crash survivors and the outside. What's driving this philosophy? Is it a cult? A renegade branch of the Dharma Initiative? And, since it's hinted that Ben isn't the head honcho, who is?
* The
Dharma orientation film
makes reference to utopian social...something before it cut out. Are the Others/Ben related to this aspect of the project?
* It seems
Ben's hold over the rest of the Others
is tenuous at the moment. Why?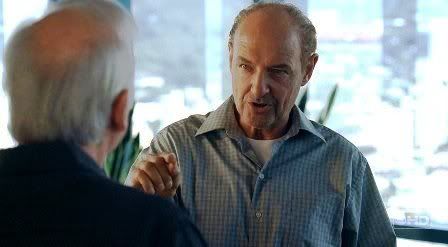 * Before he pushes Locke out the window, Cooper pours two glasses of
MacCutcheon scotch
. This is the same brand favored by Desmond's would-be father-in-law in
episode 8
.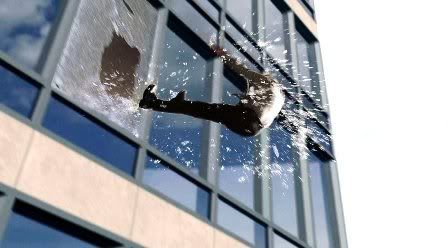 * As mentioned previously, MacCutcheon is a character in Jules Verne's "20,000 Leagues Under the Sea." Verne's "Mysterious Island," like "20,000 Leagues," features the character
Captain Nemo
. From Wikipedia:
In Twenty Thousand Leagues Under the Sea [Nemo]states that the laws of the world on the surface do not apply to him any longer, and that he has fled to the sea to escape the barbarism of the human race, with its wars and oppression. He claims to have no interest in the affairs of the world above, but occasionally intervenes to aid the oppressed, giving salvaged treasure to Cypriots resisting a Turkish invasion, or by sinking warships.
That attitude may gibe with the Others' worldview. And "The Mysterious Island" would seem to be a big influence on "Lost." More on the book
here
.
* Why did Tom, the Other,
warn Jack about being careful
about what he said to Kate? He made hand motions as if to remind Jack that he and Kate were being observed by cameras or with an audio bug. Was he warning Jack not to plan something sneaky, or is he sympathetic to Jack?
* Lots of posters on various boards have mentioned what seems like a
new tattoo
on Jack. But, apparently,
we've seen it before
. A lot of us just hadn't noticed in previously.
* This
whole blowing-up-the-submarine thing
isn't going to help Locke's relationship with Jack any.