Wednesday, November 22, 2006
Via
Bedazzled
:
Cowsills videos!
---------------------------
Christmas
sharity
(already!):
Seasonal superhero tracks from Power Records
.
---------------------------
Via
Superfrankenstein
:
Stan Lee
is number 26 on
The Atlantic
's list of Most Influential Living Americans.
---------------------------
Deal alert
: the Xbox 360 core system will be available for
$100 via Amazon
on Thanksgiving day--that's a $200 discount.
---------------------------
Entertainment Weekly
has a
report
on
Joss Whedon's new "Buffy the Vampire Slayer" comic.
Whedon, 42, is running the comic as if it were a TV show; after writing the first four issues (a premise-establishing pilot), he'll oversee other scribes who will write the remaining issues (think: episodes) in what is planned to be 25-to-30-issue saga. ''We're calling it season 8,'' says Whedon, ''and we're picking up almost right after season seven left off. I don't know exactly why it or how it happened. I just thought, 'Oh, I could do that! It would be fun!' It happens to me every now and then, and causes me to commit to things I really don't have time for.''
Best Buffy Sites on the Web
.
------------------------------
The Bonzo Dog Band
--
Live!
------------------------------
Michael Caine
channels
John Lennon
.
Audiences will see two-time Oscar winner Michael Caine as they've never seen him before in director Alfonso Cuarón's upcoming SF movie Children of Men: as a futuristic hippie modeled on former Beatle John Lennon, Cuarón told SCI FI Wire. Cuarón said that Caine told him he wanted the character to appear as if Lennon had lived two decades into the future.

"When he made the costume fitting, he said, 'I want to play this like John Lennon,' because he was friends with Lennon," Cuarón said. "And he told me [Lennon] talked a bit nasally. And if you see his performance, he has that nasal kind of way. And so we're doing all these makeup fittings and he ... goes to look at himself in [the] mirror, and he becomes this other character. At that moment his wife walks into the room and goes next to him and says, 'Have you seen my husband?' She didn't recognize him at that moment."
Tuesday, November 21, 2006
Steve Carrell will
star
in a
big screen version of "Get Smart."
Anne Hathaway is Agent 99.
---------------------
Captain Jack
will appear in season 3 of "Doctor Who," says actor John Barrowman.
Best Doctor Who sites
.
----------------------
Lying in the Gutters
shared
this mock movie poster by cartoonist Frank Miller for a proposed movie featuring
Will Eisner's "The Spirit."
-----------------------
Mmmmmm....
Space Sticks!
(Via Bedazzled)
-----------------------
Deal alert:
Amazon is offering
50 percent off
selected CD box sets and selected new release CDs for
$7.99
this week.
------------------------
Sharity
:
Liberace's "The Night Before Christmas."
------------------------
What if
religious tract cartoonist Jack Chick had illustrated
Marvel Comics' "Galactus" saga
instead of Jack Kirby?
------------------------
George Takei
, Sulu of "Star Trek" fame, has been
cast
as Hiro's dad on "Heroes."
"It was one of those lightning-bolt ideas," series creator Tim Kring told TV Guide.
Best Heroes Sites
.
-------------------------
London's Indica Gallery,
where John Lennon first met Yoko One
, has been
recreated
The exhibition consists of works by artists such as Ono, some of which were shown at the original gallery and some newer works, as well as a series of specially commissioned pieces by some younger, modern counterparts, all of which relate in some way to each other. "London is at the zeitgeist of the contemporary art scene and we wanted to see how the work from this earlier, more innocent age, related to what is happening now," said Tot Taylor, a director of Riflemaker. "It is about comparing and contrasting the work."
Best Beatles Sites
.
------------------------
Video
: Beat writer
Jack Kerouac
's appearance on the "Steve Allen Show."
The New Yorker
has
posted
big scans of all four covers cartoonist Chris Ware did for the mag's Nov. 27 issue, along with an original strip and an MP3 interview.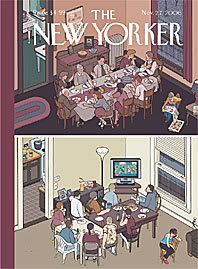 Any Doc Savage fans out there? Y'know, the Man of Bronze? Big guy? Ripped shirt?
If so, you may be in the market for "The Handbook of Bronze," a Doc Savage collectors reference written by Jay Ryan and available in print or PDF from
Lulu.com
.
Featuring lots of pics, the book lists all of Doc's adventures--from the pulp days up through the Bantam paperback reprints and comic book incarnations.
With the adventures finally back in print again, this makes for a nice reference.
See the
Best Doc Savage Sites on the Web
.
See a
Complete List of Doc Savage books
.
Monday, November 20, 2006
The CW has
extended
"Veronica Mars"
to 20 full episodes this season.
------------------
And you thought variant covers were just for the X-men: Cartoonist
Chris Ware
provided
four separate covers for the Nov. 27 issue of
The New Yorker
.
------------------
Mike Allred's Madman
has
found
a new publishing home at Image Comics, with a new series to begin in April. Before that, though, Image is releasing a humongous, 852-page hardcover that collects all the character's previous adventures.
Madman Gargantua! will carry a $125.00 cover price, and will be limited to 2,500 copies. Gargantua! will not be reprinted in this format.
------------------
The
Beatles' Love
will be producer George Martin's
last album
.
"I've had a pretty good run I must say. I started with the Beatles in 1962 and they broke up around about 1970 so we had a long period of time together," he said.

"It is the last I should think I shall do, because in two months' time I will be 81 and I am thinking of taking early retirement."

He thought Lennon would have balked at the idea of allowing a Las Vegas musical with Beatles music, but that the end result would have won him over.

"John, for all his inventions was really quite conservative sometimes about taking leaps in the dark, particularly where showbiz was concerned. He wasn't a showbiz person, but he was a great character."