Thursday, April 20, 2006
Looks like the April 26 ep is a clipfest:

The survivors of Oceanic flight 815 have been locked in a test of faith ever since they crashed on the island. Discover how this faith has been tested for both the fuselage survivors and tailies, on "Lost: Reckoning," WEDNESDAY, APRIL 26 (9:00-10:01 p.m., ET), on the ABC Television Network.

Are you a person of faith or science? This is the dilemma that plagues the island survivors and also defines their character. Discover how faith in the hatch led Locke on a mission to find a way inside, and how his discovery of Desmond led to his belief that punching in the numbers every 108 minutes would ensure everyone's survival. In addition, Michael's dogged mission in finding Walt, the tailies fight for survival during their first 48 days through their collision with the fuselage survivors, the uncertainty of prisoner Henry Gale's allegiances, and tensions between the survivors and "The Others" have left everyone questioning what they believe in. Additionally, the healing powers of love are explored through a timid Hurley's struggle with asking Libby out on a date, through the strong bond between Sun and Jin, and through Jack and Sawyer's mutual - yet unrequited - attractions to Kate.
Wednesday, April 19, 2006
DC Comics is snuggling up with General Motors for
a new comic that's more about product placement than superheroics
, according to a
story
in the Wall Street Journal (you need to be a subscriber to read the whole works).
In July, Time Warner Inc.'s DC Comics, home to characters such as Batman and Aquaman, is launching "Rush City," a six-part miniseries that boasts visible promotional support from General Motors Corp.'s Pontiac. As part of the series, a new hero known as "The Rush" will be prominently featured driving a Pontiac Solstice in the comic book. "The car will be as essential to the character as the Aston Martin was to James Bond," says David McKillips, vice president of advertising and custom publishing for DC Comics.
--------------------------------------
A film based on DC's
Sgt. Rock
character is reportedly
in the works
.
--------------------------------------
More than any TV show to date, probably, "Lost" has made use of the Internet to create a buzz and tantalize us with "clues." Now it looks like the show's broadcasters around the world are teaming to give fans a sophisticated "interactive experience" via their Web sites:
ABC, Channel 4 Television in the U.K, and Australia Channel 7 will launch the "Lost Experience," a revolutionary interactive experience based on the international hit television series, "Lost". Working together, more than 30 broadcasters from Europe, Africa, Asia Pacific and the Middle East will release clues with new information regarding the mystery and mythology of the island featured in the series. Fans looking to solve the puzzle will find audio, video, and text clues in locations around the world, along with an online community in which to connect and collaborate with others. Just like any other good mystery, clues can and will happen anywhere at anytime across multiple platforms.
More
here
.
------------------------------------
Dial B for Blog
shares
some nice
Batman comic book house ads
.
------------------------------------
U.S. ratings for "Doctor Who" are slipping
, Outpost Gallifrey
reports
.
Ratings for the most recent episode, "Dalek"
"averaged a 1.17 household rating with an average viewing audience of 1.3 million viewers, making it the lowest rated original Doctor Who broadcast of the season to date. However, it is important to note that this was a holiday weekend, which could explain the sudden drop in viewers from the previous week."
Art School Confidential
by Daniel Clowes
$14.95 paperback . 204 pages (with16 pp. color)
Art School Confidential is DANIEL CLOWES and TERRY ZWIGOFF's major motion picture follow-up to their Academy Award-nominated 2001 debut feature, Ghost World. Directed by Zwigoff from a script by Clowes (his first since his Oscar-nominated Ghost World screenplay), the film stars John Malkovich, Max Minghella, Jim Broadbent, Steve Buscemi, Anjelica Huston and Sophia Myles. The film premieres nationally on April 28th from Sony Pictures Classics. Art School Confidential follows Jerome (Minghella), an art student who dreams of becoming the greatest artist in the world. The film expands on a short comic story by Dan Clowes that was originally published, in black-and-white, in his hit comic book series Eightball; for this new book, the strip will be published in full-color for the first time.This scrapbook/screenplay also features the original shooting script for the film, including scenes edited out from the final cut. It also boasts two full-color sectio ns jammed with stills from the film, character designs from Clowes' sketchbook, artwork created as set dressing by Clowes and his friends, and many other surprises.
The Complete Peanuts 1959-60
by Charles M. Schulz; Introduction by Whoopi Goldberg
$28.95 Hardcover . 344 pages
As the first decade of Peanuts closes, it seems only fitting to bid farewell to that halcyon decade with a cover starring Patty, one of the original three Peanuts. Major new additions to classic Peanuts lore come fast and furious here. Snoopy begins to take up residence atop his doghouse, and his repertoire of impressions increases exponentially. Lucy sets up her booth and offers her first five-cent psychiatric counsel. (Her advice to a forlorn Charlie Brown: "Get over it.") For the very first time, Linus spends all night in the pumpkin patch on his lonely vigil for the Great Pumpkin (although he later laments that he was a victim of "false doctrine," he's back twelve months later). Linus also gets into repeated, and visually explosive, scuffles with a blanket-stealing Snoopy, suffers the first depredations of his blanket-hating grandmother, and falls in love with his new teacher Miss Othmar. Even more importantly, several ye ars after the last addition to the cast ("Pig-Pen"), Charlie Brown's sister Sally makes her appearance - first as an (off-panel) brand-new baby for Charlie to gush over, then as a toddler and eventually a real, talking, thinking cast member. (By the end of this volume, she'll already start developing her crush on Linus.) All this, and one of the most famous Peanuts strips ever: "Happiness is a warm puppy." Almost one hundred of the 731strips collected in this volume (including many Sundays) have never been collected in any book since their original release, with one hundred more having been collected only once in relatively obscure and now impossible-to-find books; in other words, close to one quarter of the strips have never been seen by anyone but the most avid Peanuts completists.
Sex, Rock & Optical Illusions
by Victor Moscoso
$34.95 Hardcover . 146 pages
The 1960s are known as a decade of social and political unrest: The Cuban Missile Crisis, the struggle for civil rights, the escalating protests against the Vietnam war, the assassinations of JFK, RFK, and Martin Luther King, the formation of radical home-grown organizations such as the Weather Underground. It was also a time of cultural revolution, in music, literature, journalism, films, and the heady conflation of Fine Art with the Pop Art movement. Comics were undergoing their own revolution and no one epitomized underground comix and psychedelia more than Victor Moscoso, whose posters for such bands as The Grateful Dead and Big Brother & The Holding Company, stand as enduring works of art and instantly recognizable icons of their time. Moscoso revolutionized the poster aesthetic and defined the visual culture of a generation. R. Crumb invited Moscoso to join the Zap Comix collective in 1968, and Moscoso's work has appeared in every issue si nce. His comix work contrasted with his fellow artists by his unique stylization, less confrontational point of view, hallucinatory visual rhythms, and wordless, dreamlike stories. Sex, Rock & Optical Illusions is Moscoso's first career-spanning retrospective, from his earliest poster work in 1966 to his most recent graphic experimentation. Optical Illusions contains his best posters that advertised bands playing in San Francisco's famous dance ballrooms of the time - the Avalon, the Matrix, and the Fillmore - as well as many of his Zap Comix contributions, and his solo comix work, many in Moscoso's signature color. This wide-ranging career retrospective - Moscoso's famous technique employing "vibrating colors" that he pioneered in his posters is impeccably reproduced with as much fidelity to the original as modern printing can achieve, his black-and-white and full color comix work is collected here for the first time - is an intense, vibrant, and revelatory experience.
Billy Hazelnuts
by Tony Millionaire
$19.95 Hardcover . 100 pages
Tony Millionaire, creator of Sock Monkey and one of America's most popular weekly comic strips, Maakies, delivers his first original graphic novel for Fantagraphics. Billy Hazelnuts transmutes nursery rhymes and the golem myth into a storybook about Becky, girl scientist, her friend Billy Hazelnuts (who was created from cooking ingredients by tailless mice), and their journey to find the missing moon while battling an evil steam-driven alligator with a seeing-eye skunk. Millionaire fuses the darker spirit of older fairy tales with an absurdist adventure story, throws gender politics into the mix, and brings it to life with his dementedly charming and meticulous drawing style that is utterly transporting. Billy Hazelnuts features all-new characters, a first for Millionaire after building a tremendous following for his Sock Monkey and Maakies characters, which is sure to delight existing fans as well as introduce an entirely new audience to his breathtaking line and imagination.
Hank Ketcham's Complete Dennis The Menace 1953-1954
by Hank Ketcham
$24.95 Hardcover . 680 pages
Dennis the Menace has, for over 50 years, captured the mischievous, rambunctious, anarchic worldview of a kid better than any other cartoon strip. It is the most hilariously observed and empathetic strip cartoon about childhood ever drawn - with a sly humor that kids identify with and parents nod knowingly and ruefully at. Now, courtesy the same publisher that publishes the award-winning Complete Peanuts series (the series that sparked a comic strip renaissance), Hank Ketcham's beloved cartoon can be enjoyed by new generations, in a series collecting for the very first time every Dennis cartoon panel over the half-century life of the strip. Hank Ketcham's Complete Dennis the Menace 1953-1954 is the second volume in the series, which debuted in the fall of 2005 to cheers from comic strip fans worldwide.
Beasts And Priests
by Jim Blanchard; Introduction by Art Chantry
$9.95 Softcover . 64 pages
Beasts and Priests collects for the first time more than ten years' worth of portraiture of the world's most legendary scene-makers as rendered by the infamous Seattle artist Jim Blanchard. Blanchard's work is often twisted, mutated and ultimately sickly gorgeous, with a pervasive psychedelic tone. Heavily influenced by such underground greats as Robert Williams and Victor Moscoso, Blanchard fuses meticulous craftsmanship with a pop underground sensibility to produce some of the most vivid and striking portraiture in the world. Born in Houston, Texas in 1965, Blanchard earned his bachelor's degree in fine arts from the University of Oklahoma in 1987. He has done a wide range of work in illustration, comics and graphic design, including many iconic rock posters for bands such as Nirvana and the Melvins. He was an art director for Fantagraphics through much of the 1990s, and inked Peter Bagge's comic Hate. Fantagraphics has also published his ar t collection Glam Warp and his comic Trucker Fags in Denial (written by Jim Goad). Portrait subjects include: Duke Ellington, Redd Foxx, Frances Farmer, Patti Page, Shane MacGowan, Lemmy Kilmister, Ron Jeremy, Marcel Proust, Frank Sinatra, Dean Martin, Tom Jones, Curtis Mayfield, Terry Southern, Jackie Gleason, Amos Milburn, Willie Nelson, Henry Kissinger, Courtney Love, Steve McQueen, Elvis Presley, Raquel Welch, Brigitte Bardot, Andy Warhol, Lee Marvin, Isaac Hayes, Johnny Cash, Bon Scott, Lee Hazlewood, Raymond Chandler, Ennio Morricone, Bill Hicks, and Lenny Bruce.
Chicken Fat
by Will Elder
$14.95 Softcover . 96 pages
This companion volume to Will Elder: The Mad Playboy of Art peeks into the gray matter of one of comics' most fertile and wide-ranging imaginations. Elder coined the term "chicken fat" to describe the myriad background gags crammed into his stories for MAD, Panic, Humbug, Goodman Beaver and Little Annie Fanny: "It's the part of the chicken soup that is bad for you, yet gives the soup its delicious flavor," he once explained. This is a collection of sketches, drawings and a variety of obscure commercial illustration over the course of Elder's long career. Elder's stable of characters is duly represented, with Goodman Beaver, Little Annie Fanny, the Mole and the more obscure Anthony Adverse, together with caricatures of celebrities and politicians, studies of classic comics characters, movie posters, assorted gag panels, anatomical and fine art studies, and pages upon pages of ingeniously realized doodles.
Luba: The Book of Ofelia
by Gilbert Hernandez
$22.95 Softcover . 260 pages
Gilbert Hernandez last wowed critics in 2003 with his epic life's-work Palomar, collecting more than 20 years of groundbreaking comics that Booklist called "the most substantive single work that the comics medium has yet produced." In his first graphic novel in two years, Hernandez's Luba: The Book of Ofelia features the latest travails of Palomar matriarch Luba and her cousin Ofelia, along with their close circle of family, friends, enemies, and lovers. Luba: The Book of Ofelia begins with Luba, Ofelia and company trying to acclimate to life in America, where Luba still has yet to learn English. When Ofelia decides to chronicle her life with Luba in a tell-all book, she discovers inspiration in Luba's young children - the one-armed Casimira, Socorro with the photographic memory, the loner Joselito and the silent Conchita. Luba: The Book of Ofelia uses elements of Latino soap opera and soft-core porn, with touches of magic-realism, to tell the s tory of the changes that come with age and the unchanging need for sex and love, with the most vivid, memorable, and honestly depicted characters in comics.
Jimbo's Inferno
by Gary Panter
$29.95 Hardcover . 40 pages
Special Limited Edition, Includes Signed And Numbered Woodblock Print by Gary Panter. $99.95
Jimbo's Inferno is the hugely anticipated sequel (or prequel, as it was actually completed first) to 2004's acclaimed Jimbo In Purgatory. In this hardcover, produced to the same exacting standards as Purgatory, Jimbo, accompanied by his trusty guide and ride Valise, visits Hell (here envisioned as a gigantic subterranean shopping mall called Focky Bocky), and in so doing runs across minotaurs, drug-addled punkettes, UFOs, giant robots, and more, leading him to such profound questions as, "Why do so many recreational activities involve smoke and heat?" Panter's wild Albrecht-Dürer-meets-Jack-Kirby graphics are more hallucinatory and visionary than ever, and given the full, expansive treatment they so richly deserve.
MOME Winter 2006 (Vol.3)
by Various; Edited by Eric Reynoldds & Gary Groth
$14.95 Softcover . 112 pages
Fantagraphics Books is proud to announce two new additions to the ranks of its flagship anthology Mome with this third volume: French cartoonist David B., author of the landmark graphic novel Epileptic, contributes a 36-page complete story, "The Armed Garden," which appears in English for the first time; also, R. Kikuo Johnson, whose Night Fisher was the most acclaimed graphic novel debut of 2005, debuts his first post-Night Fisher work, a series of comic strips titled "Cher Shimura." MOME Winter 2006 also features new contributions from Martin Cendreda, Anders Nilsen, Jonathan Bennett, David Heatley, Kurt Wolfgang, Andrice Arp, Gabrielle Bell, and Jeffrey Brown, as well as an interview with Wolfgang conducted by MOME co-editor Gary Groth. MOME is edited by Groth and Eric Reynolds, with design by Jordan Crane and Adam Grano. MOME is an accessible, reasonably priced, quarterly anthology that runs approximately 120 pages per volume a nd spotlights a regular cast of a dozen of today's most exciting cartoonists. MOME is quickly earning a reputation as the premiere literary anthology in comics. Think of something like The Believer or Granta - especially in regard to iconic design, format, and content - but with comics.
Ghost Of Hoppers
by Jaime Hernandez
$18.95 Hardcover . 120 pages
Ghost of Hoppers collects for the first time the new adventures of Maggie Chascarrillo, as serialized in the Love & Rockets comic book, and represents Jaime Hernandez's much-anticipated follow-up to his critically acclaimed 2004 magnum opus Locas, which Entertainment Weekly gave an 'A' for its "innovative technique and complex, character-driven stories about Mexican-American life."
Ghost of Hoppers begins with the newly divorced Maggie now working as the resident building-manager of the notorious Capri Apartments deep in the heart of the San Fernando Valley, where imaginary dogs roam its walkways at night, all the air conditioners are broken, and the empty swimming pool is covered with flies. As if the eccentric, oddball tenants weren't weird enough, Maggie's houseguest and old friend Izzy Ortiz shakes things up with her usual nervous breakdowns, nocturnal screaming, and obsessive fly-swatting (sometimes with a knife!). When Izzy makes a guest appearance on a local cable access talk show to promote her book, Maggie meets the voluptuous Vivian the "Frogmouth," a curvaceous, hapless bombshell with a foghorn voice who is despised by Hopey (Maggie's long time on-again-off-again girlfriend, now a bartender sporting an eye patch after one of Vivian's previous bottle-breaking altercations). Maggie finds herself swept up in Vivian's life of rand om catfights, her mob-connected, knife-wielding stalker ex-boyfriend, and his violently jealous fiancée. Maggie and Vivian eventually strike up a reluctant and awkward romance, and when they set out for Hoppers to retrieve a stolen art object from Izzy, they get a lot more than they bargained for!
Alex
by Mark Kalesniko
$19.95 Softcover . 250 pages
Alex is the story of failed dreams and the consequences faced by a man who discovers that accomplishing his career goals are no route to inner peace. It is a story about the redemptive power of art, and about how fleeting those chances for redemption can be in a society that emphasizes different values. This existential, 250-page exploration of depression and the healing power of art was originally published over ten years ago as a six-issue comic book series and is collected here as one book for the first time. Kalesniko is a former Disney animator with credits including Mulan, The Lion King and The Little Mermaid. He has also created the graphic novels Why Did Pete Duel Kill Himself? and Mail Order Bride.
Runaway Comic #1
by Mark Martin
$3.50 . 24 page comic book
After a hiatus from a regularly serialized comic -but not from comics- Mark Martin debuts his new, semi-annual title Runaway this month. Mark Martin is probably best known for his hilarious Nude Dancer single-pagers (collected by Tundra) and his anthology comic that he shared with Jim Woodring, Tantalizing Stories. Since then, he's contributed comics to anthologies from Dark Horse, Fantagraphics, Disney Adventures, Nickelodeon, and other venues. Martin is now back with a vengeance with his own solo, semi-annual Runaway Comics. The first issue begins the longest story starring his popular character Montgomery Wart (from Tantalizing Stories) - plus several shorter stories to round out the first issue. The book is full of Martin's patented visuals, at once dazzling and animated, slapstick humor, perfect timing, distinctive character designs, and rambunctious storytelling. Find out why so many cartoonists, from Scott McCloud to Jim Woodrin g, love Martin's comics.
Grenuord #2
by Francesca Ghermandi
$4.95 . 32 page comic book
In the second chapter of Francesca (Pastil, The Wipeout) Ghermandi's wild, surrealistic six-issue series, fate continues to heap abuse upon poor hapless uprooted George, as he crosses paths with the mysterious home invader from #1, loses his new job, and gets his car stolen. To make matters worse, the two oddball protagonists of Grenuord's back-up strip invade his story and irritate him, and his snoopy, somewhat batty neighbor makes her presence known, despite her daughter and son-in-law's best attempts to constrain her...
Luba's Comics And Stories #7
by Gilbert Hernandez
$3.50 . 24 page comic book
A high-rise apartment building in an unnamed European city. Its inhabitants come and go, meet each other, talk, dream, regret, hope... in short, live. A ghostly, shape-shifting anthropomorphic white rabbit roams from apartment to apartment, surveying and keeping track of all this humanity... and at the end of every night, he floats down to the basement where he delivers his report to the "great dark one." Lushly delineated in penciled sepia halftones, this debut "Ignatz" by Gabriella Giandelli offers a hauntingly unique vision and a tantalizingly open-ended beginning to an ongoing series.
The Comics Journal #275
Cover by David B.
$9.95 . 200 page magazine
This issue, sit in on a candid conversation with one of 2005's breakout cartoonists, Epileptic author David B., in a wide-ranging discussion on life, art and cartooning. David's autobiographical debut has received praise in national magazines and newspapers, and his accessible art style and complex storytelling have garnered him a respectable American audience that will want to learn more about the artist behind the work! Plus: The Journal's roster of critics analyze the best comics and graphic novels of 2005, in a wide-ranging section that looks into the work of cartoonists from Winsor McCay to Hank Ketcham to Chris Ware; celebrate the 25th anniversary with the leftist firebrands behind incendiary agit-prop comics anthology World War 3 Illustrated; and all the news, criticism and commentary that you've come to expect from the finest, most provocative magazine about comics available today, The Comics Journal!
Tuesday, April 18, 2006
If you missed 'em yesterday,
DC Comics solicitations
for July 2006 are
here
. And a look at
upcoming DC Direct
items is
here
. See
Marvel July solicits
below.
------------------------
The Absorbacon
free associates with Lois Lane
.
------------------------
Bubblegumfink has the
best blog headers ever.
------------------------
Today in exotica sharity:
I hear Hawaii calling
.
------------------------
Dial B for Blog
shares
some swell
Marvel Comics pin-ups
.
------------------------
Buffy's Anthony Stewart Head
will
appear
on "Doctor Who."
------------------------
A
graphic novel treatment of the 911 Commission Report
is
in the works
.
------------------------
Now Moviehole is
reporting
that
little-known actress Mikki Padilla is in the running for "Wonder Woman."
------------------------
Papercutz is
planning
a
graphic novel about the new pope
.
-----------------------
There won't be a
new episode of "Lost" until May 3
.
Comics Shipping April 19, 2006

DARK HORSE
FEB060058 CONAN BOOK OF THOTH #2 (OF 4) $4.99
DEC050058 COOP KEEP EM HONEST PLAYING CARDS $4.99
OCT050038 DRACULA ASYLUM NOVEL $6.99
SEP050056 EMILY THE STRANGE 11 OZ HEAT SENSITIVE MUG $14.99
FEB060076 GOON #17 $2.99
JAN060069
LITTLE LULU VOL 9 LUCKY LULU
TP $9.95
NOV050087 VINTAGE KELLOGGS TIN SIGN FRUIT LOOPS $14.99
NOV050086 VINTAGE KELLOGGS TIN SIGN SWEET EATIN CARNIVAL $14.99
DC COMICS
SEP050319 BATMAN BLACK & WHITE STATUE MIKE MIGNOLA $55.00
FEB068071 BATMAN SECOND PTG #650 $2.50
FEB068051 BATMAN SECOND PTG #651 $2.50
MAR060288
BATMAN THRILLKILLER
TP NEW PTG $14.99
FEB060258 BIRDS OF PREY #93 $2.50
FEB068052 CATWOMAN SECOND PTG #53 $2.50
SEP050320 DEPARTURE FROM KRYPTON MINI STATUE $49.99
JAN060344 ELFQUEST THE GRAND QUEST VOL 14 TP $9.99
JAN060311
GREEN LANTERN NO FEAR
HC $24.99
FEB060279 JLA CLASSIFIED #20 $2.99
FEB060283 JSA CLASSIFIED #11 $2.50
FEB060278 JUSTICE #5 (OF 12) $3.50
JAN060334
JUSTICE LEAGUE UNLIMITED VOL 2 WORLDS GREATEST HEROES
TP $6.99 JAN060335
JUSTICE LEAGUE UNLIMITED VOL 3 CHAMPIONS OF JUSTICE
TP $6.99
FEB060220 MAN-BAT #1 (OF 5) $2.99
FEB060284 MANHUNTER #21 $2.50
JAN060322
OUTSIDERS CRISIS INTERVENTION
TP $12.99
FEB060318 RED SONJA CLAW DEVILS HANDS #2 (OF 4) $2.99
FEB060319 RED SONJA CLAW VARIANT COVER #2 (OF 4) $2.99
FEB060225 ROBIN #149 $2.50
FEB060301 SCOOBY DOO #107 $2.25
FEB060295 SGT ROCK THE PROPHECY #4 (OF 6) $2.99
FEB068053 SUPERGIRL LEGION OF SUPER HEROES 2ND PTG #16 $2.99
JAN060298
SUPERMAN IN THE EIGHTIES
$19.99
JAN060299
SUPERMAN RUIN REVEALED
$14.99
FEB068054 SUPERMAN SECOND PTG #651 $2.50
FEB068055 TEEN TITANS ANNUAL SECOND PTG #1 $4.99
IMAGE
FEB061769
COYOTE VOL 3
TP $12.99
FEB061813 CYBERFORCE LEE CVR #2 $2.99
FEB061814 CYBERFORCE SILVESTRI CVR #2 $2.99
FEB061816 RISING STARS UNTOUCHABLE #3 (OF 5) $2.99
FEB061766 SPAWN #1 IN 3D $5.95
FEB061818 WITCHBLADE CHOI CVR #97 $2.99
FEB061817 WITCHBLADE LEE CVR #97 $2.99
MARVEL
FEB062003 ANNIHILATION NOVA #1 (OF 4) $2.99
FEB062009 AVENGERS & POWER PACK ASSEMBLE #1 (OF 4) $2.99
FEB068150 BOOK OF LOST SOULS #6 $2.99
FEB062012 CAPTAIN AMERICA #17 $2.99
FEB061997 DAREDEVIL #84 $2.99
FEB062089
ESSENTIAL WOLVERINE VOL 4
TP $16.99
FEB062077
FANTASTIC FOUR VISIONARIES GEORGE PEREZ VOL 2
TP $19.99
FEB061996 FURY PEACEMAKER #3 (OF 6) $3.50
FEB062018 IRON MAN #7 $2.99
DEC058046 IRON MAN HITCH VARIANT #7 $2.99
JAN068220 IRON MAN HITCH VARIANT SKETCH #7 PI
FEB062019 MARVEL ADVENTURES FLIP MAGAZINE #11 $3.99
FEB062091 MARVEL CIVIL WAR PANORAMA POSTER $15.99
FEB062020 MARVEL HEROES FLIP MAGAZINE #11 $3.99
FEB062027 MARVEL SPOTLIGHT DANIEL WAY OLIVER COIPEL $2.99
FEB062030 NEW AVENGERS #18 $2.99
FEB062034 NEW MANGAVERSE #4 (OF 5) $2.99
FEB062083
NEW MUTANTS CLASSIC VOL 1
TP $24.99
FEB062036 NEXTWAVE AGENTS OF HATE #4 $2.99
FEB062035 SABLE & FORTUNE #4 (OF 4) $2.99
FEB061999 SENSATIONAL SPIDER-MAN #25 $2.99
FEB062051 SENTINEL SQUAD ONE #4 (OF 5) $2.99
FEB062068
SPIDER-MAN THE OTHER
HC $29.99
FEB062040 SPIDER-WOMAN ORIGIN #5 (OF 5) $2.99
FEB062000 SQUADRON SUPREME #2 $2.99
FEB062055 WOLVERINE ORIGINS #1 $2.99
FEB062057 X-MEN #185 $2.99
FEB062076
X-MEN AND POWER PACK POWER OF X
DIGEST TP $6.99
FEB062062 X-STATIX PRESENTS DEAD GIRL #4 (OF 5) $2.99
WIZARD
FEB062764 WIZARD ANIME INSIDER SUMMER PREVIEW CVR #32 $5.99
COMICS
FEB063188 0/6 VOL 1 GN (OF 5) $9.99
NOV052978 11TH CAT VOL 2 GN $10.95
JAN063210 2000 AD #1481 $4.10
DEC052743 7 DAYS TO FAME #3 (OF 3) $3.99
MAR062872 ACTOR CATWOMAN WHEN IN ROME #1 SGN $19.99
MAR062873 ACTOR MARVEL KNIGHTS BLACK PANTHER #1 SGN $19.99
JAN063092 ANGEL OLD FRIENDS #5 (OF 5) $3.99
DEC053096 BAKERS DO THESE TOYS BELONG SOMEWHERE HC $18.95
FEB062853 BETTY #155 $2.25
JAN063164 BIG MAX #1 $2.99
JAN063242 BLACK COAT CALL TO ARMS #1 (OF 4) $2.99
FEB063289 BLADE OF HEAVEN VOL 7 GN (OF 15) $9.99
FEB063190 BOY PRINCESS VOL 1 GN (OF 9) $9.99
NOV052980 BRING IT ON VOL 2 GN $10.95
FEB062872 CARGO COMIC JOURNALISM FROM ISRAEL GERMANY TP $25.00
FEB063142 CHICANOS #6 $3.99
NOV052981 CHOCOLAT VOL 2 GN $10.95
FEB063292 CHRONICLES OF THE CURSED SWORD VOL 15 GN (OF 19) $9.99
FEB062837 COLOR MANGA 7 PACK $34.95
MAR063449 CRY YOURSELF TO SLEEP GN $7.00
FEB062812 DEAD EYES OPEN #4 $2.95
MAR063189 DF INFINITE CRISIS #1 JIMENEZ SGN (O/A) $29.99
MAR063188 DF INFINITE CRISIS #2 JIMENEZ SGN $29.99
JAN063023 DF RED SONJA CLAW #1 COMPLETE CVR PAIR SGN $49.99
MAR063187 DF WITCHBLADE VAMPIRELLA MAGDALENA UNTOLD STORY GOLD FOIL ED $10.00
FEB063056 DONALD DUCK AND FRIENDS #339 $2.95
FEB063295 DRAGON HUNTER VOL 14 GN (OF 18) $9.99
JAN063205 EGO & HUBRIS MICHAEL MALICE STORY HC $19.95
MAR063489 FULLMETAL ALCHEMIST VOL 4 BOXED SET ALPHONSE FIGURINE $19.99
MAR063490 FULLMETAL ALCHEMIST VOL 4 BOXED SET EDWARD FIGURINE 0- $19.99
FEB062982 GI JOE SNAKE-EYES DECLASSIFIED TP $18.95
FEB062983 GI JOE VS TRANSFORMERS VOL 3 ART OF WAR CVR A #2 (OF 5) $2.95
FEB062984 GI JOE VS TRANSFORMERS VOL 3 ART OF WAR CVR B #2 (OF 5) $2.95
MAR063172 GORILLA GORILLA VOL 1 GN $4.99
JAN063407 HANA KIMI VOL 11 GN $9.99
FEB063297 HANDS OFF VOL 6 GN (OF 8) $9.99
FEB063301 INITIAL D VOL 22 GN (OF 30) $9.99
JAN063394 INU YASHA ANI MANGA VOL 14 GN $11.99
JAN063395 INU YASHA VOL 25 TP $8.95
MAR063078 JAPANESE DRAWING ROOM GN $9.99
DEC053119 JENNA TP $10.99
FEB062857 JUGHEAD AND FRIENDS DIGEST #10 $2.49
JAN062905 LADY DEATH LOST SOULS READY TO RUMBLE CVR #0 (OF 3) $5.99
FEB063195 LAND OF SILVER RAIN VOL 1 GN (OF 7) $9.99
FEB063196 LET DAI VOL 1 GN (OF 15) $9.99
MAR063173 LILO & STITCH VOL 1 GN $4.99
OCT053234 LIZZIE MCGUIRE CINEMANGA VOL 14 GN (OF 15) $7.99
FEB063198 MADTOWN HOSPITAL VOL 1 GN (OF 4) $9.99
FEB063058 MICKEY MOUSE AND FRIENDS #288 $2.95
JAN068172 MOUSE GUARD 2ND PRTG #1 (OF 6) (PP #707) $3.50
JAN063415 NAOKI URASAWAS MONSTER VOL 2 TP (RES) $9.99
JAN062844 NINJA HIGH SCHOOL #137 $2.99
FEB062859 PALS N GALS DOUBLE DIGEST #102 $3.69
JAN063216 PARIAH #1 $2.99
JAN063159 PHANTOM #10 $3.50
FEB063307 PHD PHANTASY DEGREE VOL 6 GN (OF 8) $9.99
FEB063200 PINE KISS VOL 1 GN (OF 8) $9.99
FEB063040 POGO VOL 2 $9.95
JAN063377 RANDOM ENCOUNTER VOL 1 TP $9.95
DEC052935 RED SONJA #9 $2.99
FEB062930 RIO SC (O/A) PI
MAR063062 SERENITY VOL 2 STEPPING OUT TP $7.97
FEB063374 SHONEN JUMP JUNE 06 #42 $4.99
FEB063280 SHRINE OF THE MORNING MIST VOL 1 GN (OF 4) $9.99
FEB062916 SIMPSONS COMICS #117 $2.99
NOV053083 SLAINE BOOKS OF INVASIONS VOL 1 MOLOCH AND GOLAMH HC 1 $20.99
FEB062861 SONIC THE HEDGEHOG #161 $2.25
JUL058323 SPONGEBOB SQUAREPANTS CINEMANGA VOL 10 WHOS HUNGRY GN (OF 12 $7.99
MAR063052 STARGATE SG1 RA REBORN PREQUEL (RES) $2.99
MAR063056 STARGATE SG1 RA REBORN PREQUEL CARTER & JACKSON CVR (RES) $5.99
MAR063057 STARGATE SG1 RA REBORN PREQUEL CARTER PAINTED CVR (RES) $5.99
MAR063102 STARGATE SG1 RA REBORN PREQUEL GOLD FOIL CVR (RES) $5.99
MAR063053 STARGATE SG1 RA REBORN PREQUEL PAINTED CVR (RES) $2.99
MAR063054 STARGATE SG1 RA REBORN PREQUEL PHOTO CVR (RES) $2.99
MAR063055 STARGATE SG1 RA REBORN PREQUEL WRAPAROUND CVR (RES) $2.99
FEB063114 TRANSFORMERS GENERATIONS (IDW) #2 $1.99
FEB063310 YONEN BUZZ VOL 2 GN (OF 3) $9.99
FEB062931 YOUNG BLUEBERRY THE BLUECOATS (O/A) PI
JAN062940 YOUNG BLUEBERRY YANKEE NAMED BLUEBERRY SC (O/A) PI
JAN063399 ZATCH BELL VOL 6 GN $9.99
DEC053124 ZOMBIE-SAMA #1 (RES) $4.99
MAGAZINES
OCT058341 2000 AD EXTREME ED #15 $5.99
FEB063466 ANGEL MAGAZINE #14 NEWSSTAND ED $6.99
FEB063467 ANGEL MAGAZINE #14 PX ED $6.99
DEC053572 ANIMAGE MAR 2006 $11.99
FEB063421 ANIMATION MAGAZINE MAY 2006 #160 $5.95
DEC053573 ANIMEDIA MAR 2006 $8.99
FEB063448 BECKETT ANIME COLLECTOR #81 $6.99
FEB063442 BECKETT BASEBALL MAY 2006 #254 $4.99
FEB063444 BECKETT BASKETBALL MAY 2006 #190 $4.99
FEB063449 BECKETTS NEOPETS MAGAZINE #16 $9.99
FEB068046 BECKETTS RACING CARD PLUS #6 PI
FEB063431 COMICS BUYERS GUIDE JULY 2006 #1618 $5.99
JAN063486 CULT TIMES APR 06 #127 $7.99
JAN063510 DARK SIDE APR MAY 2006 #120 $6.50
DEC053574 DENGEKI GS MAG MAR 2006 $16.99
FEB063130 DOOMED MAGAZINE #2 (NOTE PRICE) $7.99
JAN063488 DR WHO MAGAZINE #368 $7.99
JAN063468 DRAGON MAY 2006 #343 $6.99
NOV053465 FIGURE KING ENCYCLOPEDIA #97 $20.99
DEC053582 HOBBY JAPAN APR 2006 $12.99
DEC053583 HYPER HOBBY MAR 2006 $16.99
FEB063435 INTERZONE #203 $7.00
FEB063436 JUXTAPOZ MAY 2006 VOL 14 #5 $4.99
NOV058283 MEGAMI MAG MAR 2006 #0 $14.99
JAN063476 NEO MAGAZINE #18 $7.99
DEC053577 NEWTYPE MAR 2006 $10.99
JAN063499 SFX #142 $8.25
FEB063482 SMALLVILLE MAGAZINE #14 NEWSSTAND ED $6.99
FEB063483 SMALLVILLE MAGAZINE #14 PX ED $6.99
JAN063503 STARBURST SPECIAL #74 BATTLESTAR GALACTICA $9.99
FEB063485 STARGATE SG 1 MAGAZINE #10 $6.99
JAN063505 TV ZONE MAY 2006 #201 $7.99
JAN063454 WALLACE & GROMIT MAGAZINE #7 $5.99
JAN063508 WORKS APR 2006 #5 $5.99
RELATED MERCHANDISE
MAR062870 ACTOR RED SONJA STATUE $199.99
MAR064372 ANDROMEDA SEASON 5 COLL 5 DVD PI
JAN063975 BABYLON 5 2ND ED RPG GM SCREEN $14.95
FEB063717 BATMAN THUG STRETCH FIT CAP $18.99
JAN063908 BETTY BOOP CHEERLEADER WACKY WOBBLER $10.99
DEC058167 BRAM STOKERS DRACULA AF BOX SET (PP #702) PI
JAN063586 BREATH OF FIRE OFFCIAL COMPLETE WORKS SC $43.99
SEP053886 CAPCOM GIRLS STREET FIGHTER CHUN LI RS $160.00
DEC054094 CASTLES & CRUSADES PLAYERS HANDBOOK $19.95
DEC054093 CASTLES AND CRUSADES DELUXE SLIP CASE $75.00
AUG053434 CBG 2006 COMIC BOOK CHECKLIST & PRICE GUIDE 12TH ED TP $19.99
DEC054050 COMPLEAT ENCOUNTER TERROR IN THE CHAMBER OF PAIN $15.95
NOV053708 CORPSE BRIDE STATUE $195.00
JUL053412 CREATING CREATURES OF FANTASY AND IMAGINATION HC $24.99
FEB064084 D&D COMPLETE PSIONIC HC $29.95
FEB064087 D&D EBERRON VOYAGE OF THE GOLDEN DRAGON $9.95
FEB064086 D&D FANTASTIC LOCATIONS FIELDS OF RUIN $14.95
JAN064037 DAN DOH SUPER SHOT VOL 3 DVD PI
MAR063678 DISCOVER MANGA DRAWING TP $16.99
DEC053541 DOLLY DOLLY VOL 8 SC $39.99
NOV053691 DR STRANGE STATUE $180.00
JUL053414 DRAGONART HOW TO DRAW DRAGONS & FANTASY CREATURES TP 1 $19.99
FEB064092 DRAGONLANCE TALADAS 2 TRAIL OF THE BLACK WYRM MMPB $6.99
OCT054289 DRAGONLANCE TALES VI WAR OF THE LANCE MMPB $6.99
FEB064096 DUEL MASTERS TCG SHOCKWAVES SHATTERED RAINBOW BOOSTER DIS $83.76
FEB064095 EBERRON TALES OF THE LAST WAR ANTHOLOGY MMPB $6.99
JAN063557 EDGAR & ELLEN PETS REVENGE TP $9.95
JAN063842 EMILY STRANGE I WANT YOU BUST $25.00
JAN063843 EMILY STRANGE ROCKS BUST $25.00
JAN063626 FIGURE MANIAX #18 $27.99
FEB064091 FORGOTTEN REALMS FIGHTERS BLADESINGER MMPB $6.99
OCT054294 FORGOTTEN REALMS LEGEND OF DRIZZT I HOMELAND MMPB $7.99
FEB064115 GALAXY RAILWAYS VOL 6 ETERNAL HOPE DVD PI
FEB063838 GODZILLA TITANOSAURUS PLUSH $24.95
JAN063587 GOTH LOLI VOL 6 $18.99
JAN064056 INUYASHA VOL 41 DVD PI
FEB063935 KING KONG ORIGINAL DOUBLE SIDED MOVIE POSTER $35.99
FEB063677 KINGDOM COME ALEX ROSS SUPERMAN T/S LG $17.95
FEB063676 KINGDOM COME ALEX ROSS SUPERMAN T/S MED $17.95
FEB063675 KINGDOM COME ALEX ROSS SUPERMAN T/S SM $17.95
FEB063678 KINGDOM COME ALEX ROSS SUPERMAN T/S XL $17.95
FEB063679 KINGDOM COME ALEX ROSS SUPERMAN T/S XXL $20.95
FEB063680 KINGDOM COME I BY ROSS T/S LG (O/A) $20.95
FEB063681 KINGDOM COME I BY ROSS T/S XL (O/A) $20.95
FEB063682 KINGDOM COME I BY ROSS T/S XXL (O/A) $23.95
FEB064057 MADAME ENDORAS FORTUNE CARDS PI
FEB064078 MAGE AWAKENING RPG TOME OF THE WATCHTOWERS $26.99
MAR063681 MANGA FANTASY MADNESS TP $19.99
FEB064093 MARK OF THE YUAN TI MMPB $5.99
NOV058065 MARVEL COLL HAWKEYE STATUE $199.00
MAR064336 MISAKI CHRONICLES VOL 3 CONTINUUM DVD PI
JAN063630 MODELOID VOL 2 $24.99
DEC053917 MONTY PYTHON BLACK KNIGHT TALKING BOP BAG $24.95
MAR063992 ONE PIECE ACTION ATTACK AF 200601 $143.88
MAR063993 ONE PIECE POWER RIPZ AF 200601 $95.94
JAN063366 OWLY BABY BLUE GIRLY T/S LG $20.00
JAN063365 OWLY BABY BLUE GIRLY T/S MED $20.00
JAN063364 OWLY BABY BLUE GIRLY T/S SM $20.00
JAN063358 OWLY GREEN T/S LG $20.00
JAN063359 OWLY GREEN T/S XL $20.00
JAN063360 OWLY GREEN T/S XXL $20.00
JAN063363 OWLY WHITE GIRLY T/S LG $20.00
JAN063362 OWLY WHITE GIRLY T/S MED $20.00
JAN063361 OWLY WHITE GIRLY T/S SM $20.00
MAR063682 PENCIL BOX TP $22.99
FEB063983 PEZ 2005 ICE AGE II 12CT DISPLAY PI
JAN063932 PIXAR FILM CELL BOOKMARK 36CT DISPLAY PI
JAN063631 REPLICANT #22 $23.99
JAN063593 ROBOT VOL 4 SC $35.99
JAN063594 RYOICHI IKEGAMI WORKS SC $90.99
NOV053693 SASQUATCH MINI BUST $60.00
MAR064168 SERENITY MOVIE SCORE POSTER $5.49
MAR064348 SHADOW SKILL VOL 4 THE FALL DVD PI
FEB063929 SILVER AGE OF DC COMICS GICLEE $325.00
MAR064088 SIMPSONS DRINK UP CHUMPS STATUE (O/A) $24.94
MAR064089 SIMPSONS EXCELLENT STATUE (O/A) $24.94
MAR064091 SIMPSONS MAKE WAY FOR WILLIE STATUE (O/A) $24.99
MAR064093 SIMPSONS NO PROBLEMO STATUE (O/A) $24.94
MAR064350 SPEED RACER VOL 4 DVD PI
DEC053745 STEWIE DAMN YOU SHEER T/S XL $19.99
SEP058144 SUPERMAN RETURNS BASIC AF SER 1 $119.88
MAR064080 SUPERMAN RETURNS KRAZY KRYPTONITE COMPOUND $4.99
SEP058171 SUPERMAN RETURNS R/C FLYING SUPERMAN AF $99.99
MAR064075 SUPERMAN RETURNS SWINGSHOT AF $11.99
JAN063687 SUPERMAN TRUTH JUSTICE & THE AMERICAN WAY CAP $19.99
OCT053881 SW TESB LUKE ON TAUNTAUN STATUE $165.00
NOV053720 SWRS EMPEROR PALPATINE MINI BUST $50.00
JAN063597 THE ARK LINEAGE II ILLUSTRATIONS FORMAT MATERIALS SC 1 $55.99
JAN062954 TOMOES TEARS LTD ED PX LITHO $34.99
JAN063217 TRANSFORMERS METROPLEX VS TRYPTICON LITHO $24.99
DEC053999 TRUE 20 ADVENTURE RPG HC $34.95
NOV053487 UPPER DECK 2005 06 BEE HIVE NHL T/C BOX PI
DEC058100 VINCE YOUNG AUTOGRAPHED UT WHITE JERSEY PI
MAR063683 VIRTUAL POSE CHILDREN & TEENS HC W/CD-ROM $34.99
FEB064077 WEREWOLF FORSAKEN RPG TERRITORIES $26.99
DEC058300 WWE HERITAGE CHROME T/C BOX (PP #703) PI
FEB063560 X-MEN ULTIMATE GUIDE HC REVISED $24.99
Comics Shipping April 26 (tentative)
DARK HORSE
STAR20336 HELLSING VOL 1 TP $13.95
DEC030060 HELLSING VOL 2 TP $13.95
MAR040059V HELLSING VOL 3 TP (MR) $13.95
JUN040053 HELLSING VOL 4 TP $13.95
FEB060061 USAGI YOJIMBO #93 $2.99
DC COMICS
JAN060374 100 BULLETS VOL 9 STRYCHNINE LIVES TP (MR) $14.99
FEB060314 AMERICAN WAY #3 (OF 8) $2.99
FEB060222 BATMAN #652 $2.50
FEB060224 BATMAN LEGENDS OF THE DARK KNIGHT #204 $2.50
FEB060260 BLUE BEETLE #2 $2.99
FEB060300 CARTOON NETWORK BLOCK PARTY #20 $2.25
FEB060227 CATWOMAN #54 $2.50
FEB060265 CRISIS AFTERMATH THE BATTLE FOR BLUDHAVEN #2 (OF 6) $2.99
FEB060271 HAWKGIRL #51 $2.50
FEB060273 ION #1 (OF 12) $2.99
JAN060348 KAMIKAZE KAITO JEANNE VOL 3 $9.99
FEB060335 LUCIFER #73 (MR) $2.75
FEB060320 SKYE RUNNER #1 $2.99
FEB060321 SKYE RUNNER VARIANT COVER #1 (OF 6) $2.99
FEB060286 SOLO #10 $4.99
FEB060287 SUPERGIRL AND THE LEGION OF SUPER HEROES #17 $2.99
FEB060299 TEEN TITANS GO #30 $2.25
JAN060350 TENRYU THE DRAGON CYCLE VOL 5 $9.99
FEB060310 TESTAROTHO VOL 4 (MR) $9.99
FEB060311 TOWER OF THE FUTURE VOL 3 $9.99
JUN050452 V FOR VENDETTA NEW EDITION HC (MR) $29.99
FEB060296 WARLORD #3 $2.99
IMAGE
SEP051670 DISTANT SOIL VOL 4 CODA TP $17.99
FEB045201 MAGE VOL 1 THE HERO DISCOVERED TP $29.99
MARVEL
FEB062007 ALL NEW OFF HANDBOOK MARVEL UNIVERSE A TO Z #4 $3.99
FEB062008 AMAZING FANTASY #20 $2.99
FEB061990 AMAZING SPIDER-MAN #531 $2.99
JAN068222 AMAZING SPIDER-MAN 3RD PTG #529 (PP #710) $2.50
FEB062004 ANNIHILATION RONAN #1 (OF 4) $2.99
FEB062046 ASTONISHING X-MEN #14 $2.99
OCT041800 ASTONISHING X-MEN VOL 1 GIFTED TP $14.99
FEB061994 BLACK PANTHER #15 $2.99
FEB062010 DAUGHTERS OF THE DRAGON #4 (OF 6) $2.99
FEB062079 DECIMATION X-MEN THE DAY AFTER TP $15.99
FEB062088 ESSENTIAL X-MEN VOL 4 TP NEW PRINTING $16.99
FEB062013 FANTASTIC FOUR #537 $2.99
FEB061998 FOUR #29 $2.99
FEB062017 INCREDIBLE HULK #94 $2.99
FEB062015 IRON MAN THE INEVITABLE #5 (OF 6) $2.99
FEB062044 MARVEL MILESTONES BEAST & KITTY PRYDE $3.99
FEB068097 MARVEL ZOMBIES 4TH PTG VAR #1 (OF 5) $2.99
FEB062031 NEW AVENGERS ANNUAL #1 $3.99
FEB062084 NEW X-MEN CHILDHOODS END VOL 1 TP $10.99
FEB062037 RUNAWAYS #15 $2.99
FEB062038 SENTRY #8 (OF 8) $2.99
FEB061993 SPIDER-MAN LOVES MARY JANE #5 $2.99
FEB062052 STORM #3 (OF 6) $2.99
FEB062043 THING #6 $2.99
FEB061985 ULTIMATE FANTASTIC FOUR #29 $2.99
NOV031558D ULTIMATE X-MEN VOL 7 BLOCKBUSTER TP $12.99
FEB062071 UNCANNY X-MEN OMNIBUS VOL 1 HC $99.99
FEB062072 UNCANNY X-MEN OMNIBUS VOL 1 HC VARIANT $99.99
FEB062087 WHAT IF MIRROR MIRROR TP $16.99
FEB062002 WOLVERINE #41 $3.99
FEB062056 X-FACTOR #6 $2.99
WIZARD
MAR062844E WIZARD COMICS MAGAZINE MARVEL CIVIL WAR CVR #176 $5.99
MAR062845E WIZARD COMICS MAGAZINE X3 MOVIE PHOTO CVR #176 $5.99
COMICS
STAR18052 ALL NEW TENCHI MUYO VOL 1 ALIEN NATION TP $8.95
JAN042801 ANGEL SANCTUARY VOL 1 GN (MR) $9.95
FEB063125 ANGEL SCRIPTBOOK #2 $3.99
FEB062917 BART SIMPSON COMICS #29 $2.99
FEB062854 BETTY & VERONICA #217 $2.25
FEB062855 BETTY & VERONICA DIGEST #165 $2.49
NOV043066E CERES CELESTIAL LEGEND VOL 10 TP $9.95
FEB063353 COLLECTED JACK KIRBY COLLECTOR VOL 5 TP $24.95
JAN063225F DEVILS PANTIES #2 $4.95
STAR12452 ELECTRIC GIRL VOL 1 TP $9.95
APR042994 FUSHIGI YUGI VOL 3 2ND ED DISCIPLE TP $9.95
JAN062818 HAUNTED MANSION #3 $2.95
STAR18199 INU YASHA VOL 13 TP $8.95
STAR20271 INU YASHA VOL 7 2ND ED TP $8.95
FEB062858 JUGHEADS DOUBLE DIGEST #121 $3.69
STAR19093 LENORE #10 $2.95
MAR042191E LENORE #11 $2.95
STAR14989 LENORE #9 $2.95
MAR062875E NGE ANGELIC DAYS MANGA VOL 1 TP $9.99
FEB062822 PARIS #4 (OF 4) $2.95
FEB063088F PATRIOT GN (A) $19.95
JAN063183 POLLY & THE PIRATES #5 (OF 6) $2.99
FEB062860 SABRINA VOL 2 #75 $2.25
SEP058196 STREET FIGHTER #2 2ND PTG (O/A) $2.95
FEB062809 TRON #1 $3.50
FEB063059 UNCLE SCROOGE #353 $6.95
FEB063060 WALT DISNEYS COMICS & STORIES #668 $6.95
MAGAZINES
MAR064234J GAME TRADE MAGAZINE #75 PI
FEB063463F NEWTYPE ENG ED W/ DVD MAY 2006 $12.98
RELATED MERCHANDISE
MAR060008J MARVEL PREVIEWS #33 MAY 2006 PI
MAR060011J PREVIEWS ADULT VOL XVI #5 PI
MAR060007J PREVIEWS VOL XVI #5 PI
MAR060009J PREVIEWS VOL XVI CONSUMER ORDER FORM #5 PI
Marvel Comics March 2006 Solicitations
Marvel Comics April 2006 Solicitations
Marvel Comics May 2005 Solicitations
Marvel Comics June 2006 SolicitationsULTIMATE TITLES

ULTIMATE SPIDER-MAN #97
Written by Brian Michael Bendis, pencils and cover by Mark Bagley.
"The Clone Saga," part 1 of 6. As Peter tries to sort out his relationship with the X-Men's Kitty Pryde -- and continue his friendship with Mary Jane--a mall-food-court lunch turns into a free-for-all as Peter and MJ are interrupted by the debut of...the Ultimate Scorpion! But who is the Scorpion--and what sinister conspiracy is threatening Spider-Man's very existence? The clues have been laid over the past 96 issues...and it all starts to come together here, as we begin the most shocking, most mind-blowing Spider-Man story ever published! And we start with what's sure to be one of the most talked-about last page of the year!
32 pages, $2.99, in stores on July 12.
ULTIMATE FANTASTIC FOUR #32
Written by Mark Millar, pencils and cover by Greg Land.
"Frightful," part 3 of 3. The Millar/Land run comes to an Earth-shattering conclusion as the Ultimate F.F. are locked in a battle to the death with their zombie counterparts from an alternate Earth! Tying into events from the best-selling Marvel Zombies limited series, this is the explosive climax to the amazing series of events that go back to Mark Millar's first issue...and the ending is enough to make George Romero lose his lunch.
32 pages, $2.99, in stores on July 26.
ULTIMATE X-MEN #72
Written by Robert Kirkman, pencils and cover by Tom Raney.
"Magical," part 1 of 3. He's a media darling, a vital part of the X-Men dynamic and the newest member of the team. His name -- The Magician! Watch him live up to his name in ways you could never conceive. There is more -- much, much more about this new mutant than any suspect. Plus -- the fallout from the Shi'ar's test on Jean Grey has drastically unanticipated consequences.
32 pages, $2.99, in stores on July 12.
CIVIL WAR TITLES

CIVIL WAR #3
Written by Mark Millar, pencils and cover by Steve McNiven, variant cover by Michael Turner.
The battle lines are drawn as the conflict between the Super Hero Registration Initiative and the Underground Resistance fighters explodes in a live fire fight as the future of the Marvel Universe is decided! But before the dust settles, a familiar figure will emerge from a strike of lightning to change the odds--and the sides! Witness teams and families torn apart as the Civil War touches all and the momentous events of last issue changes the world as our heroes understand it!
32 pages, $3.99, in stores on July 19.
CIVIL WAR: FRONT LINE #3 & 4
Written by Paul Jenkins, penciled by Ramon Bachs and Steve Lieber, cover by John Watson.
"Embedded" - Civil War has ignited across the Marvel Universe! Embedded reporters Sally Floyd and Ben Urich are driven into the heart of battle--a battle in which a hero will fall. Their investigations will take Sally into the heart of Captain America's resistance, while Urich is about to get reacquainted with a certain green friend...
"The Accused" - Despised by a nation, the lone survivor of the New Warriors' team is behind bars. Without family, without a friend in the world and without a reason to go one, will this hero make a deal, or take a stand?
"Correspondence" - Juxtaposing stories of war throughout time with the Marvel Civil War, "Correspondence" adapts tales from World War I and more!
32 pages, $2.99, in stores on July 12.
CIVIL WAR: X-MEN #1
Written by David Hine, penciled by Yanick Paquette, cover by Juan Doe.
Enough is enough! The tension between the X-Men, the 198, and the O*N*E has finally reached a breaking point. As the Marvel Universe is ripped apart by the Civil War, the X-Men also find themselves crumbling from the inside out. Will they fold-up and admit defeat, or will the X-Men finally start to fight back? Find out here!
32 pages, $2.99, in stores on July 19.
CIVIL WAR: YOUNG AVENGERS & RUNAWAYS #1
Written by Zeb Wells, penciled by Stefano Caselli, cover by Jim Cheung.
As the public turns against Marvel's heroes, the gears of Civil War threaten to crush Brian K. Vaughan's Runaways. But when Allan Heinberg's Young Avengers offer their assistance, how can the Runaways believe they're on the same side? Don't miss this Civil War tie-in that promises to have lasting repercussions for both popular teams!
32 pages, $2.99, in stores on July 26.
CIVIL WAR #1 (DIRECTOR'S CUT)
Written by Mark Millar, penciled and cover by Steve McNiven.
Go behind the lines of the Marvel Comics event starring Spider-Man, the New Avengers, the Fantastic Four, the X-Men and the entirety of the Marvel pantheon. This bonus edition reprints Civil War #1 ­ plus script, sketches, deleted scenes and more!
64 pages, $4.99, in stores on July 5.
DAILY BUGLE: CIVIL WAR SPECIAL EDITION
Written by Peter David, J. Michael Straczynski and various, art and cover by Mike Mayhew.
The sides have been chosen and the Civil War has begun! As heroes battle heroes, putting their lives on the line to fight for what they believe in, there's only one source to keep you informed on the happenings of the biggest Marvel event of the year: the Daily Bugle! This is the very newspaper the citizens of the Marvel Universe read to keep informed! With a very special editorial by J. Jonah Jameson and news, gossip, and opinions from the best writers he hasn't fired yet, this is the place to go to for Civil War secrets you won't see anywhere else! That's right: the Bugle has an exclusive on this story--and art!
12 pages, 50 cents, in stores on July 19.
AMAZING SPIDER-MAN #534
Written by J. Michael Straczynski, pencils and cover by Ron Garney.
"The War at Home," part 3 of 6. Life couldn't be more complicated -- or more dangerous -- for Peter Parker. Spider-Man has picked a side in the Civil War that's tearing apart the super hero community, and the decision has ripped apart some of his strongest bonds. When one of the War's leaders comes to recruit Spidey for his troops, will Spidey stay true to that decision?
32 pages, $2.99, in stores on July 26.
BLACK PANTHER #18
Written by Reginald Hudlin, pencils by Scot Eaton, wraparoundcover by Frank Cho, variant cover by Michael Turner.
"Bride of the Panther," Part 5 of 5. Special double-sized issue! It's the Wedding of the Century as T'Challa and Storm finally make it to the altar -- and not since Reed and Sue tied the knot have so many of Marvel's super heroes assembled for such a happy occasion. Can this gathering offer much-needed respite from the Civil War that's erupted in the U.S., or will it too be engulfed by the insanity that's currently rocking the Marvel Universe? Don't miss this historic event -- and turning point in the Civil War. Featuring backup features, including a look behind the scenes at the creation of Storm's wedding gown, and wraparound cover by Frank Cho!
48 pages, $3.99, in stores on July 26.
FANTASTIC FOUR #539
Written by J. Michael Straczynski, penciled by Mike McKone, cover by Adi Granov.
Public protests over the Superhuman Registration Act threaten to tear Yancy Street apart! But those forces who seek to use the demonstrations for their own sinister ends haven't reckoned with the rage of a fighting mad Thing!
32 pages, $2.99, in stores on July 26.
THUNDERBOLTS #104
Written by Fabian Nicieza, pencils and cover by Tom Grummett.
When rogue Marvel heroes are on the loose, who better to hunt them down than people who know what it's like to be on the lam? The ex-villains become hero hunters! And whose hero butt gets served first?
32 pages, $2.99, in stores on July 12.
NEW AVENGERS #22
Written by Brian Michael Bendis, pencils and cover by Leinil Francis Yu.
Brian Bendis teams up, for the first time, with Leinil Yu to tell the story that no one thought would ever be told. . It's brother against brother as Luke Cage is forced to take sides in the super hero Civil War! With a new wife and baby hanging in the balance, what will Cage do?
32 pages, $2.99, in stores on July 26.
CABLE/DEADPOOL #30
Written by Fabian Nicieza, pencils by Staz Johnson, cover by Roberto Campus.
"The Hero Hunter," part 1 of 3. With Civil War tearing the Marvel Universe apart, only one man can sew it back together... Deadpool?! Well, who else would make the perfect mercenary Hero-Hunter? In an effort to do his part, Deadpool crosses paths with the Great Lake Avengers, and slices and dices his way to Daredevil, the Man without Fear! What happens when the Merc with a Mouth faces the Sightless Scarlet Sentry? And where does Cable stand in all this? Where he always does... pretending he's above the fray. Then why is he having a secret meeting with Captain America...?
32 pages, $2.99, in stores on July 12.
WOLVERINE #44
Written by Marc Guggenheim, with art by Humberto Ramos.
Civil War tie-in. "Vendetta," part 3 of 6. The smackdown of the century is here:
Wolverine vs. Nitro - The Human Bomb! But what dark secret does Nitro hold that threatens to shake up everything? And who are the three mysterious strangers tracking Wolverine? Everything you think you know is wrong.
32 pages, $2.99. in stores on July 26.
X-FACTOR #9
Written by Peter David, penciled by Dennis Calero, cover by Ryan Sook.
Jamie Madrox comes face to face with the thing that terrifies him the most: Having to make a decision. The divisiveness of Civil War has spread to his own team, as half of them want to cooperate with the government, while the other half wants to take a stand against it. It's Jamie's decision that may well decide whether X-Factor stands or cracks apart...and things aren't being helped by Quicksilver, who offers Rictor the opportunity to get his powers back -- but at what price? Guest starring Quicksilver!
32 pages, $2.99, in stores on July 26.
SPIDER-MAN TITLES



FRIENDLY NEIGHBORHOOD SPIDER-MAN #10
Written by Peter David, pencils and cover by Mike Wieringo.
"Jumping the Tracks," part 3 of 3. What possible hope does Spider-Man have against the Hobgoblin from the future? Here is a foe that is advanced in every possible way, an evolved machination of evil with the technology to not only destroy something but to completely erase it from history. The web-slinging wonder will need a little help from his friends for this one, and who better to recruit than the Spider-Man from the year 2211? And if that's not enough to get your webs in a bunch, look out for an earth-shaking reunion that's taken nearly 45 years of Marvel Comics to finally unveil!
32 pages, $2.99. in stores on July 19.
SENSATIONAL SPIDER-MAN #28
Written by Roberto Aguirre-Sacasa, pencils and cover by Clayton Crain.
Tie-in to Amazing Spider-Man: "The War At Home" The War has begun, sides have been chosen, and the die has been cast! With the repercussions of recent actions in Civil War spreading across the Marvel Universe, this special stand-alone issue looks at how every action can have enormous consequences...even in Peter Parker's life.
32 pages, $2.99, in stores on July 12.
LAST PLANET STANDING #5
Written by Tom DeFalco, pencils and cover by Pat Olliffe.
Is this the end of the MC-2 Universe? The sequel to last year's surprise hit concludes and it's all-out action in the merry Marvel manner as... Determined to evolve, Galactus prepares to sacrifice the Earth and the entire universe! An army of Mainframes take on a horde of Punisher robots! The Silver Surfer unleashes his full cosmic fury against his former master! The last heroes standing make their final assault on the planet-eater! And Spider-Girl and a few friends take a desperate, perhaps fatal, gamble to save their world and the universe entire!
32 pages, $2.99. in stores on July 5.
SPIDER-GIRL #100
Written by Tom DeFalco, pencils and cover by Ron Frenz.
Is this truly destined to be the last Spider-Girl story? The Hobgoblin, the Scriers and the Black Tarantula sure hope so. Come celebrate 100 uninterrupted issues of the little comic that could and enjoy the fun as Spider-Man joins Spider-Girl for one last super-battle. Plus the final fate of Normie Osborn and the Venom Symbiote, Moose's farewell to Midtown High, the death of a hero, special feature pages, two classic Spider-Girl stories, a surprise announcement and more!
32 pages, $2.99, in stores on July 12.
SPIDER-MAN LOVES MARY JANE #8
Written by Sean McKeever, pencils and cover by Takeshi Miyazawa.
It's time for Mary Jane to take her relationship with a certain someone to the next level, and she knows it. Unfortunately, being the lead in the school play leaves little time for a social life! And is MJ's mind playing tricks on her, or is Liz getting back together with Flash?
32 pages, $2.99, in stores on July 26.
ANNIHILATON TITLES

ANNIHILATION: NOVA #4
Written by Andy Lanning and Dan Abnett, penciled by Kev Walker, cover by Gabrielle Dell'Otto.
Driven to regain his dignity and burdened by the fate of Xandar, Nova faces the Annihilation Wave head on and unleashes the full power of the Nova Force! But is that enough against such a vast force of cosmic destruction? And if it isn't, who will stand with him in that last battle? Quasar? Drax? Guest starring Quasar and Drax the Destroyer! Interlocking cover with all three other Annihilation covers!
32 pages, $2.99, in stores on July 19.
ANNIHILATION: RONAN THE ACCUSER #3
Written by Simon Furman, penciled by Jorge Lucas, cover by Gabriele Dell'Otto.
The dreams of a mad god die screaming as the Annihilation Wave descends on the recreated Godthab Omega. And in the middle of it all, Ronan, torn between saving as many lives as possible and a quickly disappearing chance to clear his name. Ultimately, the price of Ronan's newfound freedom... may well be his life! Guest starring Gamor! Interlocking cover with all three other Annihilation covers!
32 pages, $2.99, in stores on July 26.
ANNIHILATION: SILVER SURFER #4
Written by Keith Giffen, penciled by Renato Arlem, cover by Gabriele Dell'Otto.
It all comes to a head in this issue as the Surfer confronts the sins of his past and, more importantly, determines his future path. Whatever you were expecting, we guarantee, this wasn't it. It's a whole new, senses staggering chapter in the Surfer's ongoing saga! Interlocking cover with all three other Annihilation covers! Guest-starring Firelord, Galactus, and Thanos!
32 pages, $2.99, July 12.
ANNIHILATION: SUPER-SKRULL #4
Written by Javier Grillo-Marxuach, penciled by Gregory Titus, cover by Gabriele Dell'Otto.
The Super-Skrull's crusade against the Annihilation Wave has ended in failure. Betrayal has left Super-Skrull a prisoner of his hated enemy... but the eradication of everything he sought to preserve has only made Super-Skrull a greater threat! Desperate and left with nothing to lose, the mighty Marvel villain strikes back in a climactic tale of revenge and shocking destiny with an ending that will change everything! Interlocking cover with all three other Annihilation covers!
32 pages, $2.99, in stores on July 12.
MARVEL HEROES TITLES

ALL-NEW OFFICIAL HANDBOOK OF THE MARVEL UNIVERSE A TO Z #7
Written by various, cover by Keu Cha.
The Handbook from A to Z rolls on ­ including bios on Victor Mancha, Margali Szardos, two Mandarins, Marduk, Man Mountain Marko, Marvel Boy (Noh-Varr), Master Khan, Master of the World, two Masterminds, Maverick, Layla Miller, Mimic, Mondo, Morg, Motormouth, Mysterium, Nebula and more! This twelve-issue monthly series focuses on new characters, characters who never received a profile and those needing major updates.
64 pages, $3.99, in stores on July 26.
AVENGERS AND POWER PACK ASSEMBLE! #4
Written by Marc Sumerak, art and cover by Gurihiru.
Power Pack has been transported to a dark, sinister world... and their only hope of getting back home lies with some very familiar allies. But even if the kids manage to make it back safely, will they be able to save their world from the same grim fate they've just witnessed? Power Pack's awesome adventure with the Avengers ends here!
32 pages, $2.99, in stores on July 26.
BEYOND #1
Written by Dwayne McDuffie, pencils and cover by Scott Kolins.
An indescribably powerful cosmic being gathers nine of Marvel's most mismatched super beings for purposes beyond their comprehension. Can Spider-Man, Gravity, Venom, Henry Pym, The Wasp, Medusa, Kraven, Firebird and the Hood keep from killing each other before they have to face the dangers of their destination, the deadly artificial planet known as Battleworld?
32 pages, $2.99, in stores on July 5.
CAPTAIN AMERICA #20
Written by Ed Brubaker, pencils and cover by Steve Epting.
As the "Twenty-First Century Blitz" rips through the streets of London, Cap comes face-to-face with an enemy he last faced in World War Two. And with Union Jack and Spitfire at his side, he fights to save London from destruction, while the Red Skull makes his move!
32 pages, $2.99, in stores on July 19.
ETERNALS #2
Written by Neil Gaiman, penciled by John Romita Jr., cover by Rick Berry, variant cover by Romita.
There are no Eternals. There never have been. Then what do Mark Curry's dreams of strange gods and monsters mean? And what does the mysterious man with the strange eyes want with him?
48 pages, $3.99, in stores on July 12.
DAREDEVIL #87
Written by Ed Brubaker, penciled by Michael Lark, cover by David Finch.
It's the heightened senses-shattering conclusion of "The Devil in Cell-Block D" and many questions are answered! Who is the man behind the Daredevil mask running around Hell's Kitchen? How will Matt get out of the corner he's been painted into? And will he be jumping right out of the frying pan and into a fire of his own making? Mystery and action abounds as fan-favorite creators Ed Brubaker and Michael Lark bring their first Daredevil arc to a close!
32 pages, $2.99, in stores on July 26.
FRANKLIN RICHARDS: SON OF A GENIUS -- SUPER SUMMER SPECTACULAR
Written by Chris Eliopoulos and Marc Sumerak, art and cover by Eliopoulos.
You loved his back-up stories in your favorite comics! You loved his first two smash-hit one-shots! Now there's even more to love, because Franklin Richards is back for more fun and mischief in this third spectacular collection of short tales... and, as always, his robot pal H.E.R.B.I.E. will be nearby to help prevent the potential disasters he unleashes. Marvel's tiniest hero explores the uncharted corners of the Baxter Building...and the FF may never be the same!
32 pages, $2.99, in stores on July 5.
FANTASTIC FOUR: FIRST FAMILY #5
Written by Joe Casey, art and cover by Chris Weston.
More secrets of the FF's earliest days revealed! This issue: the Human Torch's first solo adventure (not a raging success)! Mr. Fantastic's first solo adventure (also not a raging success)! A team divided! An enemy uncovered! Plus, an army of cosmically-mutated monsters! What more could you ask for?
32 pages, $2.99, in stores on July 5.
GHOST RIDER #1
Written by Daniel Way, art by Mark Texeira and Javier Saltares, cover by Texeira, variant cover by Marc Silvestri.
"Vicious Cycle." Once upon a time, Johnny Blaze made a deal with the Devil...and to no one's surprise but his own, he got shafted. Now trapped in hell, with the Spirit of Vengeance bonded to his immortal soul and weighing him down, Johnny may have finally found a way out. But at what cost? From the depths of Hell to the glittering spires of Heaven, the Ghost Rider rides again in his first ongoing series in nearly a decade, blazing new trails and dispensing fiery vengeance in his wake. The demonic team of Daniel Way, Mark Texeira and Javier Saltares reunite to put ol' Flamehead back in the saddle where he belongs. Ready or not, here he comes!
32 pages, $2.99, in stores on July 12.
INCREDIBLE HULK #96
Written by Greg Pak, penciled by Aaron Lopresti, cover by Ladronn.
"Planet Hulk: Anarchy, Part 1." On the run from the Imperial Army after escaping from the Great Arena, the Hulk and his crew of Warbound gladiators take refuge in a small farming village with a dark secret. Learn the horrifying truth about Miek's past--and discover if our heroes know the difference between justice and revenge!
32 pages, $2.99, in stores on July 5.
PLANET HULK: GLADIATOR GUIDEBOOK
Written by Anthony Flamini and Greg Pak.
How did the Empire rise to power? What is the origin of the Death's Head Guard? Who are the Spikes? Learn the answers to these questions, plus many more revelations, in the pages of the Planet Hulk: Gladiator Guidebook -- an essential companion to Greg Pak's Planet Hulk storyline! Featuring profiles on the Hulk, the Silver Surfer and the Brood, the Gladiator Guidebook presents a detailed look into the planet Sakaar and its many inhabitants!
48 pages, $3.99, in stores on July 19.
IRON MAN #10
Written by Daniel Knauf and Charles Knauf, art by Patrick Zircher, cover by Adi Granov.
"Execute Program," part 4 of 6. A secret government star-chamber led by Nick Fury concludes that Iron Man has gone rogue, and Tony Stark must take drastic measures to clear his name. But that's not on the deadly agenda of a mysterious hooded assassin, who continues his brutal program of execution. World peace hangs in the balance as all hell breaks loose in the Iraqi desert. But just who is the man behind the iron mask? The answer will blow you away!
32 pages, $2.99, in stores on July 12.
MARVEL TEAM-UP #22
Written by Robert Kirkman, penciled by Andy Kuhn, cover by Phil Hester.
"Freedom Ring," part 3 of 5. This Tony Stark is not from our world. Captain America, dead. Reed Richards, insane. Himself the king of Latveria. That is the world he knows. Somehow he was thrown into our dimension. He was being held in stasis on the S.H.I.E.L.D. Heli-carrier until he could be sent back to his own dimension--but now he's escaped! Is the Marvel Universe ready for the Iron Maniac?
32 pages, $2.99. in stores on July 5.
MARVEL'S GREATEST COMICS: FANTASTIC FOUR #52
Written by Stan Lee, art and cover by Jack Kirby.
Introducing the sensational Black Panther! In time for the wedding of the century comes this cover-to-cover facsimile of T'Challa's first appearance from Fantastic Four #52 (July 1966)! Scanned straight from a printed copy of the original, this keepsake edition includes all story pages, ads and text pieces ­ reproduced exactly as they appeared 40 years ago this month!
32 pages, $2.99, in stores on July 5.
MS. MARVEL #5
Written by Brian Reed, penciled by Roberto De La Torre, cover by Frank Cho.
Time travel. Alternate realities. Time traveling in alternate realities while fighting evil sorcerer, Warren Traveler. Ms. Marvel could use all the help she can get! Thank goodness special guest star Doctor Strange is around to help!
32 pages, $2.99, in stores on July 12.
MOON KNIGHT #4
Written by Charlie Huston, pencils and cover by David Finch.
Someone out there knows all the angles on Marc Spector. They know his strengths and his weaknesses -- and just how much pressure to apply to make him snap. About 250 pounds of sculpted muscle and cocksure attitude, to be exact. Enter: Taskmaster! (If you thought Moon Knight's battle with Bushmaster was brutal, you've got another thing coming.)
32 pages, $2.99, in stores on July 5.
NEXTWAVE: AGENTS OF H.A.T.E. #7
Written by Warren Ellis, pencils and cover by Stuart Immonen.
In this issue, the Nextwave Squad faces an army of Mindless Ones! Yes, insanely powerful stone men without faces!
32 pages, $2.99, in stores on July 26.
RUNAWAYS #18
Written by Brian K. Vaughan, penciled by Adrian Alphona, cover by Marcos Martin.
"Parental Guidance," Part 5 of 5. The shocking conclusion of "Parental Guidance" results in the death of a Runaway.
32 pages, $2.99, in stores on July 19.
SHE-HULK #10
Written by Dan Slott, penciled by Paul Smith, cover by Greg Horn.
You date someone long enough, you think you know them. But people change. And in the case of Colonel John Jameson, change can come with a fur coat, big fangs, and a very nasty appetite! Yeah, that's right, gamma-fans! Get ready for She-Hulk's biggest throw down yet as she goes toe-to-claw with The Man-Wolf! Also a long absent cast member makes their stunning return! An important person from She-Hulk's past barges in! And one character leaves the book in a scene that you'll be talking about for months!
32 pages, $2.99, in stores on July 12.
SQUADRON SUPREME #5
Written by J. Mmichael Straczynski, art and cover by Gary Frank.
The Squadron Supreme embarks on a mission to the heart of the Middle East. But will a military mission cause more problems than is solves? Or will the earth's mightiest team sweep through foreign forces, saving countless innocent lives in the process? A great jumping on point! Get on board before the Ultimate crossover!
32 pages, $2.99, in stores on July 12.
MARVEL KNIGHTS TITLES

FURY: PEACEMAKER #6
Written by Garth Ennis, penciled by Darick Robertson, cover by Gary Frank.
The thrilling conclusion! Ever since Nick Fury joined the war, he's been mired in just as much incompetence, stupidity, and bad luck as actual fighting. Every mission has been an unmitigated disaster and this latest adventure has been no exception--having tracked an assassination target behind enemy lines, Fury and his small crew of soldiers are trapped in a mansion with German officers. Meanwhile, the man they were hoping to assassinate is leading an entire battalion against them! With a battle he hasn't a prayer of winning, Nick Fury will have to decide whether a fight to the death is all he has left to live for.
32 pages, $3.50, in stores on July 5.
MARVEL ADVENTURES TITLES

MARVEL ADVENTURES THE AVENGERS #2
Written by Jeff Parker, penciled by Manuel Garcia, cover by Aaron Lopresti.
He served alongside Allied Forces in World War Two and serves with the super team The Avengers today -- the legend of Captain America spans generations. Now an evil from his earliest days has come through the ages to exact vengeance on the Captain-- and anyone who might stand with him.
32 pages, $2.99, in stores on July 19.
MARVEL ADVENTURES SPIDER-MAN #17
Written by Peter David, penciled by Mike Norton, cover by Cameron Stewart.
Full moon's out, so guess who's comin' to bug our webslinger? Werewolf by Night! And he's turned Peter Parker's rival, Flash Thompson, into a werewolf too! Can Spidey find a cure before the sun comes up, or is Flash forever doomed to a life of fleas and howling at the moon?
32 pages, $2.99, in stores on July 5.
MARVEL ADVENTURES FANTASTIC FOUR #14
Written by Justin Gray, penciled by Staz Johnson and a cover by David Williams.
While attempting to communicate with extraterrestrials via deep space communication, the Fantastic Four unknowingly gaining the attention of a powerful malevolent alien calling himself the Grand Master. Now each member of the Fantastic Four must battle in individual competition as the fate of the world hangs in the balance.
32 pages, $2.99, in stores on July 12.
X-MEN TITLES

EXILES #84
Written by Tony Bedard, pencils by James Calafiore, cover by Paul Pelletier.
"Back in the Saddle," part 1 of 1. With the World Tour finally at an end, the Exiles are demanding a break. They take the time to visit their homes and get some much needed down time. However, there are worlds out there that still need their help. But if the Exiles aren't willing to do the job...who will replace them?!
32 pages, $2.99, in stores on July 26.
NEW EXCALIBUR #9
Written by Frank Tieri, pencils and cover by Michael Ryan.
"Chest Pains," part 1 of 1. New Excalibur is alerted to a depowered mutant that has recently been returned home to England...Chamber! Learn the secret history of Chamber, but will the team be able to find out the truth before Chamber is killed?!
32 pages, $2.99, in stores on July 5.
NEW X-MEN #28
Written by Craig Kyle and Christopher Yost, pencils and cover by Paco Medina.
"Nimrod," part 1 of 4. The New X-Men have been killed, blown up, and absolutely decimated. Now, they're on the offensive! But after all they've been through, will they have the strength to defeat their toughest enemy yet? Hey, maybe the New Avengers could help!
32 pages, $2.99, in stores on July 12.
WOLVERINE: ORIGINS #4
Written by Daniel Way, penciled by Steve Dillon, cover by Joe Quesada.
"Born in Blood," part 4 of 5. Reeling from his brutal battle with Nuke --as well as from having to confront some particularly sordid details of his past -- Logan once again resumes his dogged march toward vengeance...only to discover that the U.S. government isn't ready to give up just yet. Enter: Captain America! Will the Sentinel of Liberty shut Logan down for good...or does he have something else in mind? Also featuring a cameo by the X-Men!
32 pages, $2.99, in stores on July 12.
STORM #6
Written by Eric Jerome Dickey, penciled by David Yardin and Lan Medina, cover by Mike Mayhew.
It's High Noon -- at 20,000 feet! Captured by the Bull and his cronies, bound and helpless on a transport helicopter and headed to God knows where, Ororo and T'Challa are in big trouble. If they are going to survive this ordeal, then Ororo must do what she has never done before: harness her terrifying powers and, for the first time, use them as a weapon. And that's the easy part! Trust us, True Believer, you won't want to miss this key issue of the limited series that tells the untold love story between Marvel's two pre-eminent Black super heroes -- Storm and the Black Panther!
32 pages, $2.99, in stores on July 19.
UNCANNY X-MEN #475-476
Written by Ed Brubaker, pencils and cover by Billy Tan.
"The Rise and Fall of the Shi'ar Empire," parts 1 and 2. A brand new era for the Uncanny X-Men begins here! Fresh off X-Men: Deadly Genesis, Ed Brubaker takes the helm of Marvel's mighty mutants. Billy Tan joins Ed for a story that won't just affect earth, but will rock the foundations of the entire galaxy! Vulcan is out for revenge and has his sites set on the Shi'Ar Empire! Get ready for the ride of your life! A perfect starting point for any new reader!
32 pages, $2.99, in stores on July 5 and July 19.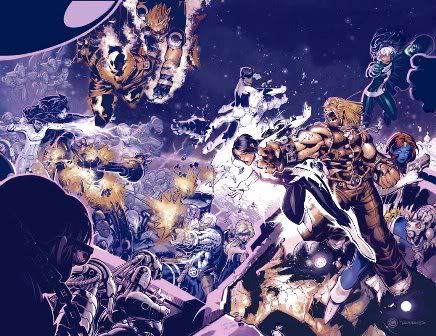 X-MEN #188-189
Written by Mike Carey, pencils and cover by Chris Bachalo.
Mike Carey and Chris Bachalo take over the X-Men, or at least what's left of them! As old threats are still having their effects, new, more deadly threats emerge from the unlikeliest of places. Threats that spell doom for the X-Men. Plus, what could possibly strike terror into the heart of...Sabretooth!? And who are The Children? A perfect starting point for any new reader!
32 pages, $2.99, in stores on July 12 and July 26..
X-MEN FAIRY TALES #3
Written by C. B. Cebulski, art by Kei Kobayashi, cover by Clare Wendling.
Our storytellers turn their attention to the American South this month and tap the terrifying traditions of New Orleans in a retelling of the romance of Rogue and Gambit. When a voodoo priestess named Mystique meets a young girl who can speak with the spirits of the recently deceased, she tries to bend the girl's will and use her abilities for evil. They soon learn it's unwise to upset the ghosts and ghouls of the South, and it's up to a mysterious Cajun stranger to set things right!
32 pages, $2.99, in stores on July 19.
WESTERN TITLESMARVEL WESTERNS: WESTERN LEGENDS
Written by Jeff Parker, Karl Kesel and Fred Van Lente, penciled by Tomm Coker, Carmine Di giandomenico and Homs, cover by Eric Powell.
Three all-new tales of the Mighty Marvel West! Do you remember the Man Called Hurrican? Over a hundred bounty hunters and cowboys looking for revenge do. The "Fastest Man in the West" doesn't have much of a choice but to face them at once. Question is, does he have enough bullets? By Jeff Parker and Tomm Coker.
Red Wolf is a considered superstition by many, but a group of thugs are about to find out how much is fiction and how much is true. Surviving their challenge is another thing all together for Red Wolf. By Karl Kesel and Carmine Di Giandomenico.
Major Brett Saber is known as the Man from Fort Rango, hard-nosed leader of a rag-tag group of frontier soldiers. His unruly men are no match for a deadly band of Indians intent on holding their stronghold, but a mythical man-beast poses a deadlier threat to both sides. By Fred Van Lente and Homs.
Plus: Re-presenting the origin of Rawhide Kid by Jack Kirby.
48 pages, $3.99, in stores on July 19.
MARVEL WESTERNS: KID COLT AND THE ARIZONA GIRL
Written by Justin Gray, Jimmy Palmiotti and Jim McCann, art by Federica Manfredi, Palmiotti and David Williams, cover by Eric Powell.
When wild west gunfighters with a reputation for shootin' first and askin' questions later, Kid Colt and Arizona Annie, take a job escorting a stage coach through dangerous Apache territory, they come upon a town stranger than any the west has seen. It doesn't take long before Annie and the Kid find themselves in hot water with the locals and runnin' low on bullets. And that's when things get really weird!
Plus: An 8-page story by Jim McCann and David Williams, introducing the woman who is here to tame the Wild West, one engraved invitation at a time - the Philadelphia Philly ­ and a man who's lost it all, even his name ­ the man called Spender.
Also, re-presenting three classic Marvel Western tales by two comic legends: "Stagecoach to Shotgun Gap" and "Those Who Live by the Gun" by Jack Kirby and "The Man Who Robbed the Express" by Dick Ayers.
48 pages, $3.99, in stores on July 5.
MAX TITLES

PUNISHER #35
Written by Garth Ennis, penciled by Goran Parlov, cover by Tim Bradstreet.
"Barracuda," Part 5 of 6. Dermot and Alice have got a big problem. He weighs 300-pounds -- give or take a severed body part or two, incurred during his recent skirmish with the Punisher. He goes by the name of Barracuda. And he wants some payback. If the villainous pair is going to have any chance at survival, then their only hope just might be the man they tried to kill in the first place.
32 pages, $2.99, in stores on July 5.
HAUNT OF HORROR: EDGAR ALLAN POE #3
Written by Rich Margopoulos, art and cover by Richard Corben.
Horror comics legend Richard Corben and long-time collaborator Rich Margopoulos leave no gravestone unturned in this 3-issue limited series that offers wicked spins on the classic poems of Edgar Allen Poe. Each issue features three adaptations -- lovingly rendered in B&W with gray tones as only Corben can do it -- along with the full text of Poe's poem for comparison. In issue #3: "Berenice," "The Happiest Day," and "Israfel."
32 pages, $3.99, black and white, in stores on July 19.
LICENSED TITLES

THE HALO GRAPHIC NOVEL HC
Written By Lee Hammock, Jay Faerber, Tsutomu Nihei and Brett Lewis, illustrated By Simon Bisley, Andrew Robinson, Ed Lee, Tsutomu Nihei And Jean "Moebius" Giraud, gallery Art By Rick Berry, Geof Darrow, Scott Fischer, Sterling Hundley, Craig Mullins, Tsutomu Nihei, George Pratt, Juan Ramirez, George Staples, Justin Sweet, John Van Fleet, And Kent Williams, cover By Phil Hale
Bungie Studios, part of Microsoft Game Studios, has joined forces with Marvel Comics to release a highly-anticipated graphic novel inspired by one of the most popular franchises in the history of the video game industry.
The Halo Graphic Novel (HGN) brings the Halo universe to life for the first time in the sequential art medium. The HGN is a 128-page, full color, high quality, jacketed, hardcover graphic novel. It features an anthology of original stories, including one lengthy story, and three shorter tales.
128 pages, $24.99.
ICON TITLES



JACK KIRBY'S GALACTIC BOUNTY HUNTERS #1
Written by Lisa Kirby and Steve Robertson, penciled by Mike Thibodeaux, cover by Jack Kirby.
An all-mew series featuring characters and concepts created by Jack "King" Kirby! In this double-sized first issue, meet the Berkleys, your typical suburban California family. But when young Garrett Berkley discovers his parents' secret--that the science fiction stories his father writes aren't fiction at all, but autobiography--he's blasted into a whole new universe of adventure, mystery and danger. Now, Jack Berkley must put down his pen, reassemble his old team, and take up the mantle of being a Galactic Bounty Hunter for one final mission! Part 1 of 6.
56 pages, $3.99, in stores on July 5.
KABUKI: REFLECTIONS BOOK 6
Written, art and cover by David Mack.
The sixth volume of Kabuki: Reflections, this 48-page, square-bound book delivers with a collection of previously unpublished stories, pages and artwork. Featuring a peek inside Mack's sketchbook, step-by-step commentary about his painted artwork, and loads of art and extras you've never seen before. Ever wonder how David Mack does his artwork? How his pages and covers go from sketches and drawings to finished art? How he uses models and figure drawings? It's all here, with loads of extras!
48 pages, $5.99, in stores on July 12.
POWERS #20
Written by Brian Michael Bendis, pencils and cover by Michael Avon Oeming.
"Secret Identity," part 2 of 6. Powers' most explosive year continues. What Walker and Pilgrim first thought to be a tragic double powers suicide reveals itself to be the first victims in their first-ever super-hero serial-killer case.
32 pages, $2.95, in stores on July 5.
MARVEL TRADE PAPERBACKS FOR JULY

MARVEL MASTERWORKS
MARVEL MASTERWORKS: CAPTAIN AMERICA VOL. 3
Written by Stan Lee, penciled by Jack Kirby and Jim Steranko, cover by Steranko.
Just in time for the Fourth of July! Mighty Marvel is unfurling a new Masterworks crafted by an incomparable trio of talents -- Stan Lee, Jack Kirby and Jim Steranko! It's the best of '60s Marvel dynamism and design in one Captain America-packed volume!
It's all set off by four-issue rumble with the Red Skull! When the Nazi ne'er-do-well attachs an H- Bomb fuse to Cap, he has no choice but to serve the Skull or America will suffer nuclear annihilation! Even a healthy thumping on Batroc the Leaper and the Trapster, can't cure the Man Out of Time's woes over his lost companion, Bucky. Relive Cap's amazing origin and learn how he met Bucky Barnes.
If all that calamity from ³The King² Kirby wasn't enough, strap on your psychedelic crash helmet for a course in Steranko! The master of the medium will take you on a ride like none other with Cap vs. the Hulk, the return of Bucky, and the death of Captain America in a battle with Hydra. Collecting Captain America (Vol. 1) #101-113.
288 pages, $49.99.
PREMIERE HARDCOVERSIRON MAN: EXTREMIS PREMIERE HC
Written by Warren Ellis, pencils and cover by Adi Granov.
It's the beginning of a new era for Iron Man as renowned scribe Warren Ellis joins forces with digital painter Adi Granov to redefine the armored avenger's world for the 21st century‹a landscape of terrifying new technologies that threaten to overwhelm fragile mankind! What is Extremis, who has unleashed it, and what does its emergence portend for the world? Collects Iron Man #1-6.
168 pages, $19.99.
X-FACTOR: THE LONGEST NIGHT PREMIERE HC
Written by Peter David, penciled by Ryan Sook and Dennis Calero, cover by Sook.
In the fallout from House of M and following the surprise film-noir hit Madrox, a new mutant team is forged! X-Factor is an investigative mutant agency that includes Madrox, the Multiple Man; Guido, the Strong Guy; Wolfsbane, the shape-shifter; Siryn, the chorus girl; Rictor, the living earthquake; and Generation X's Monet, the pompous witch. Drawn together in the heart of District X, this rag-tag band of heroes has a lot of answers to find, and fast! Bonus: A key player from House of M will play a major roll in X-Factor! Collects X-Factor #1-6.
144 pages, $19.99.
FANTASTIC FOUR: BOOKS OF DOOM PREMIERE HC
Written by Ed Brubaker, penciled by Pablo Raimondi, cover by Paolo Rivera.
From the black steppes of Eastern Europe, to the college campuses of New York City, and finally to the throne of Latveria -- this is the life of Von Doom! From his earliest disasters to his scientific triumphs to the tragedy of the fractured man he would become, this is the story you know, and the one that you don't. The story of the missing years and the journey that shaped the man who would be king. An epic Russian tragedy in comic form, this is unlike any Doom story you've ever seen. Five-time Eisner-nominated Best Writer Ed Brubaker turns his shadowy vision to Marvel's greatest villain, Victor Von Doom. With the phenomenal art team of Pablo Raimondi and Mark Farmer, you will witness Doom's life from his earliest moments to the day he took the throne of Latveria. A dark and revealing examination of how an innocent boy grows up to be a tyrant -- a new twist on an old legend -- Books of Doom is a sweeping epic of tragedy, madness and destiny! Collects Books of Doom #1-6.
144 pages, $19.99.
ULTIMATE FANTASTIC FOUR VOL. 2 HC
Written by Warren Ellis, Mike Carey and Mark Millar, penciled by Adam Kubert and Jae Lee, cover by Kubert.
This deluxe hardcover collects Ultimate Fantastic Four Vol. 3: N-Zone and Ultimate Fantastic Four Vol. 4: Inhuman, plus extras. In N-Zone, It's the beginning of the FF's exploration of the mysterious N-Zone! Young Reed Richards wants to duplicate the accident that changed the four into the bizarre beings they've become and thereby reverse the process. But will his noble attempts at redress cause more harm than good? And in Inhuman, a classic Fantastic Four villain makes the debut here in Ultimate form, turning the Baxter Building into a virtual trap set to capture and eliminate the fledgling adventurers. And what of the other denizens of the skyscraper, including Johnny and Sue's father Dr. Storm? And who has the power to outthink even the most brilliant man alive, Reed Richards? Wait and see! Plus: the first appearance of the Ultimate Inhumans! From a hidden race, she came to steal the heart of the FF's youngest member. She's the beautiful elemental called Crystal! Collects Ultimate Fantstic Four #13-20 & Annual #1.
240 pages, $29,99.
AVENGERS ASSEMBLE VOL. 3 HC
Written by Fabian Nicieza, Kurt Busiek and Roger Stern, penciled by George Perez, Stuart Immonen, Paul Ryan, Mark Bagley and Bruce Timm, cover by George Perez.
The crisis of the Eighth Day is followed by Triathlon's first day as an Avenger, which takes the team south of the border and back in time thousands of years! And how does the mystery of Madame Masque match the curse of Count Nefaria? Guest-starring Spider-Man and Captain Marvel! Plus: Citizen V, the Crimson Cowl and Scourge! Includes an untold tale of the Avengers' earliest adventures! Collects Avengers #23-34 & #1 1/2 and Thunderbolts #42-44.
432 pages, $34.99.
DIGESTSSPIDER-MAN LOVES MARY JANE VOL. 1: SUPER CRUSH DIGEST
Written by Sean McKeever, penciled and cover by Takeshi Miyazawa.
The drama featuring the life of a teenage Mary Jane Watson returns! And this time, she's got some friendly neighborhood backup! With her circle of friends and recent relationship left in disrepair, MJ is on the market once again! But who will she choose to be the next object of her affections: Peter Parker, her bookish-but-sweet tutor and newly-minted friend; or that dangerous, exciting crimefighter in red and blue tights, Spider-Man? Stick with Eisner Award-winner Sean McKeever and superstar artist Takeshi Miyazawa to find out! Collects Spider-Man Loves Mary Jane #1-5.
120 pages, $7.99.
GRAPHIC NOVELSNEW AVENGERS VOL. 2: SENTRY TPB
Written by Brian Michael Bendis, penciled and cover by Steve McNiven.
The mystery of The Sentry revealed. The Avengers try to help the most powerful super hero in the world figure out who he is and where he came from! But will this knowledge destroy the man they're trying to help? Collects New Avengers #7-10 and the New Avengers: Most Wanted Files handbook.
152 pages, $14.99.
NEW EXCALIBUR VOL. 1: DEFENDERS OF THE REALM TPB
Written by Chris Claremont, penciled by Michael Ryan and Steven Cummings, cover by Ryan.
Excalibur is back, just the way you like them! From the ashes of House of M a new Excalibur team is formed to combat the aftereffects of this cataclysmic event! Witness the birth of Captain Britain's new team forming, as a sinister force already tries to tear them apart! Starring Dazzler, Juggernaut, Nocturne and Pete Wisdom!! Guest-starring the Uncanny X-Men! Plus: Still reeling from M-Day, New Excalibur is brought together to become Europe's premier super team. Not everyone is pleased. Guest starring Lionheart (from the pages of Avengers)! Collects New Excalibur #1-6.
168 pages, $17.99.
EXCALIBUR CLASSIC VOL. 2: TWO-EDGED SWORD TPB
Written by Chris Claremont, penciled by Alan Davis, Ron Lim, Marshall Rogers and Arthur Adams, cover by Adams.
The British mutant team's earliest incarnation is still trying to find its feet, only to fall headfirst into the Inferno! Meanwhile, Mojo's first batch of X-Babies escape to Earth, but Excalibur has much worse dopplegangers to deal with before the Cross Time Caper commences! Guest-starring the New Mutants! Featuring dinosaurs, demons, rock stars and royalty! Collects Excalibur #6-11 and Excalibur: Mojo Mayhem.
200 pages, $24.99.
X-MEN: BLOOD OF APOCALYPSE TPB
Written by Peter Milligan, penciled and cover by Salvador Larroca.
When his people need him the most, he shall return! Lord Apocalypse is here to lead mutantkind into the future of the earth and only the strongest can survive! And just wait until you see his new Horsemen! Even we were surprised! Plus: Cable sees the signs--omens and portents -- characters gathering, moving across the board like chess pieces...can Apocalypse be resurrected? Can Cable and Deadpool stop it in time? And most surprising of all... what if one of them doesn't want it to be stopped? Collects X-Men #182-186 and Cable/Deadpool #26-27.
216 pages, $24.99.
BLACK PANTHER BY JACK KIRBY VOL. 2 TPB
Written by Jack Kirby and Ed Hannigan, art by Kirby and Jerry Bingham, cover by Kirby.
Heroism seems to run in the Black Panther's family...but which way are the new heroes running? The King's favorite king returns in some of his earliest solo sagas! Mutated monsters menace the wondrous reign of Wakanda! Captivating Kirby classics not seen in nearly 30 years! Collects Black Panther #8-13.
112 pages, $19.99.
THE THING: IDOL OF MILLIONS TPB
Written by Dan Slott, penciled and cover by Andrea DiVito.
Join Ben Grimm and his pals as they clobber their way through the Marvel U! And, spinning out of events from Fantastic Four, the idol of millions is now worth billions! So will big bucks make a Rockefeller out of this Rocky fella? Will Ben trade in Yancy St. for Park Ave? Tune in and see, True Believer! Special appearances by Goliath (Bill Foster), Warbird, Wonder Man and Peter Parker. Collects Thing #1-8.
144 pages, $15.99.
UNTOLD TALES OF THE NEW UNIVERSE TPB
Written by Fred Van Lente, JEff Parker, Tony Bedard, Peter David, C.B. Cebulski and Tony Lee, art by Arnold Pander, Javier Pulido, Carmine Di Giandomenico, M.D. Bright and Leonard Kirk, cover by John Romita Jr.
Five startling stories of the New Universe from the days of the Œ80s ­ featuring Nightmask, Star Brand, Psi-Force, Justice and DP7! Plus: bonus stories featuring Mark Hazzard, MERC; Kickers Inc.; and Spitfire! Collects Untold Tales of the New Universe: Nightmask, Star Brand, Psi-Force, Justice and DP7; and stories from Amazing Fantasy #18-19 and New Avengers #16.
144 pages, $15.99.
DEATH'S HEAD 3.0 : UNNATURAL SELECTION TPB
Written by Simon Furman, penciled by James Raiz with Shannon Galiant, cover by Lucio Parillo.
It's one hundred years in the future and the now-benevolent organization known as A.I.M. has been fighting a non-violent conflict with the fascist government it wishes to change. But there's a splinter group that's ready to return to its violent roots with Death's Head 3.0. Problem is, the killer robot isn't sure what side it wants to be on. Collects Amazing Fantasy #16-20.
120 pages, $13.99.
CAPTAIN AMERICA: RED MENACE VOL. 1 TPB
Written by Ed Brubaker, penciled by Mike Perkins and Eric Weight, cover by Steve Epting.
Six months ago, Crossbones kidnapped the Red Skull's daughter, Sin, from a government re-education facility and disappeared into the night. Now, he and this spawn of infinite evil have come to the American Midwest to tear a new hole in A.I.M. ­ but none of them counted on Cap and S.H.I.E.L.D. Agent 13 stumbling into the mix, and everything going wrong! Plus: Cap's newest enemy, General Aleksander Lukin, the head of one of the most powerful corporations in the world, is attempting to buy a piece of land in Germany, and he won't take no for an answer. What does he want there? The answer to that can only be found in an untold tale from the war ­ a story that finds Cap and Bucky fighting alongside Sgt. Fury and the Howling Commandos behind enemy lines, trying to stop the Red Skull from launching a monstrous attack on the Allies unlike anything ever seen before! Collects Captain America #15-17 and the Captain America 65th Anniversary Special.
112 pages, $11.99.
SUPREME POWER: HYPERION TPB
Written by J. Michael Straczynski, penciled by Dan Jurgens, cover by Gary Frank.
Now that the world knows his dark secret, Hyperion suddenly finds himself both alone and hunted. Four new super-powered individuals -- each based on a character from the original Squadron Supreme -- are after his hide, and they've got the will and means to take him down! Collects Supreme Power: Hyperion #1-5.
120 pages, $14.99.
ESSENTIAL MARVEL TEAM-UP VOL. 2 TPB
Written by Len Wein, Gerry Conway and Bill Mantlo, penciled by Jim Mooney, Sal Buscema, Mike Esposito, Dave Hunt and Ron Wilson, cover by Jim Starlin.
Horrific heroism, Kung Fu crimefighting, courtroom chaos: Spider-Man's up for anything in this selection of shared sagas! Co-starring Daredevil, the Incredible Hulk, the Thing, the Beast and the Frankenstein Monster! Join Spidey on a titanic trip through the timeline in one of his most incredible epics yet, followed by the trial of the Wraith and the debut of Jean DeWolff! Plus: guest-stars from the Avengers and the Defenders! Also featuring the Human Torch's team-ups with Iron Man, Doctor Strange and more! Collects Marvel Team-Up #25-51 and Marvel Two-in-One #17.
528 pages, $16.99.
ESSENTIAL MARVEL TEAM-UP VOL. 2 TPB
Written by Mark Gruenwald, Peter Sanderson, Eliot R. Brown and more, penciled by John Byrne, Dave Cockrum, Bob Layton, John Romita Jr. and more, cover by Keith Pollard.
How many rooms in the X-Mansion? What makes web-shooters work? Find out as Spider-Man and the X-Men join forces to highlight the third volume of this Guide to the Greats! Featuring full profiles on Rogue, Shadowcat, Storm, the White Queen, Wolverine and more! The Scarlet Witch, the Silver Surfer and so many more in glorious color! The secrets of S.H.I.E.L.D.! The schematics of the Sentinels! The story of Subterranea and the wonders of Wakanda! Plus: details on more than a hundred alien races! Collects Official Handbook of the Marvel Universe -- Deluxe Edition #15-20.
496 pages, $16.99.